Do you have a favorite stroller? My favorite stroller is usually the one that holds the most stuff. Whenever I go any where with the kids it seems I have a lot of stuff, and need access to it. This means that my little umbrella stroller or tandum stroller, although they are the easiest to lug around, don't hold all the things I need so I usually bring the huge, bulky stroller. Well not anymore!!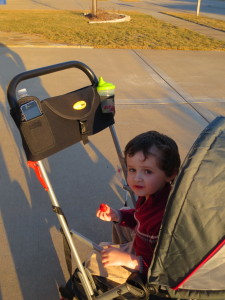 Baby-BeeHaven has introduced to Mom's everywhere the See "n Store multi-media organizer. This organizer easily slides on to any stroller and holds a ton of things. Let me list for you all the things you can hold in this awesome mommy tool. There is a pocket for a sippy cup, a water bottle, cell phone, tablet or portable DVD player, a secret pocket inside for snacks or money perhaps, and a trash bag.
When I first went to put the organizer on my stroller I was worried it might be a tight squeeze, but it wasn't. It slipped right on and was a perfect fit! The "kid side" works perfectly on this tandem stroller. My son can easily reach for his sippy cup and a snack. If I had a tablet I would be able to secure it in the center pocket for his easy viewing as we go! This stroller organizer has definitely made me want a tablet! It would be perfect to put on a movie for him as we are out and about running errands.
The See 'N Store multi-media organizer is easy to clean.  Just take a damp cloth or sponge to the area that needs cleaning and done!
As soon as it gets warmer and we are on the go a lot more, this will be my new travel companion! If you are interested in having your own stroller organizer you can find a place to get your own or enter the giveaway!
Baby-BeeHaven has generously offered one reader a product of their choice! This giveaway will run from Feb. 5 thru Feb. 18. It is open to US residents ages 18+.
Disclaimer: I received the above product free in exchange for my
honest review. All opinions expressed are my own. Your opinion
may differ.