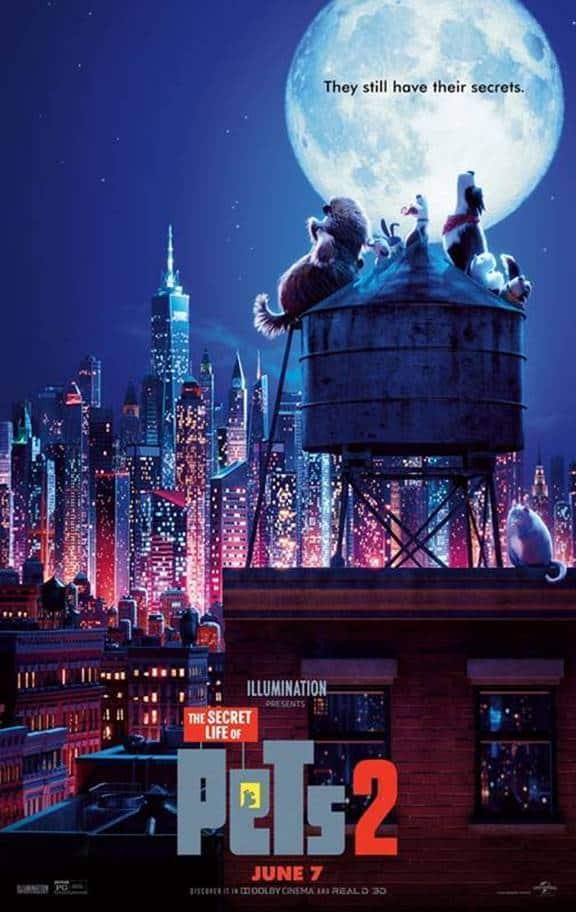 Coming to theaters June 7, 2019 is the sequel The Secret Life of Pets 2. Prior to seeing this movie I had seen a couple previews, which were pretty funny, but they didn't really reveal what the plot line was, so the movie seemed like a surprise as it was happening.
My family and I attended an early screening as a guest of Universal Pictures. Whenever I go to a movie with my kids I always feel a little nervous not knowing all the content in a movie. I had this same feeling last night, but let me tell you, the movie is SAFE! Here is my spoiler free, parent review.
Kid Friendly
This movie is completely kid friendly, in my opinion. I'm "one of those mom's" that doesn't like bathroom humor, I don't like the words stupid or idiot, and this film has none of this. With that said, there is a part in the movie in which a dog eats from a litter box. There is also a scene where a cow toots. In another scene a puppy talks about pooping in a boot. I didn't find any of these things offensive, none of the jokes were taken too far.
With my Mom listening ears, I felt this movie was completely kid safe and family friendly. The movie is also hilarious, so that is great, too.
Good Messages
The movie has a few great messages that I took away from it. The messages that I heard during the film was to be brave. If there are new things you want to try, try them! Think brave thoughts to help lead you to brave actions.
Help others that aren't able to help themselves. There are a couple story lines in the film that show helping a character that couldn't help himself. In the film there was always one, and sometimes more characters always wanting to help the other character. I love this message, especially as it relates to my school age kids. Sometimes they may see people at school that need help, either a friend or other assistance, and they should help where they can.
Length
We went to this movie with a two year old in tow. While she didn't last the whole movie, she took a 5 minute break, she really did enjoy it. She loves animals so it was fun for her to watch all the characters. Plus, the biggest bonus for short attention spans is that the movie isn't too long, at only 1 hour 40 minutes.
Overall, the movie in my opinion is safe. It's funny. Let me know in the comments if you decide to go see the movie! If you post on social use the hashtag #TheSecretLifeOfPets2.