When you find something that you love, be it a place, a product or service, you want to shout it from the rooftops, right? I know I certainly do.
I'm a huge fan of Groupon. I recently bought one for my husband and I to take a Segway Tour of Kansas City. I also found a great deal on a class for my husband to help improve his skills at work and will help him be more marketable in the future. The variety of Groupons available is so amazing.
I also love Groupon for the fact that it helps me explore my own city. I love finding new restaurants to visit or shops to explore. It's exciting to see all that is offered and the great deals you can find. The great deals are getting even better with
Groupon Coupons.
  Groupon Coupons is your one stop shop for finding deals at the stores you shop in your area. You can browse Groupon Coupons by store, categories, and top coupons & offers.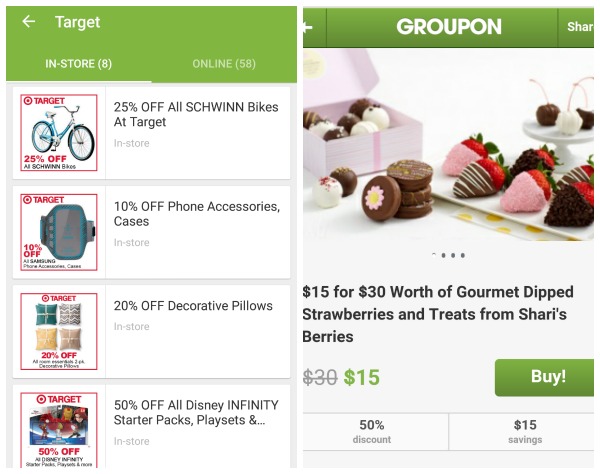 I love that I can shop for coupons and offers from my favorite stores. I already know the stores I plan to shop at during the week so I can check the Groupon Coupons section to make sure I'm saving as much money as I can when I visit these retailers. They also list in store and online offers. I've found several offers I can use during my errands to
Target
 and 
Walmart
.
So how do you use the coupons? Well, as I was browsing some of the popular deals I came across as offer for Sherries Berries. Since chocolate covered strawberries always have a place in my life, I clicked on the coupon to see the details. I could then click to "activate" it. Since Sherries Berries is something you would order online, once activated I could shop directly on Sherries Berries site, put the items in my cart per the deal and the coupon automatically discounted the purchase! It was simple to use!
Travel
is not left out of Groupon Coupons. You can get deals on transportation, lodging, even my favorite travel site –
Tours4Fun
has offers on Groupon Coupons! I have several family trips coming up this summer. If I simply change the location in the app or the website I can find offers relevant to the areas I will be vacationing. Now I can afford to plan more activities for my family since I have coupons for them.
Seriously Groupon can discount your entire life! It's pretty awesome. So download the app, or check it out on your computer, because there is money to be saved and deals to claim. Happy Shopping!