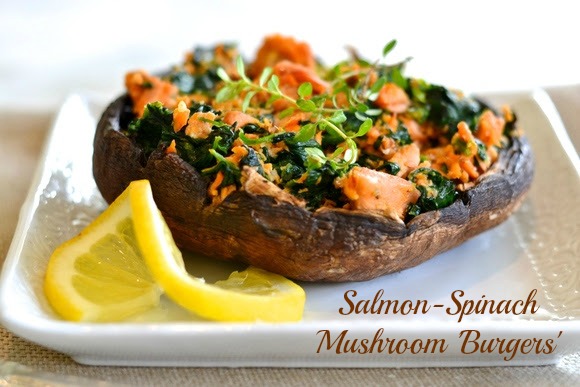 I'm not a big fan of mushrooms but I love Salmon so this a great recipe for me to try from
eMeals
! It might take some convincing at my house but if you LOVE seafood, or mushrooms this is the way to go. This could also be a great vegetarian meal if you want to exclude the fish. Oh, and it's also
Paleo
!
Ingredients
6 large portobello mushroom caps, stems removed
3 (5-or 6-oz) cans boneless, skinless wild-caught Alaskan salmon, well drained
2 large eggs, beaten
2 Tbsp almond flour
1 Tbsp chopped fresh thyme (or 1 tsp dried), plus more for garnish (optional)
1 tsp grated lemon rind
1 Tbsp lemon juice
1 tsp garlic salt
1/2 tsp pepper
2 (10-oz) pkg frozen chopped spinach, thawed and well drained
Lemon wedges (optional)
Instructions
Preheat oven to 350°F. Scrape gills from mushrooms using a small spoon; place mushroom caps on a baking sheet coated with coconut oil cooking spray. Gently flake salmon into chunks. Pat dry with paper towels. Whisk together eggs and next 6 ingredients in a medium bowl. Stir in spinach. Fold in salmon. Spoon salmon mixture into mushroom caps. Coat edges of mushrooms with cooking spray. Bake 20 to 25 minutes or until mushrooms are tender. Sprinkle with salt to taste; serve with lemon wedges, and garnish with fresh thyme, if desired.