Disclosure: I was invited on a trip to Branson with the US Family Guides Blogger Network. All experiences and opinions are my own. Yours may differ.
I have wanted to take a "duck tour" for many years now. You can find these "Ride the Duck" tours in many cities throughout the US and they have always looked like so much fun. What a tricky vehicle to be able to take people on a driving tour of a city and then drive into water and give a boat tour as well. I was giddy when I saw a
Ride The Ducks
tour on our
#ExploreBranson itinerary
. Once I explained what it was to my kids, they were equally excited.
After a long, but fun day at White Water, we changed our clothes and headed to Ride the Ducks. What a fun surprise when they handed us tickets as well as duck "quackers." The kids of course loved it, and the adult endured it. We were there with a little bit of time to wait but the staff was friendly and efficient. After a quick family photo with a faux boat we boarded our duck.
Once everyone was on board the Captain went over the rules and we were off. The tour was fun because it  featured so many different things. The Captain had music for almost every situation. He told us about Branson and the Ozarks. If you Ride the Ducks your ticket stub gets you a lot of discounts all over town, so he told us all of those great deals. Once we got out-of-town, the duck started climbing a mountain. I wondered why we were going into the backwoods of Branson. Once we reach the top it because clear. The Captain played a narrative of the history of American Military Vehicles while we drove through  an opening where about a dozen vehicles were parked. It was a touching tribute to our Military and all they do for us.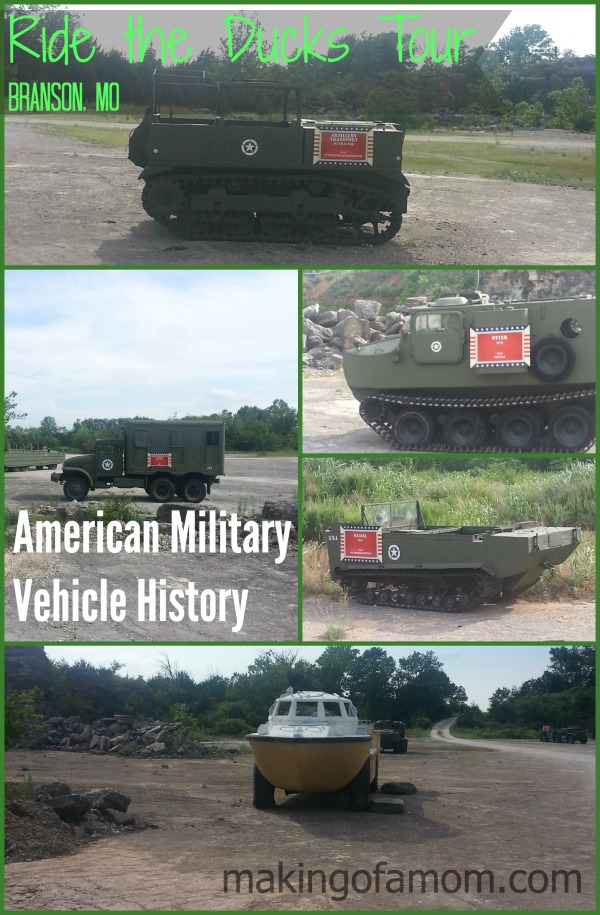 After this vehicle tour we headed down the mountain to the same parking lot as the Showboat Branson Belle. There was a path from the parking lot to Tablerock Lake that the duck used to get on the water. The Captain floored the gas and off we flew into the water. After a brief narrative of Tablerock Lake the Captain let anyone who wanted to ride the duck take a turn. I of course wanted to volunteer!
I had never driven a boat before so it was a lot of fun to steer it for a few minutes. There were quite a few boats on the lake and the Branson Belle was near us so there was quite a bit going on. It was so much fun to play "Captain" for a moment.
The
Ride the Ducks
tour lasts about an hour. One of my kids fell asleep because of spending most of the day in the son. My littlest had a hard time being happy and sitting still for the whole tour, so I would recommend this to families with kids 5+. It is a little long and not so interesting for the really little ones.
Have you ever been on a Ride the Ducks tour? What was your experience?
To view more of the fun that is awaiting in Branson, check out this #ExploreBranson Pinterest Board: