Disclosure: My daughter received a free RPDE Jr. Ride Along ride to facilitate this review. All experiences and opinions are my own. Yours may differ.

Richard Petty Driving Experience (RPDE), the worldwide leader in stock car drive and ride entertainment, announced today that its Junior Ride-Along program will now be available at its Kansas Speedway location in Kansas City, Kan.
The Richard Petty Driving Experience is a unique entertainment experience. With the RPDE you can ride along in a real race car or take a class and drive a real race car on a real speedway. This is definitely an amazing and memorable experience! The RPDE Junior Ride along is offered at the following speedways:
Las Vegas
Concord, NC
Orlando
Kansas City
Us adults can enjoy the adult ride along or driving experience at:
Atlanta Motor Speedway
Homestead- Miami Speedway
New Hampshire Motor Speedway
Bristol Motor Speedway
Indianapolis Motor Speedway
 Orlando (Walt Disney World Speedway)
California (Auto Club) Speedway
Iowa Speedway
Phoenix International Raceway
Charlotte Motor Speedway
Kansas Speedway
Pikes Peak International Raceway
Chicagoland Speedway Kentucky Speedway
Richmond International Raceway
Darlington Raceway
Las Vegas Motor Speedway
Talladega Superspeedway
Daytona International Speedway
 Martinsville Speedway
 Texas Motor Speedway
Evergreen Speedway
 Michigan International Speedway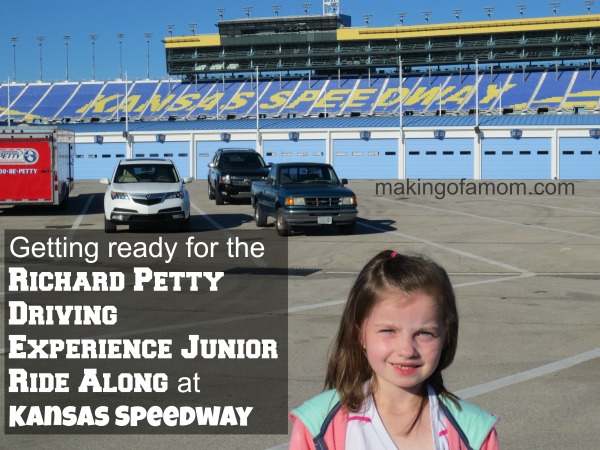 Starting in October the Richard Petty Driving experiences is now available for children ages 6-13 that are at least 48 inches tall. You can give your child the experience of a lifetime by having them get to ride three laps in the race car with a professional driver! Safety is a huge priority and so the Richard Petty Driving Experience
 partnered with The Joie of Seating, a premier fabricator of custom-fitted aluminum racing seats, owned and operated by two-time NASCAR Nationwide series champion Randy LaJoie. These full containment racing seats feature built-in shoulder and head protection and a five-point safety harness with the same design used by NASCAR drivers.
We aren't really big NASCAR fans and my daughter was a little nervous about the ride at first. Once she was all suited up I could tell she was a little scared but she kept insisting she wanted to do it! I was so proud of her for being brave and experiencing this amazing drive she will remember forever!
The staff was so friendly and so helpful. There were plenty of adults having their riding and driving experiences while we were there. There was a lot of excitement in the speedway.
There are a lot of ways for you to remember your ride along experience. You can purchase photos, plaques and even a video recording of your drive. As part of our review package we received a video of my daughters drive! We were very excited to get to a computer and watch it. Here it is so you can see what it was like inside the race car.
The three lap ride costs $59 and doesn't require reservations. To get in on the action in  Kansas City they are offering this experience October 18-20. For more information visit DrivePetty.com.