Thanks to DairyPure Milk for sponsoring this post. The recipe and opinions are my own.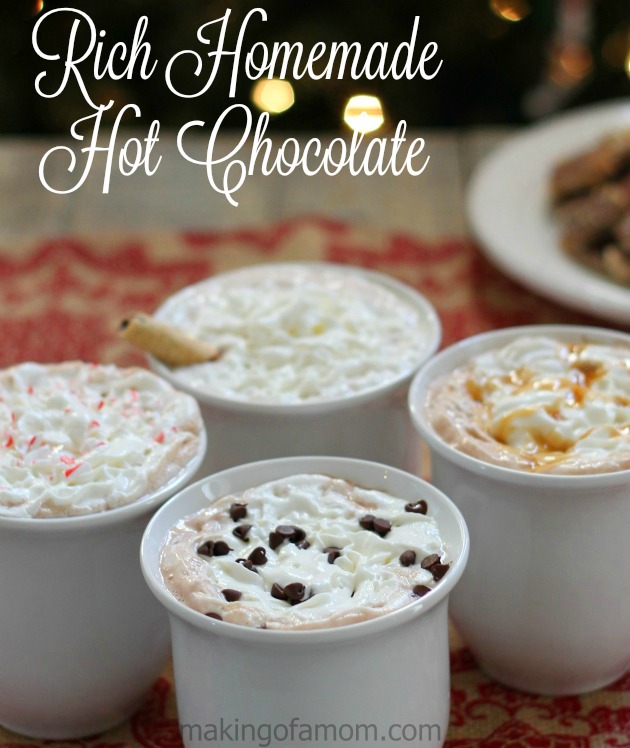 Having hot chocolate is my favorite kind of breakfast. During the Winter months my kids also ask for hot chocolate quite frequently. I'm sure during Winter break drinking hot chocolate together will be a daily occurrence. While the store bought packets are easy and convenient, sometimes it's fun to make some rich and creamy hot chocolate from scratch.
Growing up my family would take yearly trips to Oregon to visit my Grandmother. I remember many times as a young girl sitting in her kitchen watching her make homemade hot chocolate. I always thought her hot chocolate was so delicious and better than any store packet. Maybe it was because we would drink it in fancy teacups with matching saucers. Maybe it really was the best hot chocolate in the world. Either way, it left an impression on me and hot chocolate is my favorite drink of all time. Now as an adult, I don't have her exact recipe, but this one I came up with is yummy just the same.
My favorite part of hot chocolate is all the many options for delicious toppings. Without needing to do a thing to the hot chocolate itself you can add some pizzaz from adding some sweet treats on top.
I hope you enjoy this easy rich homemade hot chocolate recipe and several of our topping ideas.
Ingredients: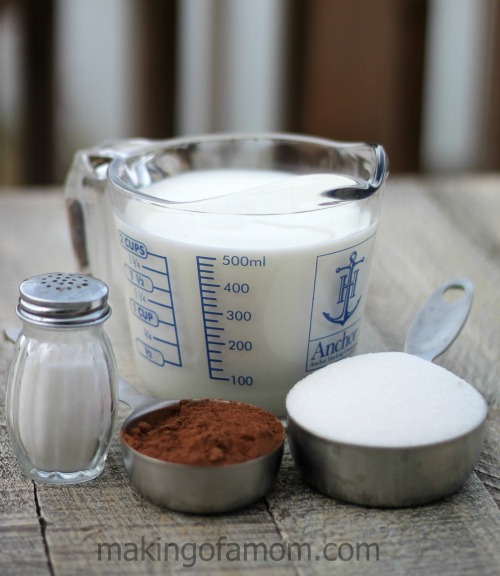 3 1/2 cups DairyPure Milk
2 TBSP Cocoa Powder
1/2 cup sugar
dash of salt
Toppings (optional): whipped cream, mini chocolate chips, crushed candy cane, caramel
Directions:
In a sauce pan heat the milk over medium heat.
Once warm add cocoa powder, sugar and salt.
Stir until smooth and hot chocolate is warm.
Serve in your favorite mugs. Suggested toppings are whipped cream, crushed candy cane, mini chocolate chips, caramel and cookies. Since you may have some holiday goodies around, serve those with the hot chocolate! Here we are going to enjoy some English Toffee with our hot chocolate.
Milk is a huge part of daily life. Every morning my kids have cold cereal with milk. We go through a lot of milk so I want my milk to be the best!
I know you may have seen hot chocolate recipes that use water as the base. I chose to use
DairyPure milk
to make the hot chocolate creamy and rich. I like DairyPure Milk because it is backed by it's 5 point promise:
Contains no artificial growth hormones
Is tested for antibiotics
Is continually quality tested to ensure purity
Only comes from cows fed a healthy diet and
Is cold shipped fresh from your local 

dairy
You can use the Store Locator to find the nearest store that carries DairyPure Milk. Get social with DairyPure Milk on Facebook and Pinterest. If you are interested in more milk based recipes, DairyPure has some delicious recipes for you to try as well.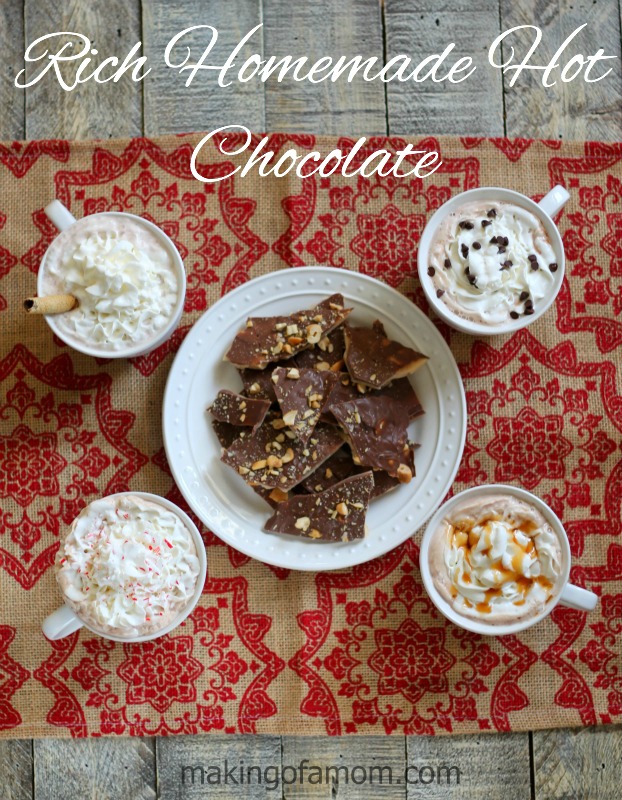 What are your favorite hot chocolate toppings or add ins?