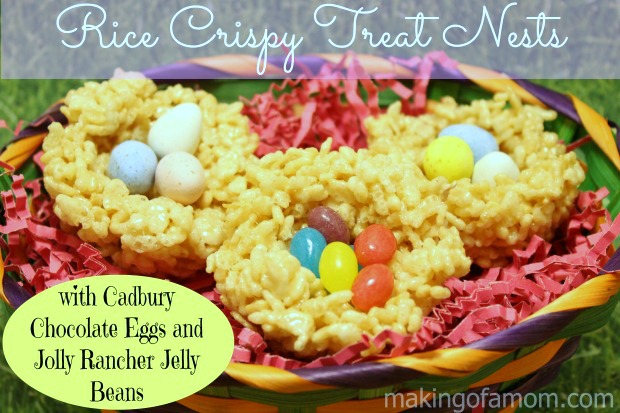 Easter has such cute treat potential. I have already shared my
Easter Egg Cupcake Nest
 idea. Now how about using Rice Crispy treats for a nest? Yes, please! Rice crispy treats are one of the easiest desserts to make on the planet and using them to create an Easter dessert is equally as easy!
First make a batch of rice crispy treats.
3 tablespoons butter or margarine
1 package (10 oz., about 40)  Marshmallows OR

4 cups JET-PUFFED Miniature Marshmallows

6 cups Rice Crispy cereal
Melt butter and marshmallows over medium heat. Once it is all melted add the 6 cups of rice crispy treats and stir until combined.
Next spoon rice crispy treats into muffin tins so that the nests will hold a proper shape. Make sure to create a divot in the nest so it can hold candy eggs.
After a few minutes the treats will have cooled down and be ready for you to take out of the cupcake tins. Then you can fill with your favorite Easter candy and have a darling treat! This would be a fun Easter party treat. You could even make it an Easter nest "bar" and have several kinds of candy for your guest to fill in their nests.
Are you interested in more Easter themed posts? I have crafts, printables, treats, and egg dyeing ideas galore in the Easter section of my blog. Check it out!