Easter is one of my favorite Holidays. In our home we are very religious, so celebrating the meaning of Easter is a special time. I love teaching my kids about the Resurrection of Christ and what that means for us. We are also very careful to make sure the real meaning of Easter is more prevalent than the fun candy celebrations. BUT we do like to have fun, especially since there is so much yummy Easter candy to enjoy and so many cute ideas of what to do with it. I wanted to share a couple of the Easter treats I'm making with my kids this year.
HERSHEY'S generously sent me a big box full of amazing Easter candy. From this box I was able to come up with a couple cute ideas for Easter, as well as just shove a bunch of chocolate in my mouth! Good times! Hershey's has a fun recipe for Coconut Cake Nests, I have my own spin on it with the Easter Egg Nest Cupcakes.

Easter Egg Nest Cupcakes
What you need:
Box Cake Mix
Coconut
Green Food Coloring
Cadbury Mini Eggs
HERSHEY'S Chocolate Covered Almond Eggs
Directions:
Bake the cake mix as cupcakes as directed on the box.
Make the frosting as directed through my link above (or buy frosting) and dye it green.
Add 1 1/4 cups of coconut to a bowl. Add 5 drops of green dye. Stir it around until the coconut is completely colored. (NOTE: There will be dark pieces of coconut where the drops fell on it.)
Once the cupcakes are frosted, dip them in the bowl of green coconut. Rotate the cupcake until the frosting is completely covered in coconut.
To get the Easter egg candies to stay on the cupcake you will need to add a tiny dollop of frosting on the top.
Press three egg candies into this frost and move them around until they are positioned where you want them.
Finally, sprinkle more coconut on top of the dollop of frosting so that it is no longer visible.
You now have DARLING Easter Egg Nest Cupcakes!
The finished cupcakes are so darling. The coconut looks like a cute grassy nest.
You can also change it up by using HERSHEY'S Chocolate Covered Almonds Eggs as well.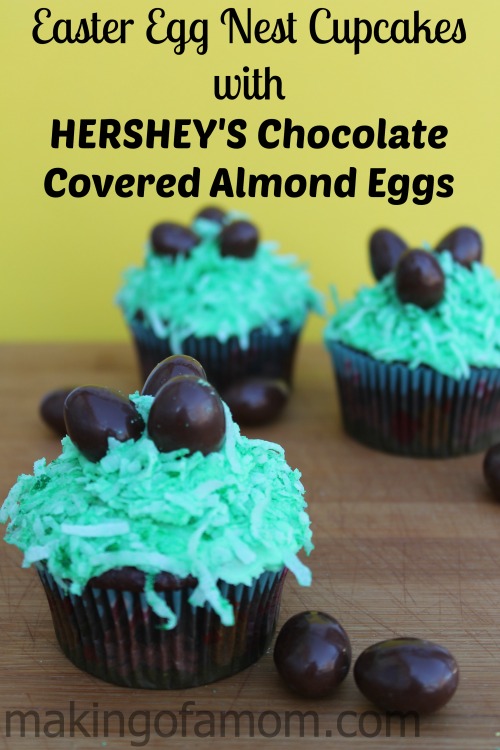 Another idea for spreading Easter joy with your friends and neighbors is to assemble an Easter basket filled with toys and candies and  secretly drop them off with friends. Hershey's offers several fun Easter basket themes. We have done this for several years. The kids get a kick out of "ding dong ditching" houses and secretly leaving the treats. The hardest part for them is to keep the secret. This is a fun way to spread love this Easter season. It's easy to celebrate Easter with Hershey's.