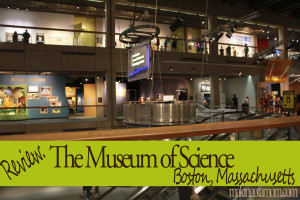 The Museum of Science Boston is incredible! I was truly blown away. As an individual who, to put it lightly, never did excel in science I was intrigued by every exhibit in this museum. At the end of the day I made the decision that if one of my kids has trouble with, doesn't like or flatly refuses to do science I will bring them to Boston's Museum of Science. They truly made science fun, hands on and increased an individuals desire to learn more. I had so many "aha" moments, that I wish I had received in high school but hey better late than never right?  This was the first time I had brought my children to a science museum and honestly, I guess that could have had something to do with the fact that I thought there would be nothing there for them to be interested in.  Man alive, was I wrong!  There was so much to see, touch, do and participate in.  It was incredible!
As we walked down the streets of Boston from our parking location we immediately saw the welcome sign to Welcome us to the Museum of Science. Right out front was a huge T-Rex model. My son could not get enough! It took everything I had to keep him from trying to ride it. We walked into the lobby and there was so much to see. My son (3 years old) immediately spotted Sulley and Mike advertising the museums temporary Pixar exhibit. You can bet that was going to be our first stop. The lobby was so spacious and open with a gift shop, huge food court, lunch area, the Omni theater (something I hope to review on a future visit) and the discovery center (a room geared toward younger children, filled with more hands on exhibits more about that later). Getting tickets and moving right in was quick and problem free. We went right to the atrium of museum. I was in awe. The museum was so open and inviting. I feel like a lot of museums are tight and stuffy but this is not at all the case here. There were a lot of people but I never felt like anything was busy or full, there was so much room. They have the ability to truly accommodate a very large amount of visitors.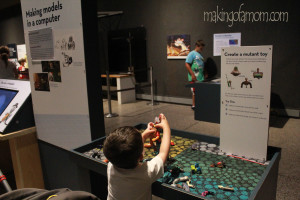 Our first stop as I said was the Pixar exhibit. This exhibit has drawings and scenes from all of Pixars newest movies. They explore the technologies used to create these Disney/Pixar Masterpieces. Our son enjoyed creating a mutant toy (taken from Toy Story) and creating and changing facial expressions on a computer screen. My husband enjoyed this as well!  It was cool to see the computers that controlled things as basic as lighting to things as detailed as eyebrows and cheekbones in regards to facial expressions.  It was really neat!
Another highlight for us was the Science in the park exhibit.  It had tons of playground equipment surrounded by questions and facts about the science involved in their use.  There were swings, a seesaw, a racetrack to test your speed, hopscotch to create your own computer recorded pattern and many more.  I loved this real life atmosphere.  Of course my children are a little young to understand the specific concepts but my son could easily understand that the higher he jumped the larger the bump on the graph.  What great exposure to science from such a young age!
The discovery center was another place we spent a lot of time in.  Now this is not part of the general museum but it is not extra, you can go in just by showing them your hand stamp but it is in a different area of the museum.  I thought this was a great idea. It is a separate closed off section of the museum that they only allow a certain amount of people in at a time.  It is just for kids and their parents.  There are a bunch of creative "science" play areas which include a beehive, complete with bee costumes, beekeeper hats, honeycomb and honey- a tree with acorns and nuts for children to use to pretend to be squirrels and other animals and so many others.  There were 12-15 subject boxes and each box contained items that have to do with that subject, we chose the dinosaur box.  There was a magnifying glass, fossils, dinosaur figures, footprints, fact cards, dinosaur bones and paleontologist tools.  I would like to note here that throughout our experience in the museum I was very impressed with their staff.  There were presenters on every corner dissecting things or putting together three-dimensional models of the human body, they were ready for questions and would probe the children for answers to their questions.  I felt that everyone there was very qualified.  The discovery center was no different.  I was very impressed with the questions this 19-20 year old girl was asking my three year old.  They were right at his age level but still thought provoking.  The way she responded to the things he was doing and made everything a learning opportunity was very impressive.  Having taught for 7 years I of course was thrilled by this but also realized that not everyone does this.  The museum really covers all its bases.  There were even discovery boxes for babies.  Our little girl enjoyed a box of shells of different sizes shapes and textures as well as a fun butterfly matching box.  Despite having all the general exhibits that were hands on they created another whole area just for kids to really explore.  I loved that they regulated the amount of children, they truly understand that learning can't always take place in chaotic/overcrowded locations and that sometimes kids need do be able to sit down and explore.  It was really well thought out!  It must have been a teacher or a mom ha!
We wanted to attend all of the presentations that were there but there was so much to see that we didn't want to miss any of the exhibits.  We decided to see the live animal presentation.  They do multiple live animal presentations every day and each time they discuss a different animal.  They talk about where it is found, what it eats, how it carries its offspring, etc.  Then afterwards the "scientists" will answer any question you have about this animal.  Well lucky for us, the animal show we went to was focusing on a reptile we recently had in our back yard- a snapping turtle.  It was neat to hear all the things they said about snapping turtles.  I was particularly interested in the confirmation that the turtle in our yard was indeed looking for an ideal location to lay its 2 dozen eggs.  I was grateful our soil was not quite soft enough for her.  They had a huge snapping turtle right on the stage and a tiny 1/2 dollar sized baby snapping turtle that was adorable!  Afterwards they let all the kids come close to the stage and get a good look at both turtles.  It was very fun.
I could seriously go on forever about all of the wonderful things we saw and played with there.  A few more of our highlights were:
Pushing the button while daddy laid on a bed of nails.
Playing in the light room- a room that shows the science behind all sorts of different lights
Riding in the space shuttle
Playing in the dinosaur exhibit and walking underneath another huge T-Rex-here you can measure dinosaurs, view their footprints and fossils, learn about what they ate and how the lived etc.
Listening to all the voices on the phones that were attached to each exhibit-this was great to have auditory stimuli for each exhibit especially for young kids who can't yet read! Or who just like to pretend to talk on the telephone!
On of our "extras" for the day was the must see Butterfly gardens.  Now I have been to a butterfly garden before but when they created this room they picked the most beautiful location.  It sat right on the edge of the museum overlooking Boston's picturesque Charles River with the magnificent Boston skyline in the background.  Not only were we surrounded by these beautifully graceful creatures but we were in one of the most scenic places in the entire city.  It truly was magical and breathtaking.  The butterflies were of course gorgeous as were the flowers and plants that flowed throughout the garden.  There was so much color and beauty.  Both of my children (ages 3 and 1) kept jumping up and down with excitement as a butterfly would fly right past their ear or brush their shirt (not what they recommend if you want one to land on you but it was thrilling to see their joy!)  Being in that room with my family was one of those moments I think I will always remember.  It truly was a once in a lifetime opportunity.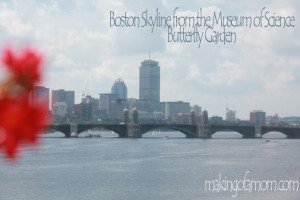 I can't imagine anyone ever being bored in the Museum of Science Boston.  It was truly remarkable.  This post doesn't even touch on a fraction of the things you can see and learn at this museum.  It is a wonderful venue for all ages and learning abilities.  Everyone in our family had a blast and can't wait to go back for another visit.  I would recommend the museum of science be put on your bucket list.  Check it out the next time you visit this east coast city!