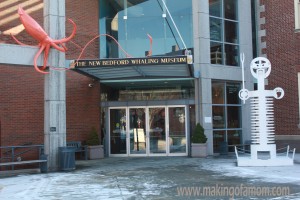 My 4 year old hasn't stopped telling people that he visited a
whaling museum.
  He loved it!  Since he was so thrilled I thought I would write this review from his eyes.  So here it is:
The 5 coolest things I saw at the New Bedford Whaling Museum- A 4 year old review (with a little help)!
1.  Whale Skeletons– He kept telling the story of a mother whale who was pregnant washing ashore and inside her belly was her baby whale.  The kids were able to stand on either side of a large room and show how big the baby whale was and how big the mother whale was using a long rope (this four year old loves ropes so that was a bonus!).  They were so amazed at how big a baby whale could be!  Especially since their momma has her own little baby in her belly. There were many other skeletons hanging throughout the museum which of course initiated many ooooos and ahhs from both our children!
2.
The whaling boat
– They loved seeing the bones from various types of Whales but did not compare to the amazement of the world's largest ship model: which was a 1/2 size whaler ship. The ship (pictured above) filled the entire room and was an amazing sight. It was the perfect thing for a 4 year old  to be able to walk aboard the model and explore what a real whaler ship looks like. They were able to climb,  search and imagine.  The didn't want to leave such a fun adventure!
3. "Pictures"/Displays-  In every room and corner were numerous Paintings (or Pictures as he called them) and displays depicting the vast history of whaling over the years. There were some things that were hands on, yet there were many that were for eyes only. Although it was only "pictures" there was still much to see and identify in each one.
4."Toy Boxes"- Although 4 year olds might be on the younger end of those that make their way to the Museum, they were more than prepared for any and all ages. Our very educated Docent quickly realized that he would need to alter our tour and spend some time the activity boxes that were located throughout the museum. Inside the boxes where numerous hands on items to help younger visitors understand. They had empty gallon milk jugs to show how much a whale would eat as well as toy whales to help distinguish different types of whales. They also had a rib bone and vertebrae that could be handled up close to get a sense of how big a whale would be and what their bones felt like.
5.
Tiny Boats-
They also had many other models boats of all shapes and sizes in other sections of the museum. There were models of all shapes and sizes with unbelievable details, even models as small as would be able to fit in the palm of your hand. He loves little boats and toys and enjoyed seeing things that are so true to life but tiny and detailed as well.
Although this was written from the point of view of a 4 year old it is perfect for all ages. With programs for elementary students and those studying and reading Moby Dick to College level studies there is something for everyone. We will be visiting the whaling museum again! Everyone had a great time and there was still so much to see! A really fun note is that children under 5 years old are free! So pay for yourself and get your little ones in with you for a day full of fun and learning!