Ahhh after all this snow we have been getting in the Boston area, it was so wonderful to be able to spend the evening at Coco Key Water Park in Danvers, Ma. I suggest that if you have cabin fever (which I can't imagine you wouldn't) then you head to Coco Key Water Park.  It is so much fun and there is so much to do and enjoy!
  From the moment we stepped through the doors my kids wanted to throw themselves in the water.  They couldn't believe how warm it was (despite the snowfall outside). They were so excited to spend some time in the first place they saw- the kids pirate ship pool and slides.
As a mom I loved this area because it was so contained yet there was so much to keep my kids entertained.  There were tables and chairs all around the pool and it was easy to move around and access your stuff while our kids played.  The slides were perfect for my kids to use on their own.  They loved them!  My son especially kept going up the stairs and down the slide.  He felt like a big kid!  I also liked that you didn't have to get totally soaked. The big kid area has a big bucket that dumps- this is so fun for 6-10 year olds but my little 3 year old did not want to get soaked when she wasn't expecting it.  This smaller area had things that dumped small amounts of water or that rained down water at all times- very easy for a 3 year old to predict or avoid.  In addition my kids enjoyed that the sail was projecting the Disney channel for them to also enjoy.
They loved the big water structure with slides and splashing and bigger slides.  They loved the water toys that you could maneuver to splash people or make a chain of water from one to the next.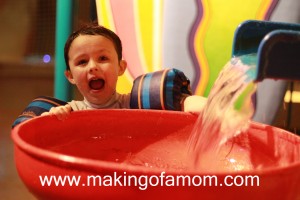 This was their particular favorite! They each brought a little water toy and enjoyed watching it go through the little water maze they created.
The lazy river was one of my favorites. It was so relaxing to ride the waves and currents in your own tube. The kids enjoyed seeing the whole park from this angle. We also enjoyed the lily pads and basketball hoop pool. The kids enjoyed deeper water that they could swim in with their little puddle jumpers on. They loved trying to shoot basketballs into the hoops. They really enjoyed watching Daddy ride down the big slides as well. There were two body slides and two tube slides that curved around outside the building before re-entering and splashing into a warm pool.  There was plenty to choose from for dinner too- the prices weren't really any different than you would find anywhere else and it was nice to take a little break from running from here to there by grabbing a bite to eat.  The whole atmosphere in Coco Key Boston was wonderful.  With the fake palm trees and coconuts you really felt like you had escaped the winter wonderland outside. Plus wheather its winter, spring, summer or fall- there is no need to worry about rain or sunburns because it is all indoors! Coco Key Boston offers annual passes so you can enjoy it again and again!  What a great gift to give for a birthday or Christmas this year!  We will absolutely be returning to Coco Key Boston.  It was relaxing and warm and an excellent way to get away without the huge expenses of distance travel!