Ever since the birth of my 4th child, I have been struggling to prepare more than just a quesadilla for dinner for my family. When I received the opportunity to work with Smithfield on this sponsored post, I jumped at the chance. I was hopeful that by learning more about the high quality cuts of pork Smithfield sells I would be inspired to once again prepare delicious meals for my family. 
My family enjoys eating pork but I only have about 3 recipes that I feel comfortable enough to make and serve to them. Lucky for me
Smithfield
has partnered with award winning chefs to share some restaurant quality meals that are easy enough to prepare at home! Smithfield Prime fresh pork comes in a wide variety of hand-trimmed cuts, including: Tenderloins, Boneless Loins, Back Ribs, St. Louis Style Spareribs, Boneless Chops, Bone-In Chops, Sirloins, Shoulder Butts and Roasts. This means any style of pork you want, you can make! And you can get
recipe inspirations
directly on the Smithfield website.  I wanted to share my favorite recipe from Kansas City Chef Colby Garrelts.
BBQ Cowboy Pork Chops with Creamy Corn and Quick Pickles
4
Smithfield® Prime Bone-In Center Cut Pork Chops
3/4 cup kosher salt, divided
1/3 cup sugar
2 teaspoons onion powder
2 teaspoons garlic powder
2 teaspoons crushed red pepper flakes
2 teaspoons chili powder
2 teaspoons black pepper
1 1/4 teaspoons smoked paprika
Whisk together 1 gallon water, 1/2 cup salt and 1/3 cup sugar until dissolved. Place chops in 2-gallon resealable food storage bag; pour brine over chops; refrigerate 1 hour. Combine remaining 1/4 cup salt, onion powder, garlic powder, red pepper flakes, chili powder, black pepper and paprika; set aside.

Heat charcoal or gas grill for 2-zone cooking; direct heat zone about 400

o

F. and indirect heat zone about 275

o

F.

Remove chops from brine and pat dry with paper towels. Coat with spice rub and place over indirect heat zone for 17 minutes per side until internal temperature reaches 135

o

F. Move chops to direct heat zone and grill until internal temperature reaches 145

o

F. to 160

o

F., turning occasionally. Let stand 5 minutes before serving.
Creamy Corn
6 slices Smithfield® Hickory Smoked Bacon, cooked crisp, drained and crumbled
4 ears corn on cob, husks and silk removed
2 tablespoons unsalted butter
1/2 small white onion, diced
4 cloves garlic, minced
2 tablespoons all-purpose flour
1 1/2 cups whole milk
5 oz. cream cheese
1/4 cup (1 oz.) shredded Cheddar cheese
1/3 cup panko bread crumbs, toasted
4 green onions, sliced
Lay the ears of corn on grill over direct heat zone for 10 minutes, turning occasionally to mark all sides. Move corn to indirect heat zone and continue to cook for 10 minutes, or until kernels are fork tender. Let cool; cut corn kernels off cobs.

Melt butter in medium saucepan over medium heat. Stir in onion and garlic; cook for about 1 minute until onions are translucent.

Reduce heat to low and stir in flour until well mixed. Stir in milk and cheeses; cook until thickened, about 5 minutes, stirring occasionally to make sure it doesn't scorch. Add corn kernels and crumbled bacon. Cook for about 10 minutes until mixture turns thick and bubbly. Transfer to 4 individual ramekins; top with toasted bread crumbs and green onions. Keep warm.
Quick Pickles
1 cucumber, thinly sliced
1 large watermelon radish, thinly sliced
1 tablespoon sugar
1 teaspoon salt
1/2 medium yellow onion, thinly sliced
1 1/2 teaspoons apple cider vinegar
2 tablespoons extra virgin olive oil
Toss cucumber and radish slices with 1/2 tablespoon sugar and 1/2 teaspoon salt; let stand 5 minutes. Toss onions with remaining 1/2 tablespoon sugar and 1/2 teaspoon salt in large bowl; let stand 5 minutes.

Rinse cucumbers and radishes under cold water and place in bowl. Pour boiling water over onion slices; stir slightly. Let stand 3 minutes. Drain and rinse onions under cold water; place in bowl with cucumber and radish slices. Toss with vinegar and olive oil. Season with salt and pepper to taste.

Serve each chop with corn ramekin and garnish with cucumber and radish pickles.
Makes: 4 servings
Prep Time: 15 minutes plus 1 hour brine time
Cook Time: 1 1/2 hours
Colby Garrelts Recipe
©2017 Smithfield Foods
My favorite cut of pork is definitely the tenderloin. I love how moist it is. Plus, I love slicing it into medallions to serve. It's like the perfect kid proportions. You can get this delicious Glazed Pork Tenderloin with spaghetti squash and pickled apples and Brussels sprouts recipe on the Smithfield site as well.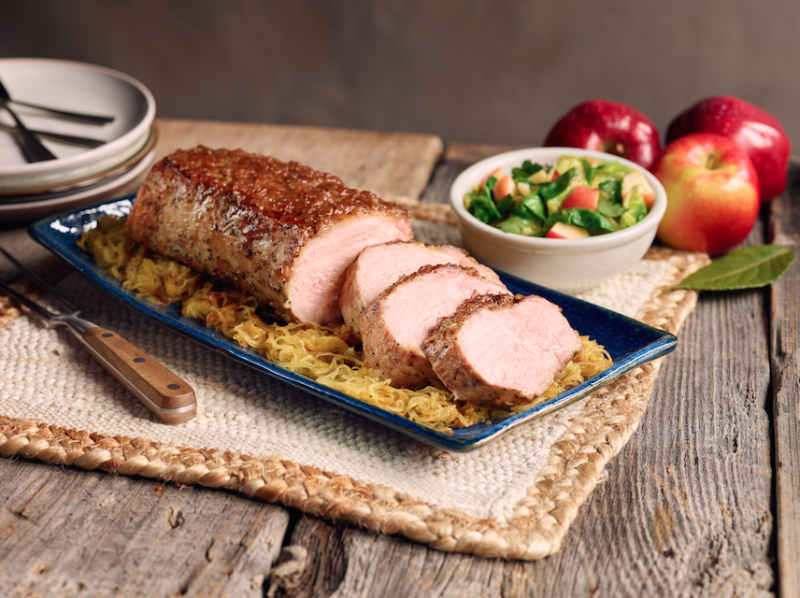 Smithfield Prime Fresh Pork contains no artificial ingredients or added hormones or steroids. It is high quality, hand trimmed and exactly what I want to serve my family. Smithfield Prime is available in the Kansas City area at Price Chopper, Sun Fresh, Country Mart, Ray's Apple Markets and Sam's Club.
Now that you've seen a few of the delicious looking recipes offer by award winning chefs on the Smithfield site, which one do you want to try? Which cut of pork is your favorite to serve? With the
Smithfield Prime
high quality cuts of pork it's easy to create restaurant quality meals at home.
For more information and recipe inspiration, visit 
www.Smithfield.com/PrimeChefs
. 
This is a sponsored post written by me on behalf of Smithfield.