In honor of Throw Back Thursday I thought we would talk about some of my favorite childhood toys. This may either date me or make me seem very young, depending on your age! Here we go!
1. Believe it or not the Furby
, that was recent hottest Christmas toy. I wanted one of these so bad in elementary school… in the 90's! lol My parents brought me a couple boxes of my childhood things last time they came to visit and my old Furby was in one of the boxes! Now my daughter has claimed it, but she doesn't know how cool it is. She has a RETRO Furby!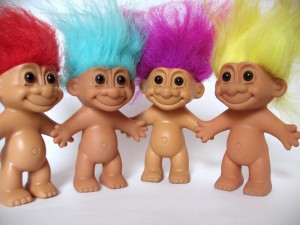 2. Troll Dolls
. These things are creepy! I'm not sure why I loved them but I did. I had a huge collection! I would go to a friend's house one a week in elementary school and we would walk to a store by her house that sold these. Every week I would pick which one I wanted and start saving my money to get it. You could also buy the Trolls clothes so I had quite the collection of outfits. I found one of these in the boxes my parents brought, but I think it found its way to the trash can.
(Get the new Trolls
movie here!)
3.
Pogo Stick
. I didn't own one of these, but I had a friend that did. As much as I would try to master it, I couldn't get more than 5-6 jumps out of it. I'm not sure if I lack the balance required or what. We sure did have fun having contests with the pogo stick, I wouldn't win but it was a lot of fun. Seeing these brings up some fun memories. I thought a pogo stick is a pogo stick but turns out there are a couple different styles to them. You can see other styles if you
click here
.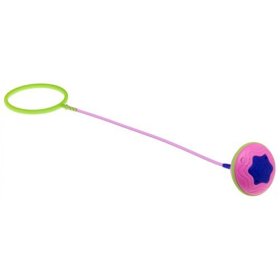 4. I don't mean to brag but I was a Skip It
genius! This toy is kind of like a hula hoop for your foot. You place the circle ring on your ankle and the swing the skip it around. The goal was to keep it rolling on the floor because inside the ball end was a counter that would tick with each turn. The counter only had 3 digits so I would try to get it to 999 and then it would start over. I thought that was the funniest thing. Interestingly, this toy has also made a comeback and so my daughter now has one.
5. Move over Kristy Yamaguchi! On roller blades
I was queen of the road. Growing up I lived on a col-de-sac so I was able to skate pretty freely. My friends and I would pretend we were ice skaters on our roller blades. We actually had mastered several tricks. I loved my roller blades. I'm pretty sure they are not like riding a bike, if I put some of these on today, it would be comical instead of graceful.
What were your favorite childhood toys? Did you play with any that I mentioned?