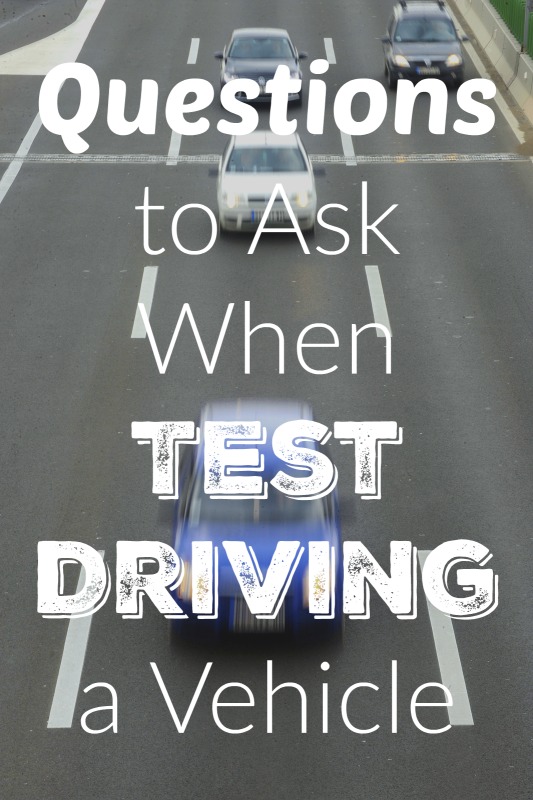 Test driving a vehicle sounds like fun, doesn't it? However, most of the time when you are test driving a vehicle you are so concentrated on how the vehicle drives and what it looks like—not what it DOES. Most of the time, you miss the important stuff. You forget to ask questions to answers you need to know before you buy the vehicle. When test driving a vehicle, make sure you ask these questions. Even if you've done internet research before you get in the car, it's ok to ask questions you may know the answer to. 
What kind of MPG does the vehicle get?

This is such an important question because you need to know exactly what kind of gas mileage your vehicle gets. You may be awe struck by it, but if it only gets 10 miles to the gallon, it is probably not the best investment. Unless you plan on only driving around the block.

Has the car been in any accidents?

Another great question to ask when shopping used! Knowing whether or not the vehicle you want has been in any accidents is an important question. You don't want to buy a vehicle without knowing what kind of damage was done to it. There are car reports that have this sort of information on it and usually the car dealership has no problem providing it.

How many owners has the vehicle had?

When test driving a vehicle, you will want to know how many owners the vehicle has had. For example, a vehicle that has had one owner may be a better option for most people. One owner usually means that the vehicle has been taken care of a lot better.

What is the year, make, and model?

Most people are test driving a vehicle because they like how it looks. Make sure you know what year, make, and model the vehicle is as this will help you make your decision even easier. This is important knowledge because you may want a newer vehicle or even stay in the old vehicle range. So many options!

Does it do anything really cool?

Everyone wants to know if their vehicle does anything really cool. It's no fun when the vehicle you purchase is super boring. One thing you'll want to ask is if there is anything special your vehicle does. Does it have a sunroof? Does it have any special gadgets? Don't be shy about asking.

How many car seats can this vehicle fit?

Maybe you're a parent or a grandparent that hauls around several different children during the day. An important question to ask is

how many car seats the vehicle can fit?
Whether buying new or used, don't get carried away in the moment. When test driving a vehicle, a lot of questions may flood your mind, but asking them is a different story. Make a list if you need to of all of the questions you want to ask during the test drive! The dealership wants to help you get in the right vehicle.