I received complimentary product for review purposes. All opinions are my own. Yours may differ.
This year I started planning a White Elephant gift exchange party in the middle of November. Surprisingly, just a few days after I decided to have the party and started planning the details I got an email from QDOBA inviting me to try out their catering for an event I was having. Serendipitously, my new white elephant party, in it's baby stages, just got a caterer! Here are all the reasons why this was an awesome experience that I want to turn into tradition.
Easy
Getting your QDOBA catering set up is so simple. I simply visited the
QDOBA website
, chose my location and called the provided phone number. Since I had never had a party catered before I had a ton of questions, but the QDOBA employee was very patient with me and explained everything. I could have had the whole thing set up in 5 minutes if I hadn't had so many questions! It was easy. You end the conversation with the day and time you need you food ready and you're good to go. You will also receive a follow up call closer to your party to make sure everything is still set.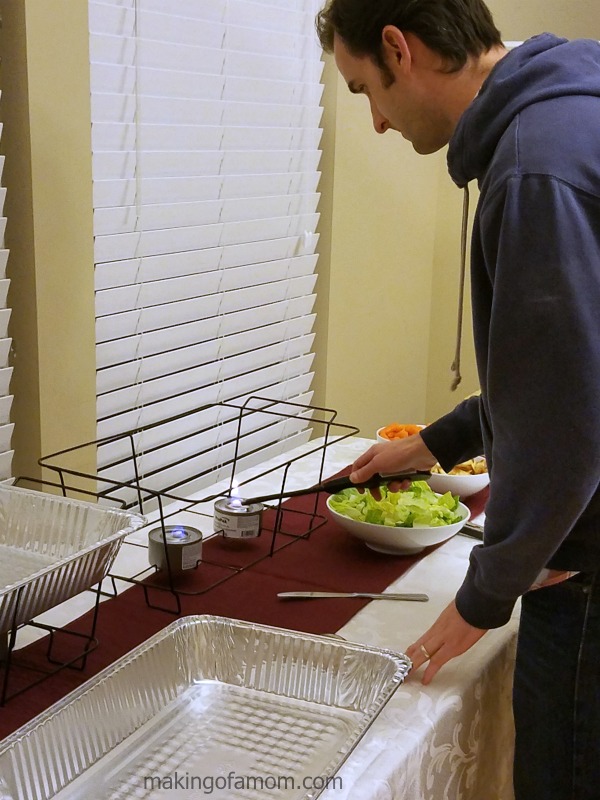 Great Value
The QDOBA catering has a really great plan. They set you up with a "hot bar" which you then customize to fit your likes. We chose to get chicken and steak, cilantro rice, black beans, fajita veggies*, tortillas*, tons of chips, guacamole, cheese, lettuce, sour cream, roasted corn chile, pico de gallo, and two different salsas. In addition to all the food we also received two chaffing dishes and the fuel to keep the food warm, bowls for the food, serving utensils, eating utensils and napkins. They seriously covered everything. I was planning for 15 people, got some of the "extras" and my bill was under $200.
*Some items are an additional charge to the base price.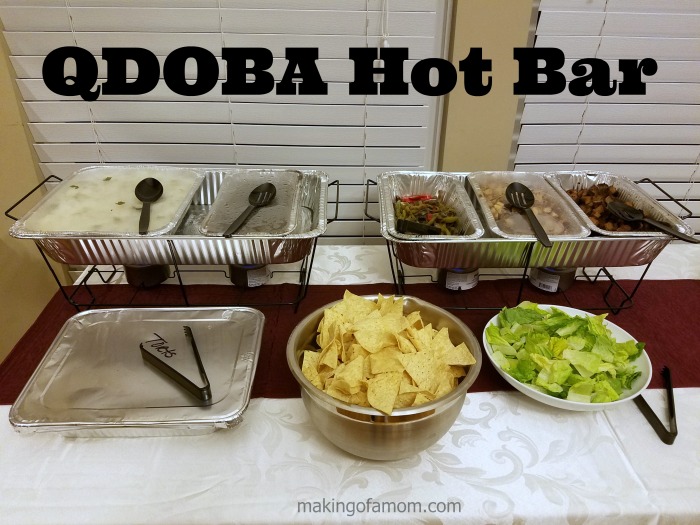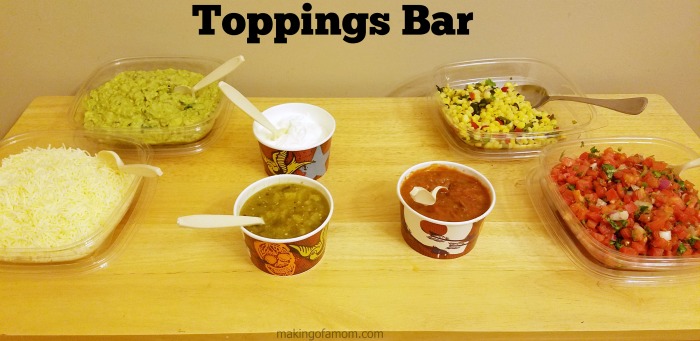 Delivery
Don't have time or desire to pick up your food? No problem! Let QDOBA come set it all up for you. They will bring it to you and get everything set and ready to go. There is a $25 fee for this service, but that seems very affordable and worth it!
Easy Clean-up
If you choose the delivery option, the QDOBA employees will handle clean up. Since we opted for pick up, we had to clean up ourselves, but everything came in a foils container, or a container with lids so we simply put the lids on and put it in our fridge. For the big items (Meat, rice, beans) we put those in plastic containers and placed them in our fridge. We just threw away the foil containers and done. We even get to keep the chaffing dishes for our next get together. It was such a simple set up and clean up.
Enjoy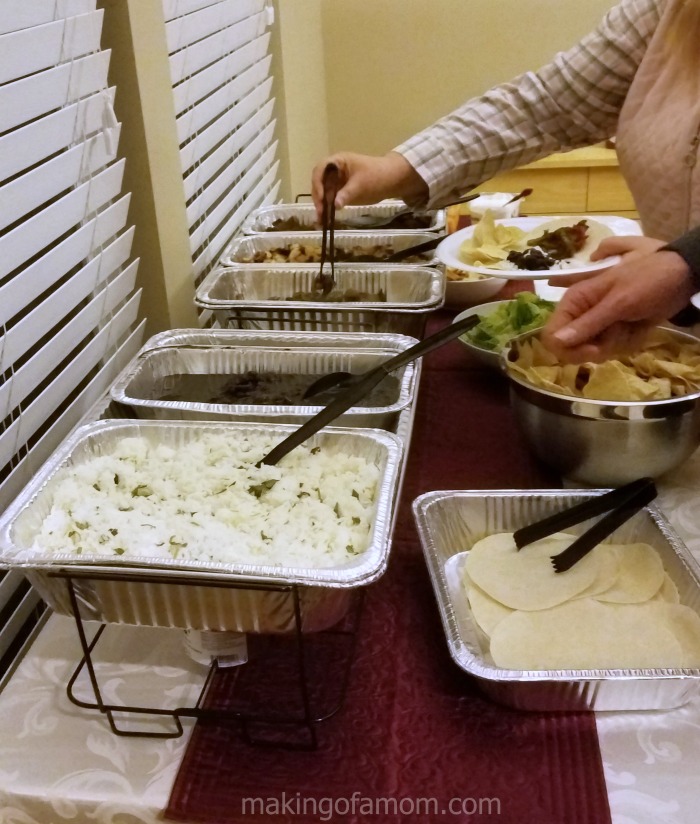 My party guests were very excited to have QDOBA for our meal, and so was I. It was a huge success. We ended up having 13 people and there was plenty of food. Everyone enjoyed the many choices available. There was even plenty of food left over so my husband and I had some fun lunches for a couple days afterward.
Using QDOBA catering was so easy, affordable and delicious. I especially loved how flexible the food was. Make nachos, a salad, a burrito, a taco, a bowl… basically any way you wanted to have it, you could!  I would love to make my white elephant party, with
QDOBA catering
, an annual tradition. We absolutely loved it!