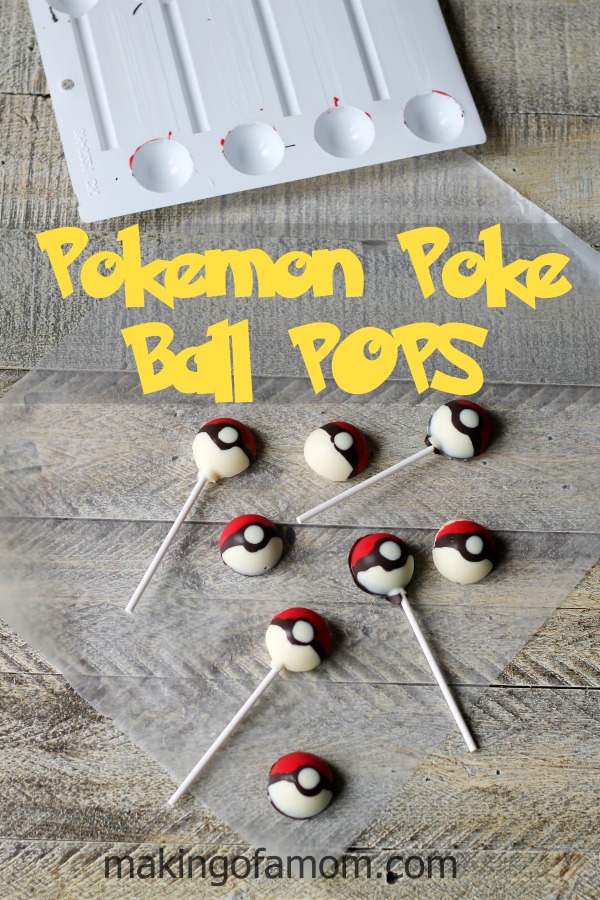 It seems Pokemon Go has taken over the world. This very fun game has definitely captured my family's attention. We have had a lot of fun going to different parks around town trying to catch new Pokemon. The first time Pokemon came around my husband and I didn't care much about it. It seemed like a kid thing and by then we were in high school. This time around, with the game being on an app, and now having kids, it's been a lot easier to get interested in it. Although we will admit we don't know anything about the individual Pokemon's, we just like to collect them as a family.
As I was thinking about our next Pokemon adventure I thought it would be fun to have an accompanying treat so I pulled out some chocolates and a mold I found at a local craft store and got to work on some Pokemon Poke Ball POPS! These are so easy, so let's get started.
Pokemon Poke Ball POPS
Supplies:
Circle chocolate sucker molds
Red, White and Brown chocolate melts
Sucker Sticks
Sandwich bag for piping
The molds, sticks and chocolates can be found at your local craft store, or even local Walmart.
Directions:
(Though there are many steps, it really is an easy and quick treat to make.)

Melt white chocolate and pour into sandwich bag corner. Cut a tiny corner off the bag. Pipe small dots in the center of each circle for the Poke Ball's button. Freeze.
While the white dots freeze, melt chocolate. Put in Sandwich bag, cut tiny corner.
Once the white dots are frozen (about 5 minutes or so) pipe the outline of the white dot and draw straight lines up the side. This is where the Poke Ball opens to catch the Pokemon. Freeze.
While the chocolate freezes, melt the red chocolate.
Carefully spoon red chocolate into the top half of the Poke Balls. Use a tooth pick to carefully maneuver the red chocolate over the entire surface. Freeze.
If needed, remelt the white chocolate. Carefully spoon into the bottom half of the Poke Balls. Use a tooth pick to carefully fill the space with white chocolate. Freeze.
Once the Poke Balls are fully frozen you can now fill these somewhat hollow balls with any of the chocolate you have already used. I filled mine with the white chocolate and dark chocolate. Freeze. This time it make take about an hour to become completely solid.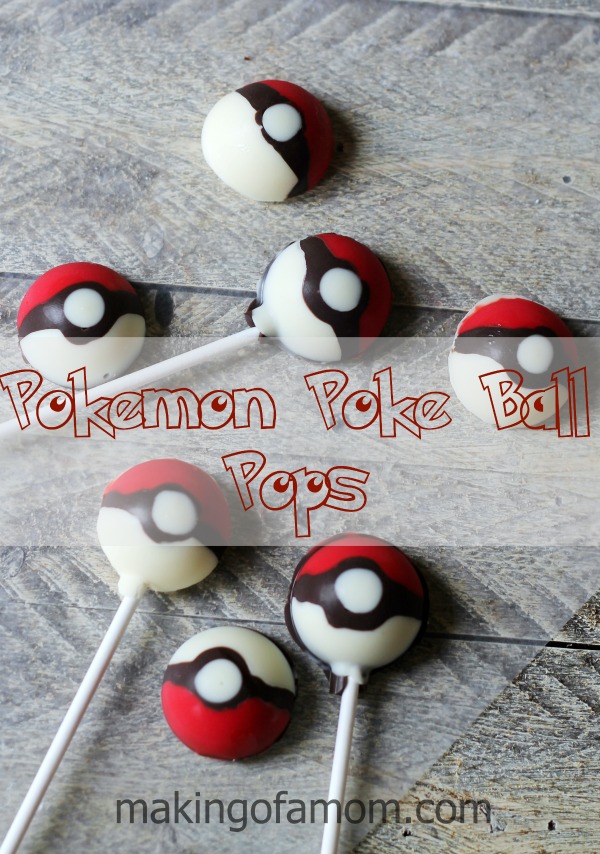 As soon as the pops were done and my husband got home we grabbed our yummy Pokemon Poke Balls and headed to the park for an adventure. As you can see even the Pokemon wanted to enjoy my Pokemon Poke Ball pops! Enjoy!