Our little family had the opportunity to go to Coco Key Water Resort in Waterbury, CT.  Honestly the timing was perfect.  After all the cold weather we have been having here in the Northeast we were eager to have the opportunity to visit an indoor water resort but boy did we get even more than that!  Both the resort and hotel made us feel like we were in Paradise in the middle of Winter.  It was awesome! So I'm going to tell you 10 reason why you should make a visit to CoCo Key Resort in Waterbury, CT.
1. From the moment you step through the doors you will be treated like royalty.  Each member of their staff was helpful and accommodating beyond my expectations.  They were willing to help in any way possible, from letting us choose where our room was to finding me a tissue for my 3 year olds runny nose.  They complimented my children, they complimented me, they were just sincere and hospitable from the get go.  I was impressed with their professionalism from their dress to their manners.  I had a smile on my face right from the beginning of our stay.
2. When you step into the courtyard right off the lobby you will feel you have quickly left New England and were transported to Florida or some other tropical location of your choosing! It was gorgeous.  The courtyard made it feel like you were outside in one of these wonderful locations and not in a cold winter zone.  It was like getting the best of both worlds, a little bit of warmth and sunshine and yet all four seasons to their fullest just by stepping back outside.  I think that made it even more enjoyable because we would get out of the car in 40 degree weather and step into the 84 degrees of the water park or the warmth and picturesque atmosphere of the hotel.  We loved all the cute Christmas decorations that were up.  It really got us in the Christmas Spirit.
(We didn't spend too much time in the room but we did have a bit before the park opened.  Here are the boys catching a little T.V. can you tell they're related?)
3. The rooms at Coco Keys Water resort in Waterbury are lovely.  They are homey and truly cozy.  The mirrors are framed in lovely wood trim. (I was maybe a little more focused on this because I have been wanting adorable framed mirrors in our home…but that's another story) The pillows and beds are comfortable and the room set up is conducive to- lots of movement.  This was obviously an advantage for us since we had two little movers with us.  We felt safe and comfortable in our room and were very pleased with its cleanliness and appearance.
4.  I'm going to say it.  I was so excited to find Bath and Body Works Coconut Lime Verbena soap for use in the shower.  I love that scent and it just made me feel that much more as if I was in a tropical location.  What a little surprise addition to our trip.  My kids loved it too. What a treat
5. The waterpark was conveniently located beside but within the hotel. It was genius that the park and the hotel were joined by a corridor, thus allowing guests to go comfortably from one to the other at their leisure without being reminded of the cold weather outdoors.  We took advantage of this feature many times including when we first checked in.  It was fun to give my children an opportunity to look at the waterpark before it opened.  This got them very motivated to behave and help Mom and Dad get things done before it was time to enjoy the splashing and water that would follow!
6. It was a simple process to get our wristbands for the waterpark.  As park of their stay and play package you can enjoy both spending the night at the hotel and enjoying the waterpark.  This meant that our wristbands were given to us when we checked in and we could use them for both days of our visit.  This also mean that we didn't need to stand in line with people who were coming from outside the hotel to enjoy the waterpark, which meant we got right in as soon as it opened. This of course is the ideal setup for anyone with little kids. Phew!
7. The water park was clean, warm and just terrific! We didn't feel that it was overcrowded and we never waited in line.  There was so much to enjoy that everyone spread out pretty well.  I was impressed with the spacing of everything inside the park.  It was very organized and never felt small or crowded.  The life guards were very professional and focused on their jobs which is more than I can say for other water parks I have been to.  Anytime I asked one a question they were happy to answer (like what time is it or when is that huge bucket going to splash down on us) but they were also still very focused on keeping everyone safe.  I am all about water safety!  It was nice to look outside the windows on Friday night and see that it was not only cold but also dark outside and yet we were inside still having fun as if it were a bright sunshiny day!   It was SO MUCH FUN!
8. There were so many things to keep us entertained.  We played in the kids area for a while, enjoying the slides and water games.  There was a cute little umbrella with 4 little jumperoos in the water.  I loved it!  It was perfect for little 6 month old babies to enjoy the water but have fun and be safe as well.  There were little sprinklers and big splashes.  There were three big waterslides that my hubby and I enjoyed taking turns going down.  The lines only had 3 or 4 people at the most in them and so we were able to take turns quickly.  Our kids loved to swim in the pool with the  basketball hoops and ride in a tube with mom and dad in the lazy river.  There was a hot tub and a little lily pad area where you used a rope to get from one pad to the next.  There were tons of places to sit and I loved that we could put our stuff down and not feel like we were miles away from it when we went to enjoy the water.  They had complimentary towels which made it nice since we were staying at the hotel and were visiting multiple days.  I was truly impressed with every aspect of this trip.  We really enjoyed the park and it was above and beyond what we expected.  In addition the hotel had a comedy night on Friday night after the water park closed.  The entertainment never ended!!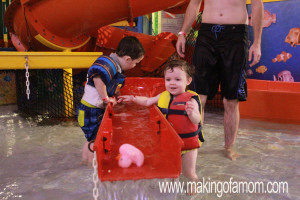 9. There were lots of snack and food choices during our visit.   In the water park there were two places to get food.  There was a little pizza hut express and snack shack.   You could get burgers, chicken sandwiches, fries, ice cream, sodas, mac and cheese and much more.  What I really appreciated about the food was that it wasn't too unreasonable.  In fact we were very excited to get two tall soft serve cones for $1.75 each.  Again I thought this was very classy.  I hate when people overprice just because they can.  I didn't feel like Coco Keys did this at all!  In addition the hotel had a lovely sit down restaurant called Tradewinds as well as a small starbucks that sold drinks and baked goods.  There were also vending machines on each floor for late night snacks!!  Always a must!  In addition there is in room dining available as well!  So many food options- LOVE IT!
10. Coco Keys Hotel also has its own pool!   First of all the pool was gorgeous. It was truly one of the nicest hotel pools I had ever seen.  It was well lit, very large, immaculately clean and had a hot tub as well.  I thought this was very classy.  I often feel that hotels skimp on the pool and this hotel had every reason to do so having a waterpark as one of its amenities.  But not only did they have one but it was very inviting and wasn't overpowered by the waterpark.  It had a more laid back feel to it and I think it appealed to many of the other groups staying at the hotel. It was nice that you didn't feel like you couldn't stay at the hotel without going to the waterpark because you totally could and you could thoroughly enjoy yourself.  They really made the entire place welcoming. In fact if you chose not to participate in the waterpark at all, the way the hotel was set up you could almost hide it from your children and temp them with the pool. They didn't publicize the waterpark and make you feel guilty for not going like other businesses might.  It was truly high class and professional!
See…husbands will have fun too!
Did you know that Coco Key is also a convention center?  Can you honestly think of a better place to have a meeting?  Yikes!!
Thank you CoCo Key Waterbury…..Don't worry….We will be back!!