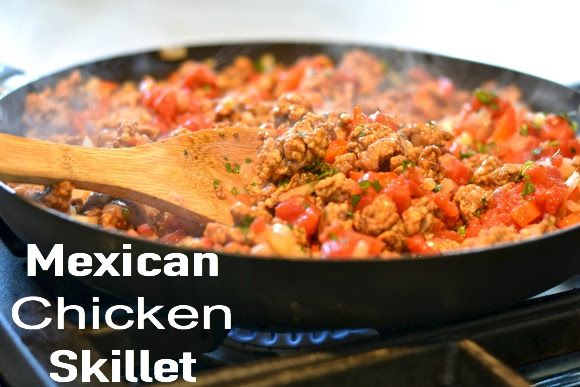 It's Paleo recipe time again! Today we have a Mexican Chicken Skillet. I love a good 1 skillet meal. This one is healthy, pretty easy and delicious! For members of your family that maybe aren't so Paleo this would pair great with a taco shell or tortillas.
Mexican Chicken Skillet
Ingredients
2 Tbsp coconut oil (or use avocado oil)
1 medium onion, chopped
1 red bell pepper, chopped
4 cloves garlic, minced
11/2 lb ground chicken (or ground turkey or grass-fed beef)
2 Tbsp chili powder
1 tsp ground coriander
1/2 tsp salt,1/2 tsp pepper
1 (14.5-oz) can diced tomatoes, drained
1/4 cup chopped fresh cilantro
Instructions
Heat oil in a large skillet over medium-high heat. Add onion, bell pepper and garlic. Cook 6 minutes or until tender, stirring frequently. Add ground chicken, chili powder, coriander, salt and pepper. Cook 5 minutes or until done. Stir in tomatoes and cilantro; cook 4 minutes or until thoroughly heated.