I received a product to review in my Holiday Gift Guide. All opinions are my own.
Last year my family was introduced to
Skylanders Swap Force
during my Holiday Gift Guide. I was so excited for my family to play a new game and get to know new characters. Of course, everyone loved the game so much and we collected a few more characters throughout the year.
This year I'm so excited about
Skylanders Trap Team
and the new game play this game offers! Activision sent me the Skylanders Trap Team starter pack that includes:
1 Video Game
1 NEW Traptanium Portal™
2 Skylanders Figures
2 Traps
2 Character Sticker Sheets with Secret Codes
2 Trading Cards
1 Character Poster
I love that in this easy bundle you get everything you need to get started. Of course you can always purchase more Skylander charters or traps.
Skylanders Trap Team
Kaos has blown up the walls of the feared Cloudcracker Prison freeing the most notorious villains in Skylands! It's up to you and the Skylanders to find and capture them. Using Traptanium™, a magic material that can harness the power of the Elements , you have the amazing ability to trap the villains and return them to Skylands to fight for you! Begin the ultimate adventure as you explore Skylands in search of the escaped villains!
I love that this game works with all of our old characters from Swap Force. I also love the ability to capture the villains and then play using their characters for good! What a really fun twist. Something else I REALLY appreciate big time is that Activision made the new game on Wii. Some many companies are abandoning the Wii for Wii U and so we don't really get new games anymore, so a HUGE thank you to Activision for that! It is also available on Wii U, Nintendo 2DS, Nintendo 3DS, XBOX 360, XBOX ONE, PS3 and PS4.  Also, the graphics are tons better and it is beautiful.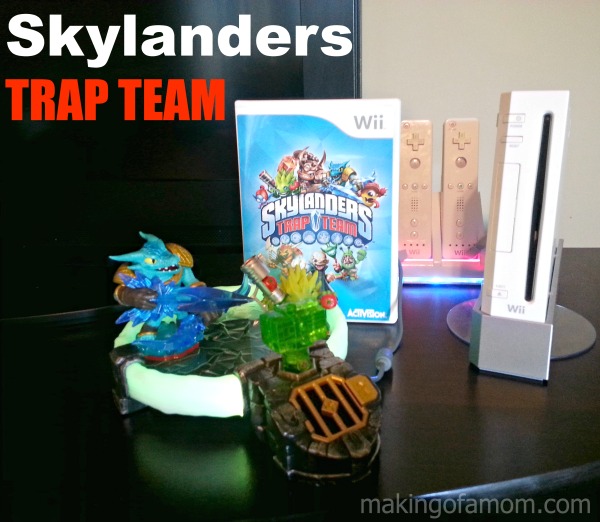 I'm thinking I'll set out the game and everything by our TV and Wii so that when the kids meander downstairs they'll see all the cool new stuff for the new game! I can't wait to get started on some fun family game time.