This post is sponsored by Red Baron but the content and opinions expressed here are my own.
Summer and chaos are words that are perfectly matched, in my opinion. We have been on summer break for a month and so the craziness of summer has definitely set in. We are scrapping the barrel of fun activities to occupy our time. Most days we all come out unscathed and even having had a little fun, but not every day is so successful.
Recently I had a day that was a good example of the summer chaos. On this morning we went to a craft store so my kids could take an art class. My 3 oldest kids were able to create while I followed my toddler around the store picking up the destruction in her wake. Then we played outside with chalk. It was fun but only lasted about 20 minutes because it was so H-O-T and humid and I just couldn't take it. After a nice nap and uneventful lunch, the chaos began.
My oldest daughter is such a good helper with her baby sister. While she was entertaining the toddler in her room, the toddler grabbed her special snow globe from her Nana. My daughter probably didn't think of the possibilities of letting the toddler carry it around. The toddler walked to the dining room and dropped the snow globe on the wood floor.
CRASH.
Water, glass and glitter went all over. Sigh. So I grab the toddler who had little bare feet and call my oldest to come hold her. The snow globe tearfully got thrown away and I started sweeping up glass and glitter. I swept before trying to dry the floor because I was nervous about getting all the glass and didn't know what order to go in. So after my first attempt at sweeping there is water and glitter spread further than it went on it's own because I swept the whole kitchen to get the glass.
Then I grabbed paper towels and mopped up the water and as much of the glitter as I could. Bending down close to the floor to do this enabled me to see a lot more shards of glass I previously missed. I asked my oldest to grab the vacuum and we would vacuum the whole dining room and kitchen to see if we could get all the glass. Our vacuum failed us, and while it may have vacuumed up some glass, I was still finding some. I then went around the floor trying to pick up any shards I found and then swept for a second time.
I ended up breaking down and asking my husband to come home from work (it was only 20 minutes early). He got home and swept again. I was hoping his fresh eyes and brain would come up with another solution for getting the glass. After he was done, I found another shard. So now I'm having my kids wear their shoes in the dining room (GROSS, we are a non-shoe house). I'm just trying to survive at this day.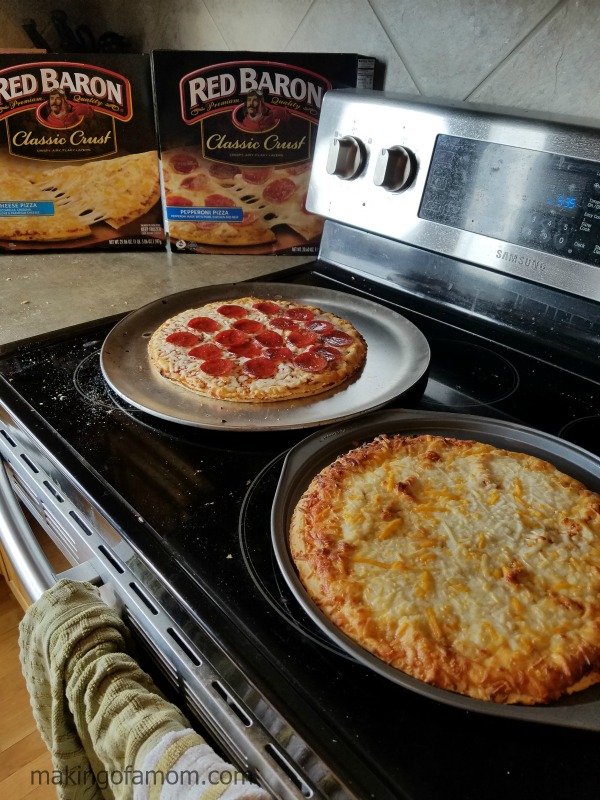 As soon as my husband walked in the door I popped in
Red Baron pizza
for dinner (in my not clean oven!). By that time I was ready for a quick and easy meal solution. Pizza is something everyone in my family can agree on and that's magical.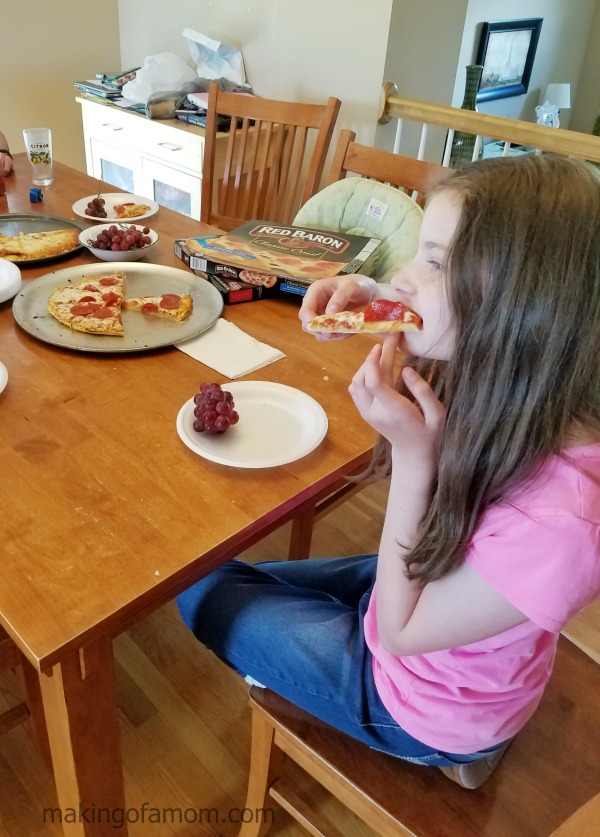 I know summer can be crazy busy and not always lend itself to a high maintenance dinner. Thankfully
Red Baron
is yummy and easy. I see a lot more pizza in our summer's future.