Disclaimer: I was provided all of the supplies to host this amazing party complimentary for review purposes. All experiences and opinions are my own. Yours may differ.
Murder Mystery Maniacs is company that provides murder mystery parties. They have an amazing number of themes to choose from. They have different types of parties such as dinner parties, corporate events and teen themed parties. Each provide an enjoyable evening for an impressive amount of guests. As you can see, I had a fun group over to my house for a murder mystery party last week.
The process of picking a party and ordering it was made very simple with their user friendly website. I decided to plan the date and time of the party and invite all my guests first so I would have a head count for ordering the party. Once I gave all my friends about 3 days to RSVP, I then went and ordered my party. I LOVED that I could search through the characters and pick and choose the characters I thought would be a good fit for my guests. I also loved that this type of party allowed for a lot of guests (up to 75 for this particular theme, others can accommodate many more guests than that). Also, everyone didn't need to be a "couple". I could have an uneven number of males and females, and the game would still work fine. I have hosted murder mystery parties in the past through different companies that only worked for about 10 people, and there had to be an equal number of males and females. I LOVE how flexible Murder Mystery Maniacs is. The staff was also very helpful. While browsing the website they have a love chat feature to help you with any questions you might have. They are also always available over email to help and answer questions. They went above and beyond in helping with every aspect of my party.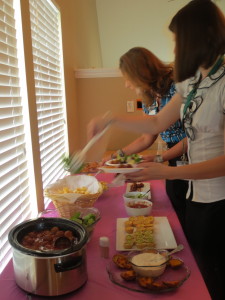 The party I hosted was called "The Party's Over". The setting was at the estate of Jonathan Taylor, where a gala was being held. Unfortunately, someone in attendance shot Jonathan Taylor and it was up to all of the guests to figure out who the culprit was!  As the guests arrived they were handed a character information card, a name tag and a notebook with pencil. Once everyone started eating a shot rang out (I dropped a Calculus book on our wood floor! haha)! Jonathan was found dead in the wine cellar, and there was a murderer among us! After reading the rules to the guests, the investigating began.
Most of my guests knew each other, but there were a few that didn't. The way this type of party works is to mingle and chat with everyone. You need to interview every person to find out motive, opportunity and if they had a weapon. This made it very comfortable, even for the guests that didn't know the others because everyone was forced to chat with each other. I really liked that method of investigating. It seemed to work very well. Everyone enjoyed chatting with each other, getting know the characters and figuring out who dunnit!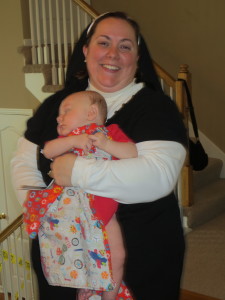 The whole event from beginning to end lasted about 3 hours. It was a good amount of time. At the end everyone voted for the Super Sleuth, Best Actor and put in their guess for the murderer. Several guests had the murder figured out! When it was all over many people mentioned that they really enjoyed the party and would like to do another one. These parties cost $10 per person and if everyone just bought their own character it would be a fun and affordable activity at someone's house. I think one of the guests is planning on hosting  the next party and everyone will just pay for their own characters. I'm really excited to do it again!
Through my own opinions and through talking to some of the guests we did come up with a couple suggestions for improvement of the game. It seems as though almost every guest had the same motive. It would have been fun to have some other motives. Also, a lot of people's character information cards told them to talk to certain people about certain things, but often times the person they were supposed to talk to didn't know anything about the what the other person was talking about. Perhaps giving everyone the same background so they can correctly converse on those topics would be helpful. One of my guests told me that her online character profile didn't match the character information card she received at the party.
Overall everyone loved it! It was a fun way to have a date night with our friends. It was fun to see how everyone got into their character with costumes and some with accents! I can't wait to party again with Murder Mystery Maniacs!