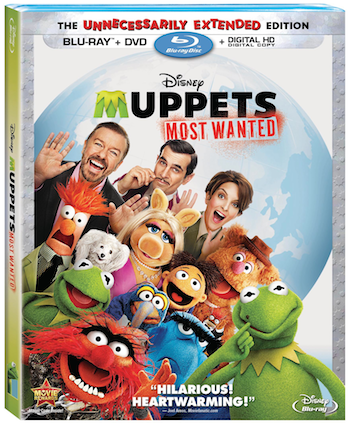 I LOVE this movie. I was so blessed to go to the Muppets Most Wanted premiere in Los Angeles. I grew up watching The Muppets and all of their movies. I have loved them my whole life and was so excited that they came out with a new movie. You can check out my original review of the movie and my feelings are still the same.
Muppets Most Wanted is a very fun caper-esque Muppet movie. The blu-ray combo pack, digital HD and Disney Movies Anywhere is coming out on August 12. Be sure to look for it on store shelves!
I wanted to share with you a couple of clips of my favorite parts. This first one is a favorite at our house and also acting it out. You'll see what I mean:
This is also another funny, and classic comedy moment of a Muppet movie:
As part of the movie release it comes with three versions of the film: The Original Theatrical Cut, the Statler and Waldorf Cut, and The Unnecessarily Extended Cut, featuring hilarious bonus content. some other fun bonus content includes:
Rizzo's Biggest Fan

"I'll Get You What You Want" Music Video Performed by Bret McKenzie
Some of the best parts of this film is definitely all of the musical numbers. Bret McKenzie did an amazing with the music. It is fun, informative, clever and memorable. When I got home from my trip, I popped in the soundtrack and by the time we were going to the early screening of the movie 2 days later my whole family had all the music memorized. We are still listening to it quite often 5 months later.
Muppets Most Wanted it available NOW so head to a store near you and pick up a copy. Here are some fun Muppets Most Wanted activities to provide some fun for your kids (or yourself).