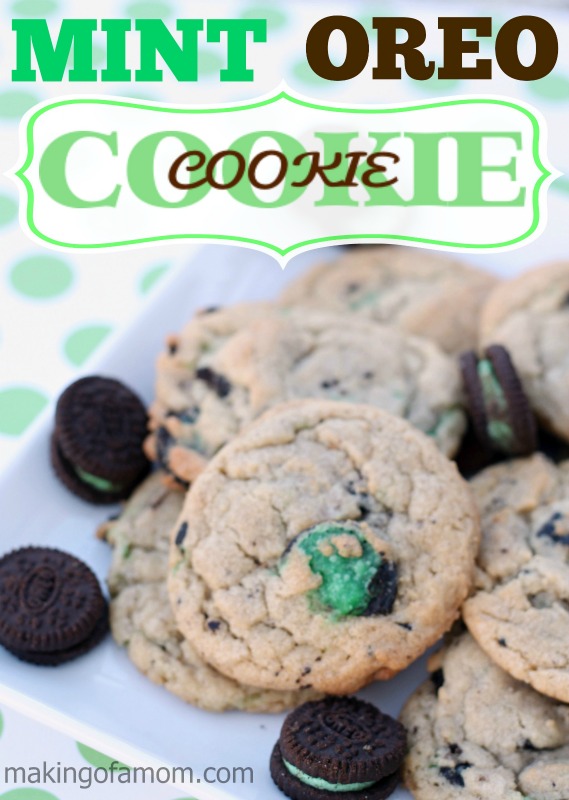 Sometimes my crazy plans actually turn into really yummy recipes. In this case, I wanted to put some mint Oreo's in my FAVORITE chocolate chip cookie base (no chocolate chips) so I tried it. I purchased  a box of mini mint Oreo's and went to town! This cute green treat is perfect for St. Patrick's Day!
Mint Oreo Cookie in a Cookie
Ingredients:
2 1/4 cup flour
1 tsp. baking soda
1 tsp. salt
1/2 butter/margarine
1/2 shortening
3/4 cup packed brown sugar
3/4 granulated sugar
1 tsp. vanilla
2 eggs
(If you want the full chocolate chip recipe: 1 cup chocolate chips, 1 cup white chocolate chips)
2 cups mini mint Oreo's
Directions:
Preheat oven to 350.
Combine flour, baking soda, and salt in a small bowl.
Beat butter, shortening, granulated sugar, brown sugar and vanilla in large gown until creamy.
Add eggs, one at a time, beating after each one.
Gradually mix in flour mixture.
Stir in Oreo's.
Drop by rounded tablespoons on ungreased baking sheet. Bake 10-12 minutes or until golden brown.
Makes about 5 dozen.