Here is a recipe Johanna and I made together when she was here visiting a few weeks ago! I used the recipe out of the 
Martha Stewart Living Magazine, but Johanna has a much easier recipe from The Toddler Cookbook that we will recommend instead!
Here is the meringue recipe:
You Will Need:
3 egg whites (medium)
3/4 cups superfine sugar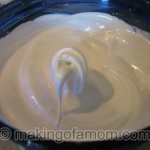 1/2 tsp cornstarch
1/2 tsp lemon juice
Makes 30 meringues. Bake at 250˚F
To make swirls you will need gel food coloring, painted into a piping bag. We used yellow and orange, so we could also add lemon and orange zest to the meringues. TIP: only paint 2 stripes, that will make enough color when you are swirling them!)
Separate the eggs. Crack the eggs over a large bowl and separate the whites from the yolks. You only need the whites.
Whisk the whites. Whisk the egg whites to stiff peaks. Be careful not to overbeat, since they will start to look lumpy — a little like cotton balls.
Add the sugar. Add 1 tsp of sugar to the egg whites; whisk. Pour in a

second and continue whisking. Add remaining sugar, while whisking to stiff peaks.
Add lemon juice. Whisk in the cornstarch and lemon juice until just combined. The meringue should look smooth and glossy. (this is where we added the orange zest to some of the batter, and lemon to the rest)
Make meringue swirls. Spoon the meringue into the gel food coloring painted piping bag and squeeze to make swirls onto 2 cookie sheets lined with parchment. Make each one about 1 inch

across. Now bake in the oven. TIP: To fill the piping bag stand it in a tall glass and fold the edges down over the rim. For the swirls use a 1/2 inch tip.
Bake the meringues for 30-35 minutes, until firm on the outside. Turn off the oven and leave them for a further 45 minutes. Remove from the oven and cool.