McFarland, USA comes to theaters February 20 (TODAY!) While in
Los Angeles for the press junket
, I was able to watch this movie. I'm a big fan on inspirational films that are clean and family friendly. McFarland, USA is definitely that. It teaches some great life lessons, is completely relatable and clean so your kids can watch it too!
McFarland, USA is the true story of Coach Jim, who through a series unfortunate choices, finds himself accepting a job at the only high school that would hire him – McFarland High. He moves his family to the "Heartbeat of Agriculture" where they are now surrounded by Latinos and seem to be one of the only (if not THE only) caucasian family in town. The movie then tackles feelings of "judging a book by its cover", being in an unfamiliar culture and learning to love the situations you are in.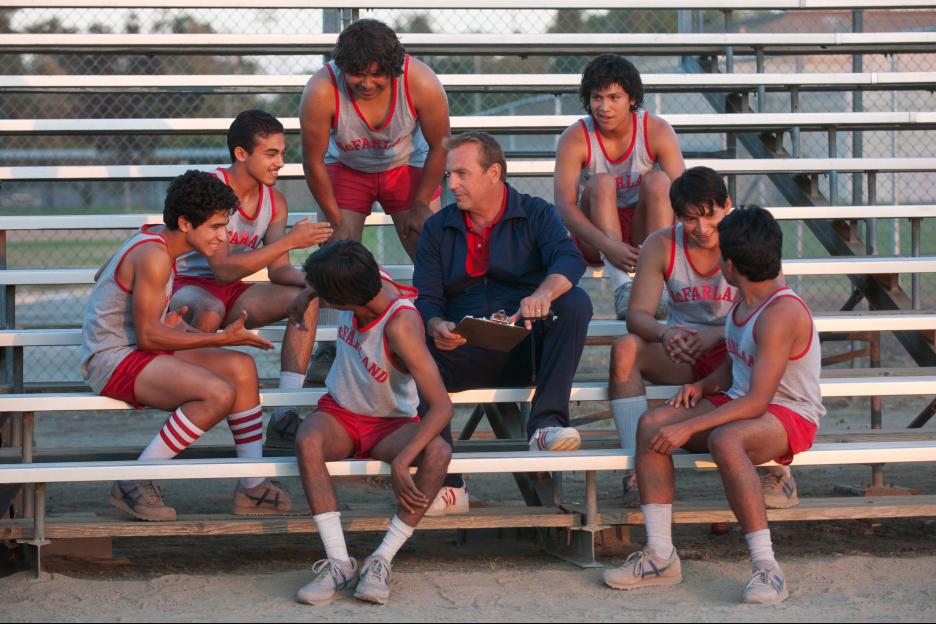 I think the film does a wonderful job of capturing the Latino culture and showing what life is like for pickers. I grew up in Southern California so I often saw the workers in the field as we would go to various places. However, I hadn't ever met a picker and didn't know much about the work or the culture. This film really gives an up close glimpse at the work and the life. It was eye-opening.
One of my favorite moments in the film is when the White family is finally embracing their surroundings and new culture and Coach White throws his daughter a Quinceañera. The Quinceañera is a big party for a 15-year-old year to symbolize becoming a woman. This is a beautiful moment in the film when the community comes together as one. There is camaraderie and love. I love when Jim White and his daughter are dancing together, it was a moment of redemption.
At this point in the film the Mariachi band starts singing "Las Mañanitas" which is a traditional birthday song, and I was flashed back to fourth grade. My teacher taught us this song and we would sing it as a class whenever it was someone's birthday, so to then have it in the film made me feel warm fuzzies for my childhood and feel a special bond with the film for reminding me of that point of my life.
After hearing stories from Kevin Costner and the boys from McFarland, USA, I was excited to talk to Niki Caro, the director of the film. She is a beautiful woman from New Zealand (her accent is awesome!). Since she said she absolutely had no idea about Latino culture, she surrounded herself with the real community and ask for collaboration.
I figured out the way I work best. Which is real stories and real people. Go to the real community. Ask for their collaboration. Keep my eyes and my ears open and my mouth shut. And just see how life is lived. Be really observant.
Niki shared that she was able to incorporate her husband's involvement with the film with the low ride cars. He is a big car guy and loves low riders, and even one of the cars in the film is his own car. Of course the cars are part of the culture and that is why they are on the film, but I thought it was so nice that her husband could contribute to her film.
When asked what her favorite scene was she said it was a small moment in the film. When the team is leaving for a competition in a school bus and a couple of the local kids are holding up a sign and cheering them on as they go.
In the screenplay I'd written that the kids on the bus were  heroes for the first time in their lives. That moment in the film for me I think it's perfect. It's perfect. It shows you how meaningful it is for a small town when its own kids are achieving something. The kind of scale of achievement, it's just tiny. But it's so big for this town. And that has started a legacy that will continue. And that's so inspiring to me.
I want to end with a quote from Niki that impacted me and is so profound.
What I didn't anticipate having finished the movie and I look at the movie now, we've made a profoundly American film. And that's amazing to me. It really is. And it so happens that 99 percent of the people in the movie are Mexican American. But it's an American film. It gives us a really accurate reminder of the lengths to which parents will go to give their children a better life. And nothing is more inspiring than that, and nothing is more American than that.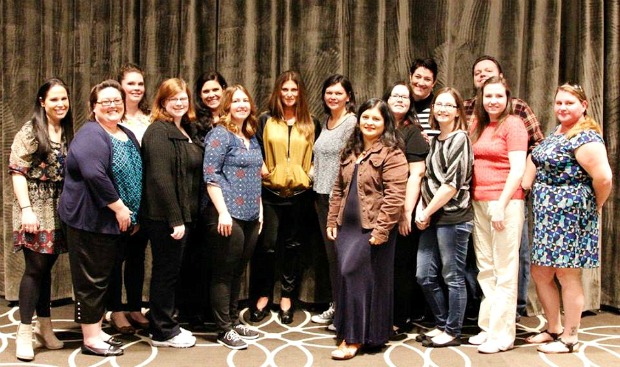 McFarland, USA is in theaters February 20!
Catch up on all my #McFarlandUSAEvent stories!