I was given complimentary use of this car in exchange for my review. All opinions are completely my own. Yours may differ.
Over Christmas break we took a trip to visit my parents. We were lucky to be able to drive the 2016
Mazda CX-9
during the duration of our trip. We were gone for almost two weeks so we really got to know and love this car. If you follow me on social media you probably saw all the features I love about the Mazda CX-9 but incase you missed it, here is a recap of my the most awesome features (in my opinion) of this sweet car.
Radar Cruise Control
We did a lot of freeway driving and so we LOVED setting the cruise control, picking the desired distance from the car in front of us and going. There are four different distances to choose from so it's easy to find your comfort level. The car will automatically slow down if a car comes into your lane within that distance, and speed up to your cruising speed when there isn't a vehicle within that distance.
Blind Spot Monitoring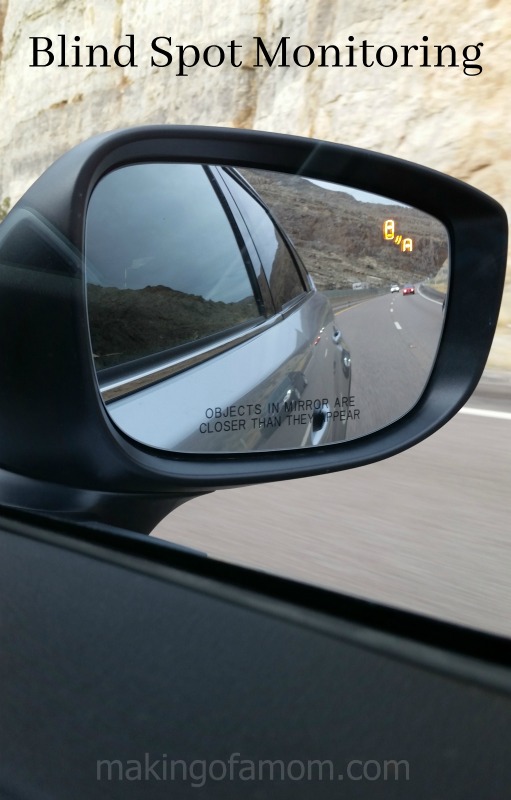 Whether you are on the freeway or surface streets, blind spot monitoring rocks. The car will light up the side view mirror of the side the car is on as well as give an indicator light the driver can see on the active driver display. On our way to my parent's house from the airport we had quite a bit of luggage so it was nice to have that extra safety feature for our somewhat limited view.
Outlets Galore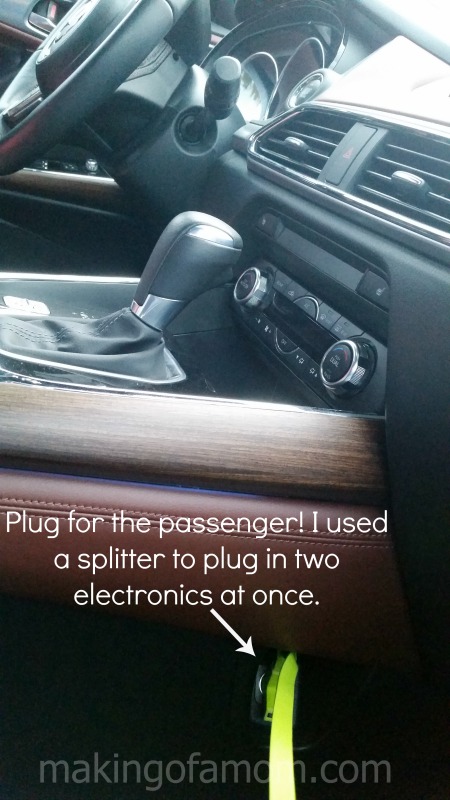 In the center console there was bluetooth and USB inputs. Next to my legs on the passenger side there was an aux power jack where I plugged in a splitter and was able to charge two devices at once. It was awesome to have it so close so I didn't have to try to find long cords.
Push Button Engine Start/ Keyless Entry
Not a really special feature in this day and age, but we don't have a car with a push button start so it was fun for us to have that feature. I found that when we got home I kept trying to push a non existent button in my minivan to get it started. It took a week to break that habit.
Temperature Settings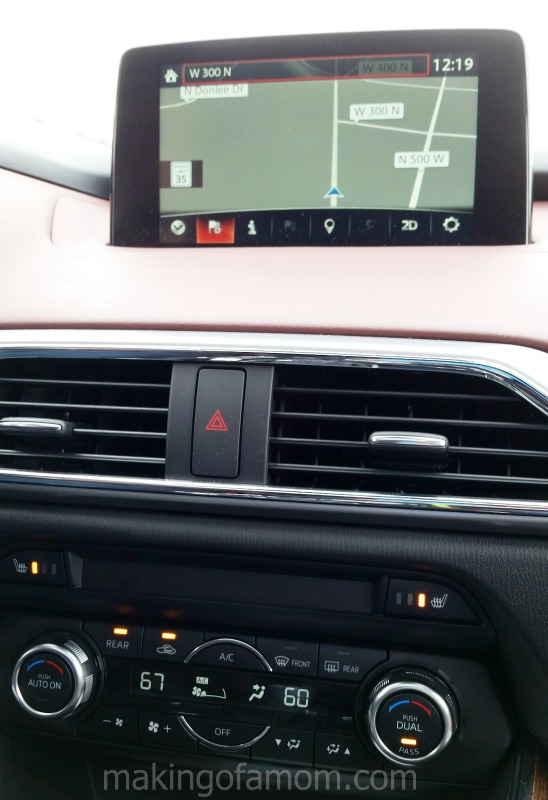 The car is incredible with all of it's awesome temperature gadgets. First, heated seats, LOVE! Also, a three zone climate control is always welcome. My husband is always cold and I'm always hot so I love that we can really adjust things according to our needs. Then the passengers in the back can choose their temperature as well.
Navigation/ Rear Camera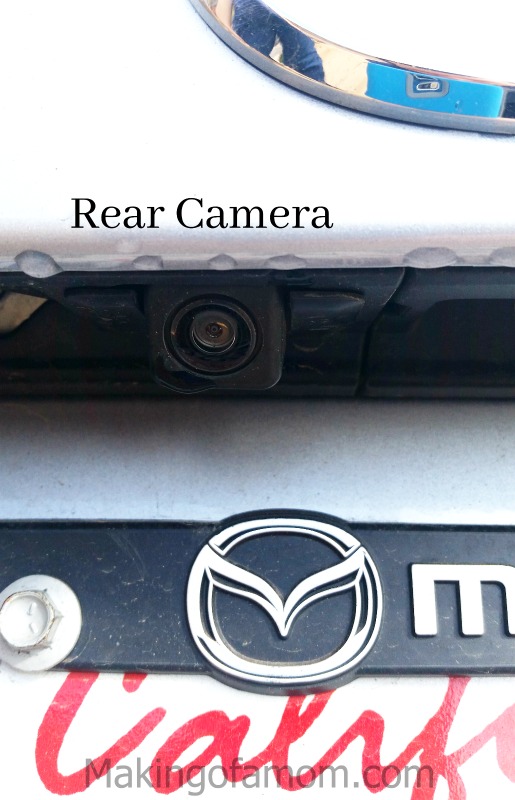 With an 8 inch color screen the navigation is awesome. The maps are huge and the directions are great. It was pretty easy to figure out how to program the nav system to suit our travels. In addition to being a navigation screen it doubles as the screen for the back up camera. Just a couple weeks before this trip we got a new car that had a backup camera and we love it, so we enjoyed it on the Mazda as well. Seriously, how did I survive without one of those for so long? My first car accident as a teenager was from backing into a car, so I have a big fear of backing up and tend to avoid it where possible. With the camera I feel a lot more calm about it and actually back into parking spots in various places now. What a confidence boost to have that extra safety feature.
Trunk Space/ Hidden Trunk Compartment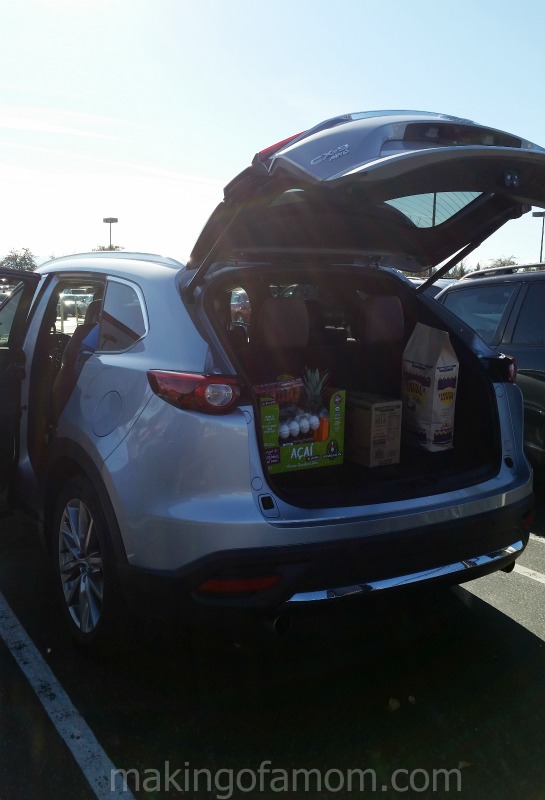 Honestly, going to my parent's home from the airport things were a little tight with six suitcases and two backpacks, but we got it to fit. Later on in the week we went grocery shopping and were able to fit all of our things with tons of room to spare. When we got to my parent's home our berries fell out of the trunk when we opened the back. Sad story, but from that we learned about the secret compartment. If you lift a little latch there is some trunk space under a lid. We started placing our items in there. It also gave us some peace of mind as we were shopping for last minute Christmas gifts because they were out of eyeshot of any would-be theives.
Overall, the Mazda CX-9 was a fantastic car to spend two weeks with. We got compliments during several of our outings and had a lot of people stop us and ask questions when we were in parking lots. I was impressed at how many people were interested in the car, were considering it as their next car, and wanted to get a real life opinion. We were happy to answer as many questions as we could and always left the conversation with a "we love it!" I'm looking forward to my next experience when I can #DriveMazda. You can check out all the Mazda models at Hiley Mazda Hurst.