Starlight Theater gave me media passes to see Mary Poppins. All opinions are my own.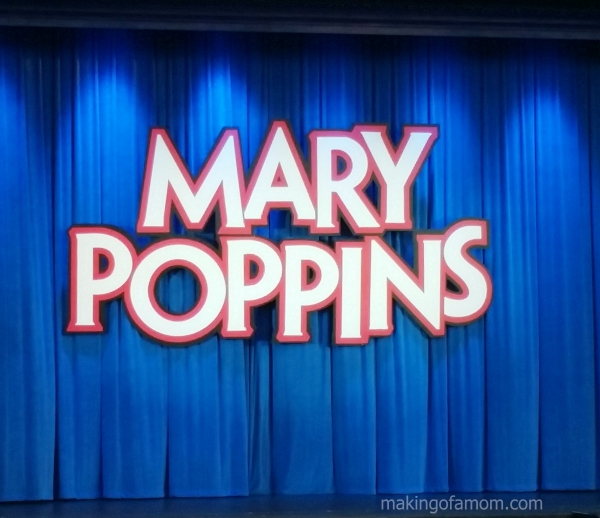 Last night my husband and I were treated to seeing Mary Poppins at the
Kansas City Starlight Theatre
. Mary Poppins runs from July 24 thru August 2 at 8pm each night.
One of the most popular Disney movies of all time captures hearts in a whole new way on stage. While young Jane and Michael have sent many a nanny packing, when Mary Poppins arrives on their doorstep she uses a combination of magic and common sense to teach the Banks family to value each other again. Breathtaking dance numbers, astonishing stagecraft and unforgettable songs like "A Spoonful of Sugar" and "Chim Chim Cher-ee" send this musical soaring.
Last night was a very warm evening but it was so exciting to be there opening night. The theater was packed with a near sold out crowd. With previous shows that seemed to have been a traveling cast of the show, I believe that Starlight put together Mary Poppins. I think the cast was wonderful with lovely voices and my husband and I really loved the magic on stage.
Of course most are familiar with the movie Mary Poppins so this is very different as there really is no way to create the magic of the movie in real life, however, the new story line is wonderful. It has great lessons for children of all ages and there is still plenty of Mary Poppins magic to enjoy.
Though opening night was a little rough as far as the sound department was concerned, the show was great and immediately got a standing ovation from the audience. I'm sure as the nights go on the kinks will be worked out and the show will get better. Make sure you purchase your Mary Poppins Tickets and not miss out on this wonderful Broadway show.
The last show of Starlight's Summer Broadway series is Cirque Eloize ID and runs September 8 – 13.