Disclosure: I received a free product sample for review in my Holiday Gift Guide. All experiences and opinions are my own. Yours may differ.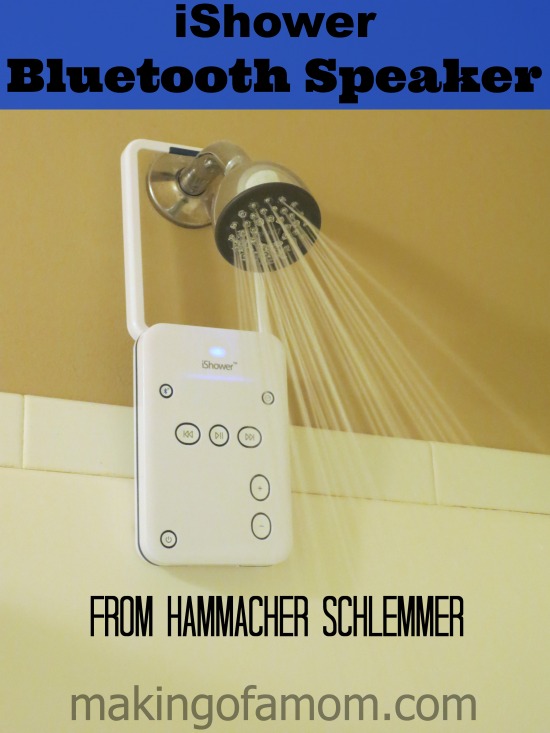 As a Mom I don't get a lot of alone time. Kids are following me all over the house and always asking for something. I usually take a shower once I get my baby to sleep and put on a quick show for my son to keep him occupied while I go as quickly as I can. Now that the iShower Speaker from Hammacher Schlemmer has entered my life, no more quick showers for me!
Pairing the Bluetooth speaker with an iPhone is very easy. Turn the bluetooth on your iPhone and then turn on the speaker. Hold the bluetooth button on the speaker for a few seconds until it says pairing. Then click the play button and they become paired.
I have to admit that my showers last a lot longer these days and usually happen in the evening when my husband is home to man the kids so I can take all the time I need. It is so much fun blasting Pandora and listening to my favorite songs. You can also listen to your playlists through the speaker.
As you can see in the picture I am able to skip the songs I don't want to hear or go back to previous songs. There is also a clock button that you can press to show the time. I like that the time isn't always displayed because I don't want to watch my shower minutes tick away. There is also handy volume control buttons.
The shower speaker can be hung a couple ways. The first is like I have it in my shower. use the "arm" to hang it over the shower head. There is a rubber piece in the middle of the arm so that it won't slip down the pipe. The speak also has the ability to be mounted to the shower wall as in the picture below. It is permanent though so I'm not ready to make that commitment for now. I have to admit that because it is such a nice speaker and easy to carry around I have taken it around with me to blast my music! 🙂
You can also use the "arm" as a stand. The speaker is water resistance and able to travel with you on the go in places you wouldn't take a traditional speaker. Hang out by the pool or at the beach knowing your speaker can handle the wet!
The speaker requires three AAA for up to 15 hours of listening time. You can purchase your Bluetooth shower speaker for $99.95 on the Hammacher Schlemmer site.