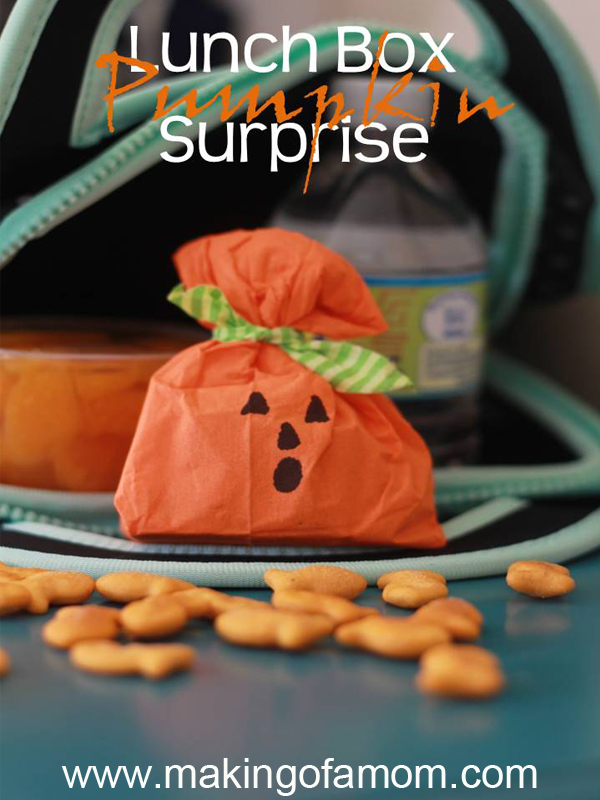 I love putting fun things in my kid's lunchboxes.  I try to be a fun mom like that. Whether it be notes or special treats, I like to let them know that they are extra special to their momma. Holidays provide so many opportunities to do this.  It's fun to have a specific theme in mind.  Today I have a little tutorial for you.  The Lunch Box Pumpkin Surprise!  I love these pumpkins because I don't have to go out and buy special treats or candy to make a cute holiday treat.  I can use whatever I normally put in their lunch but by adding the pumpkin theme it makes it that much more fun!! So here you have it.  A very simple, yet very cute treat holder!
Materials:
Orange Napkins (You can pick up a pack for about 97 cents at most stores)
Green fabric, string or yarn (This was a great excuse for me to use some fabric scraps)
Black Sharpie
The snack of your choosing- crackers, candies, pretzels (whatever your little one likes)
Instructions:
Step 1- Grab an orange napkin, open it up completely and lay it on a flat surface.
Step 2- Cut your ribbon or piece of fabric about 4-6 inches long (depending on your desired length)
Step 3- Place a handful of your snack in the center of the napkin (where the four corners  meet)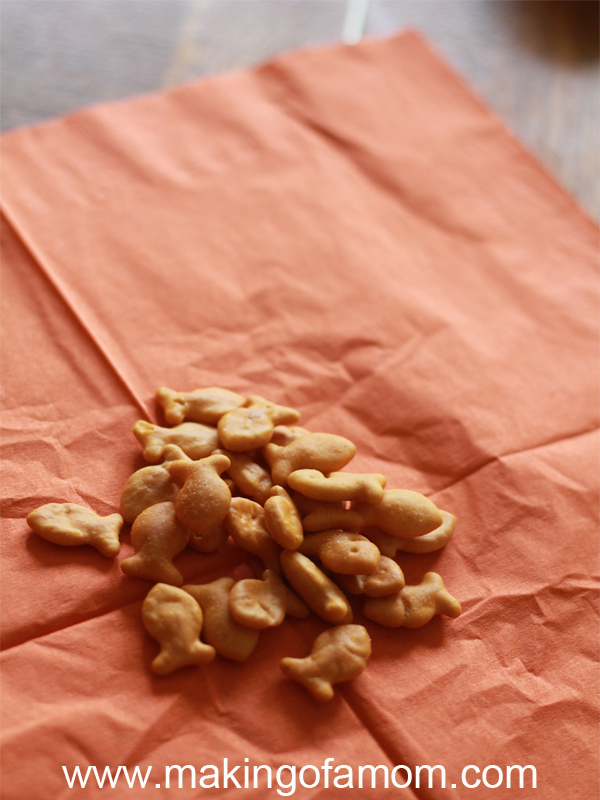 Step 4- Pull up on the sides to create a sphere with all of the excess bunched at the top.
Step 5- Fold the excess in half down toward the sphere pumpkin shape.
Step 6- Tie your yarn or fabric around the excess of the pumpkin- make sure you get both layers so the folded piece doesn't pop back up.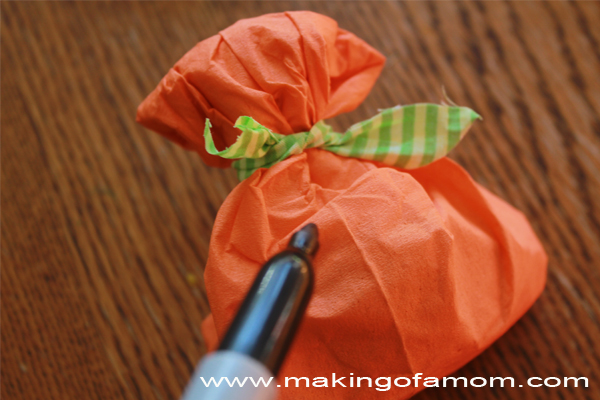 Step 7-
Draw a jack-o-lantern face on one side of the pumpkin (I picked the one that was most round in shape)
Step 8 (Optional)- If you wanted to use brown to color the excess of the pumpkin to look like a stem you could do that as well.
Step 9- Put one in your cutie pies lunch box during the week before Halloween and bring a smile to their face and some fun to their day!
I love that this project is so simple and doesn't require too many materials or difficult processes.  In addition it is easy enough for the tiniest hand to rip open and enjoy the snack hidden within.  
Some variations: You could make a few little pumpkins- one for each item in your child's lunch.  You could also increase the number of pumpkins in their lunch everyday until Halloween.  If you only have white napkins you could easily make Halloween ghosts.  There are so many ways to use this simple treat.  Hey why not throw one in your significant other's lunch as well!  I can't imagine you would hear any complaints!!
Have fun and Enjoy!