I am excited to be working with Kiwi Crate on my Holiday Gift Guide. All opinions are 100% my own.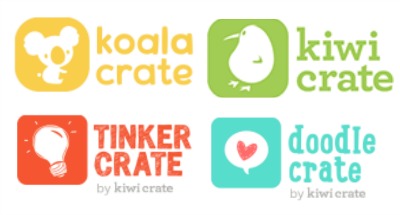 When it comes to gift giving I prefer to give my kids things that offer an experience. Toys are fun but it seems the enjoyment is short-lived. If I give my kids an experience then there are memories built, often times fun for the whole family and a better value all around.
Kiwi Crate is a fabulous subscription service that offers "crates" of crafts and fun for kids of various ages. My children received a Kiwi Crate and a Doodle Crate. There are four different "crates" to choose from for children ranging in ages from 3-16+.
When we first opened the crates the kids were very excited. I was interested to see what kinds of activities would be inside each crate and how age appropriate they would be. Kiwi Crate hit it out of the ball park. The activities were fun, instructions were easy to understand, supplies ready to go and overall perfect!
Kiwi Crate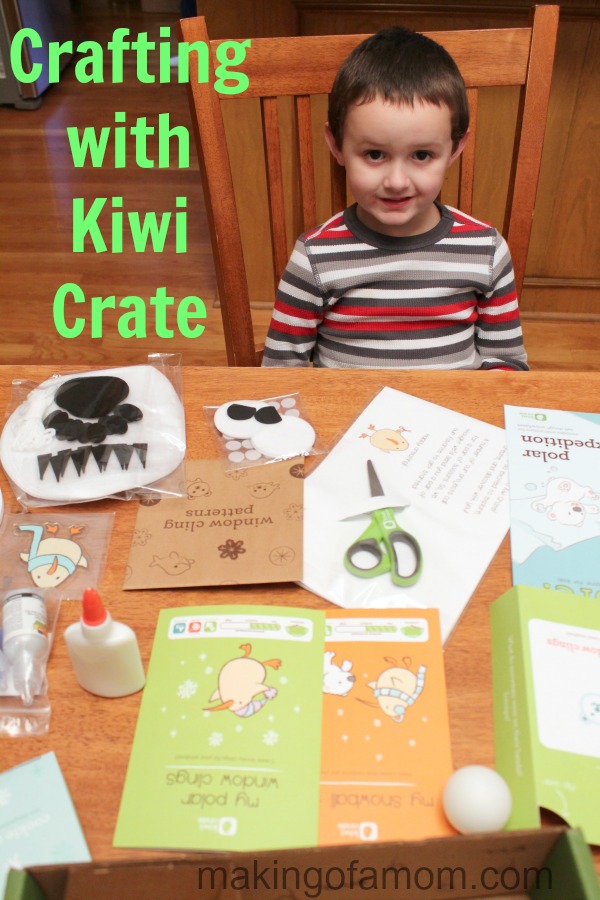 The Kiwi Crate (the original of the crates) is meant for children ages 4-8. The instructions inform the parent about the messiness level of the craft and how much parent involvement is needed. The crafts for this month varied in messiness and required a medium amount of parental involvement. It was true. It was a lot of fun to get into the crate with my son, pull out all the items and get crafting. He was so excited when he saw what we were making. Each crate has 2-3 activities inside.
This months crafts were getting us in the mood for winter with polar bear and winter themed crafts. First we made "My Snowball Toss" game by making 2 polar bear paws for caching the ball and a headband to dress up like a polar bear. The craft was easy enough for my 5-year-old, he just needed a little bit of help and direction along the way. Once we were done making the game we had a lot of fun playing it in the kitchen.
The other craft inside the Kiwi Crate was to make window clings from puff paint and glue. Different shapes were provided as stencils. You simply trace the outline with the puff paint, fill with glue, let it dry for 24 hours, peel it off and you have a darling window cling. We messed up a little on those, but will definitely try again and I think make some of our own shapes for different holidays and seasons! It is such a darling idea!
Doodle Crate
The Doodle Crate was perfectly spot on for my daughter and her interests. This month's craft was painting two pouch bags. She loves to paint and she loves to have little bags to carry her special things. The crate provided the pouches, tape, paint, paint cups and one brush. I thought it would just be easier for her to have 1 brush for each color so I provided 3 extra paint brushes. She had so much fun coming up with patterns and designing her bags. She did a great job and they look so cute!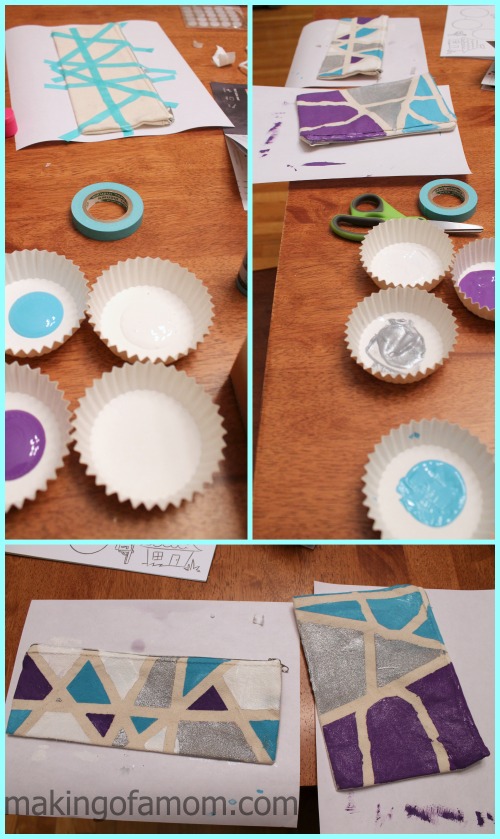 So how can you get these amazing crates for your kids? Well you can sign up for a monthly subscription. They have varying subscription lengths so you can do what you think works best for your family. If you don't have kids that would benefit from Kiwi Crate you can also gift a subscription. I know my kids will love this so much so this is definitely a Christmas gift idea!