Sponsored by UBTECH Robotics Corp with WomensForum

Robots and coding and fun, oh my! Staring at a screen can be addictive and mindless, but when you're building a Jimu Robot, it's quite the opposite – it's engaging, entertaining and educational. My family spent the weekend working on a family project – building the Jimu Robot Buzzbot together. It was an educational and memory making experience.
I have a personal goal to expose my kids to as many STEM (science, technology, engineering, and mathematics) activities as I can. I believe getting interested in different STEM activities requires being exposed to them many times, so I tend to load up on STEM toys and activities for my kids. When I first started attempting to get my kids interested in STEM over a year ago, my kids were interested but didn't really love it. I think this is because STEM toys can be a bit of a challenge – they usually require some effort to do the activity or build the toy. As a parent I think this is important because they are learning and stretching their minds as they are playing. Now that my kids have tried a lot of different apps, computer games and toys, they really enjoy STEM activities and are getting the hang of easy coding.
About Jimu Robot
Jimu Robots are incredible! For this review, we received the Jimu Robot Buzzbot & MuttBot kit, and we decided to make the Buzzbot first. Opening the box and getting started is so easy – I've actually never seen a more organized toy kit! The box walks you through getting the app downloaded and set up as well as getting started building your Jimu. Inside are color-coded boxes filled with the parts needed to build the robot.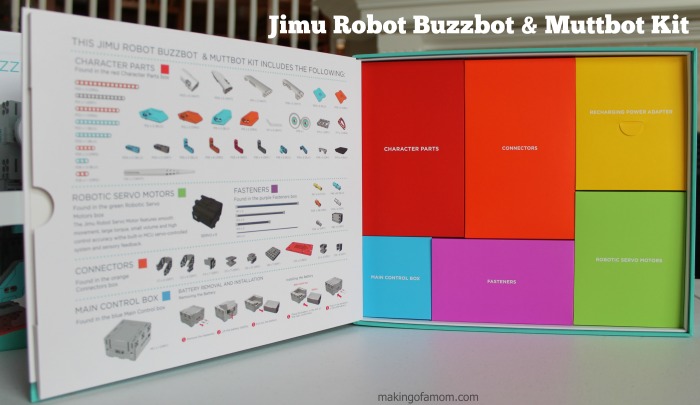 Once you download the free app on your phone or tablet (Available on iOS and Android) you are ready to go. The app is user friendly and my kids instantly knew how to get started. With the 3-D, step-by-step instructions it's easy for kids to build (mostly) by themselves. They loved being able to rotate and flip the pieces on the app to discover where they needed to connect the pieces. The app does a fantastic job of helping you through the process. It starts by showing what piece you need and where it goes, then you can click the next arrow and see an animation of how to insert the piece. With this double reinforcement in the instructions, my kids could confidently assemble the robot with the help of the app. While I do think it requires some adult supervision for help (just in case) the kids did pretty good with minimal assistance. The ability and talent to observe and follow instructions correctly is paramount for building a Jimu Robot, and that's a skill that I think my kids will definitely benefit from developing in the future!
Once the robot is complete, the Jimu app offers some pre-coded moves that you can use. You can sit back and play with the robot using these actions, but there is also a place to go in and code your own actions, or you can string together the pre-loaded movements and create a whole unique series. You can save each of your own programs to use over again. The coding is easy, since its drag and drop using a unique language called Blockly.
The Jimu Robot kits are intended for children 8-14. Since we have a 4 year old who wants to be included in everything, we gave him the job of sorting the pieces by color. This was a great distraction for him and he felt involved in the building process. Since the app makes it easy to play with the robot, he was also able to press the actions and make the robot move by himself.
Our Experience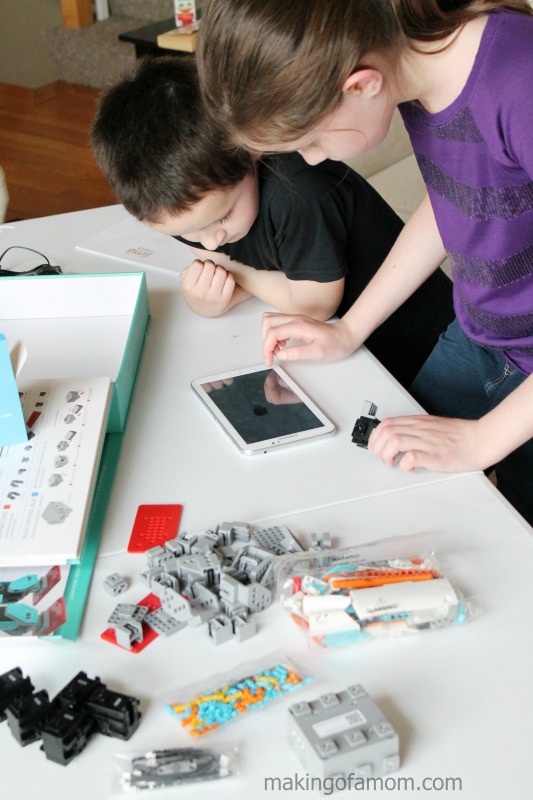 We had a lot of fun sprinkled with a tiny bit of frustration while building the Buzzbot. It took us a little while to get the hang of seeing the instructions in 3-D (you use the app to rotate the parts in order to get a sense of where the pieces go). At first that was very confusing for us, but once it clicked, we had it figured out and the app was a huge help. In addition, the app's little animation that showed how the pieces snapped into place really helped see our Jimu come together.
Speaking of pieces snapping into place, this was our favorite part of building the Jimu Robot. You don't need any tools at all – you simply snap all the pieces into each other, which makes it very simple to fix mistakes and easy to build. There is a little tool included that helps you pop out the pegs when you want to take the robot apart.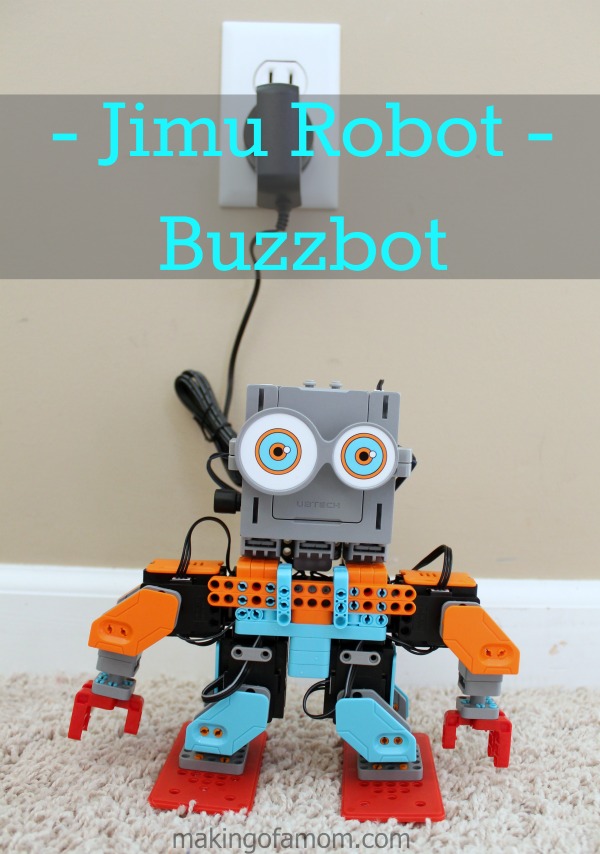 Once Buzzbot was complete (it took us a total of a couple hours spread over two days to build it), we plugged it in to charge. When it was fully charged we were ready for some robot fun. Everyone took a turn using the preloaded actions. Let me tell you that Buzzbot has some really good dance moves. My kids wanted you to see some of the Jimu's fun moves, so we made a quick video. Check it out below:
Overall building, building our Buzzbot was a really fun project. It took longer than I thought it would, but that said, the whole process took the kids some getting used to since they haven't ever done anything quite like this. But we all loved the challenge! We are looking forward to building Muttbot next. If you are looking for the excitement of building a robot without having to assemble all of the components yourself, this is as legit as you are going to get. The ability to use the easy Blockly code or build you own program makes this appropriate for a broad range of skills and abilities. My kids give it two thumbs up and an enthusiastic recommendation.
Get Social with Jimu Robot on Facebook and Twitter. You can purchase details of each of the kits on the Jimu Robot Website.