I have often gotten requests for more jewelry on the blog! Well here ya go! Amazon has so many adorable jewelry items that are $1.00 and under! These are just a few of the cute items that I've found! Jewelry can make a great Christmas or Birthday gift or just a wonderful way to let a friend know you have been thinking about them!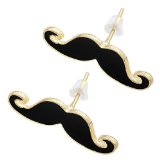 Aren't these unique? Pick up these Mustache Earrings for only $0.39!
This cute Vintage Octopus Necklace is only $0.80!
This adorable Vintage Owl Necklace is only $0.63!
Jewelry doesn't always have to go on your fingers, ears, and neck! You can add this Peacock Jewelry Hair Clip to your accessories for only $0.99!
Get a colorful little Owl Pendent and Chain for only $0.85!
Another beautiful jewelry hair piece! You can get this Peacock Jewelry Crystal Hair Clip for only $0.91!
Grab these beautiful 2.00 Carat Cubic Zirconia Earrings for only $0.01!
Add these beautiful Peacock Earrings to your collection for only $0.98!
Get this beautiful Pink Sapphire Heart Shaped Necklace for only $0.01!