When Jim White and the 3 Diaz brothers walked into the room, I was so excited. At the end of McFarland, USA the movie does a "where are they now?" type thing and they are in the movie, running with the current McFarland High School track team. From the movie and the recap of things that are happening now, I felt like I knew them, like we were old friends.
The guys were all so humble and so proud of the film. Sometimes it can be tricky turning real life events into a film, making sure you accurately portray the story but make it interesting for people to watch. The Diaz brothers said that they thought the film was very well done and did a great job of portraying life working in the fields and being a picker. That was the way they were raised, that was real life to them and they said the movie did a great job of depicting it. Though, they did confess their Mom is a tad more strict in real life!
In the movie Coach White takes his team to their first race, confident that they would do great. What he didn't calculate for were all the hills on the race track. McFarland is very flat and so the team hadn't trained on hills. In the movie we are then shown their new practice strategy complete with tarp covered hills of almonds. These were steep and it seemed very difficult, but Damacio Diaz said in real life they were a lot worse!
The making of McFarland, USA was a 15 year process for the White's. Several different companies signed the movie but it never happened. Coach White was so excited when Disney finally got their hands on it and decided to make it because
When actually Disney did it, we were thrill very much so that Disney had it, because then we knew that it shouldn't have any sex and cussing and cigarettes and this type of thing, you know. We were very happy that that was going to take place.
All of the brothers also mentioned gratitude that Disney chose their team. Since McFarland High went on to win 9 titles they could have chosen any team, but they started at the beginning and the Diaz's were grateful to be included.
The end of the movie is so heart warming for many reason – the underdog story of the school and the town, but also the underdog Danny Diaz. The last race is where he has a chance to shine. Here is the story from Danny's mouth:
So, I was running in the race, you know, Mr. White and the rest of the guys were telling me Jose's out of it. And so, then at that point I was running the sixth man and so I became fifth man, and I was, for the first time in my life – I had never been the top five, and as you know that – the top five are the ones that score.

If I could beat their third, fourth, fifth man, sixth man whatever, I, I would add more points to them, so that's why we had the sixth and seventh runner on a team. And, and that day I was fifth runner and I felt so much pressure.
Growing up the Diaz's had education pushed really hard by their father and by Coach White. Most kids of their culture didn't have that influence like the Diaz's did and they are grateful. All of them went on to college and a couple of them became teachers and the Diaz's father followed suit by getting his GED in 1990.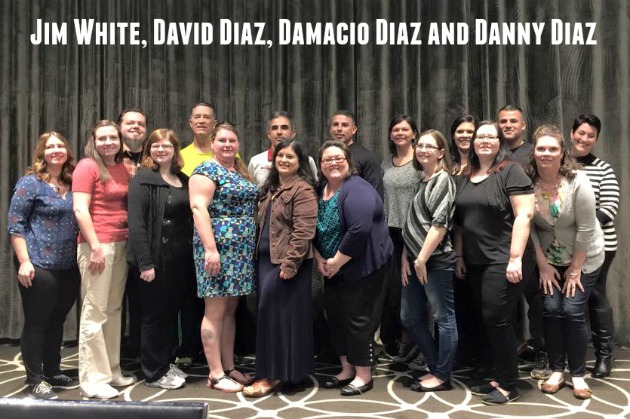 As depicted in the film, Coach White would go in the fields and help the boys pick. He would also bring other members of the team to pick so that they could raise money for their competitions in other states and for uniforms. Hard work is a common theme throughout the film and their lives. It was such an honor to meet Jim White, David Diaz, Damacio Diaz and Danny Diaz.
McFarland, USA is in theaters on February 20. It is a wonderful film appropriate for the whole family!
Check out the rest of my #McFarlandUSAEvent adventures and interviews.