This post may contain affiliate links or sponsored information. All opinions are my own.
I LOVE to travel, but I HATE to get there. I know the journey should be a fun part of the trip, but I prefer the destination. My family jokes that my motto is "We aren't on vacation until we get there." That is truly how I feel. I am probably the worst traveler in the car – not my kids. We have traveled quite a bit, but road trips are somewhat new to us. It has taken some forgotten essentials on past trips for me to really get prepared for our road trips so I wanted to share the things I've learned to help with your next road trip.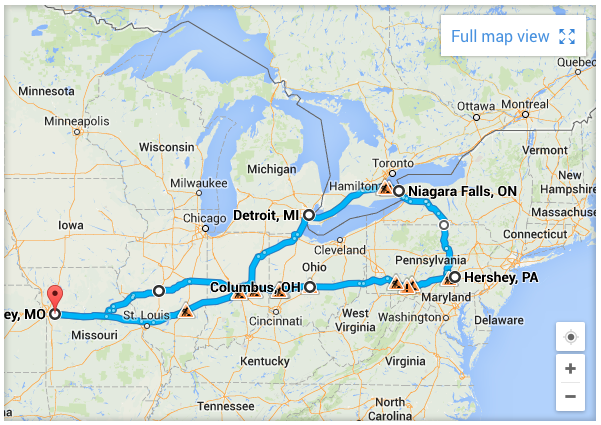 Know where you are going. It might seem obvious, but get a map or visit Google Maps and plan your route. You might find that there is a better way to go, a more scenic way to go, or a way that has some stops you want to make. This summer when we head to Pennsylvania we are going to take an alternate route, add an hour to our trip and visit Springfield, IL to visit some historical locations.
Make a schedule and collect travel information. I work best when I have my travel plans laid out easy to read. I make a daily schedule of what we are doing and where we need to be. I have times, addresses, phone numbers and admission costs all on one paper so I know exactly what we are headed for. For some locations I will just print the webpage that has all that information and stick it with my travel papers. I also print hotel reservations so I my reservation numbers are easily accessible. I have a travel binder that I'm going to share with you soon!!
Plan for your travel costs. Now that you know where you are going, you know how many miles it will be and how many nights it will be. This will enable you to plan out how much money you need to budget for gas. Gas costs varying across the country but you can get a good estimate this way. You will also be able to plan for hotels. There are a lot of ways to save money on hotels like finding that offer free parking and breakfast! You will also know how many meals you will need to provide. Take money-saving steps by bringing an ice chest and filling it with food. Which leads me to number 4.
Travel Food! My favorite part of road trips! Trips seems to go faster and be more fun when there is good food to be eaten. With an ice chest to keep refrigerated foods fresh you can have a good selection of healthy and not-so-healthy foods! We love to have different types of cheeses with crackers, juice,  mini cereal boxes, licorice, grapes, fruit snacks, chips and any chocolate we have a good variety. We usually pack lunch for the first day as well. We make peanut butter and jelly sandwiches, wraps or turkey and ham sandwiches. It helps save money when you have some of your meals already prepared.
Good music. I know it might be hard for everyone to agree on what music is fun to listen to. Luckily, our kids are still small and so they aren't picky. We put in the Muppets Most Wanted soundtrack or some dinosaur songs and all is well. With older kids they can get headphones and listen to their own music choices.
Activities for the car. Driving for hours on end is BORING especially with young kids! If you have kids, prepare your road trip for them! Bring a variety of activities that your kids will enjoy. We make it fun by wrapping up little activities and handing them out every couple of hours. Nothing expensive, just things like stickers, new crayons or a little toy. Visit the dollar bins and Target and get some little trinkets. We also have a dual screen DVD player so we watch a couple of movies. We bring along our Leap Reader so the kids can read. We also have a couple of tablets. We rotate through each activity so the kids don't have a chance to get bored. Of course the goal is to get them to sleep as much as possible! You can also play the traditional Alphabet Game or the License Plate Game. You can also get my Ultimate Travel Activity Book on Amazon for $6.50
Prepare your car. Growing up my Dad would always say "Never go into the wilderness without water." It's true! Make sure you have plenty of water in your car. Another rule of thumb at our house is that shoes MUST be accessible. The kids don't have to wear them but they must have them near incase we get in an accident or for some reason need to get out of the car, they must have shoes. Some other items that are nice to have are jumper cables, new windshield wipers, first aid kit, safety cones or markers, spare tire and extra oil. I'm sure there are other great items to have as well.
Enjoy the ride. This is the toughest tip for me. Traveling to and from vacation is part of the experience and the family bonding. These are part of the memories so enjoy it! Kids grow so fast, it's fun to look back at everyone in their car seats and boosts and take a mental snapshot of this happy time!
Do you have any road trips planned this summer? What are you travel tips for surviving the car?