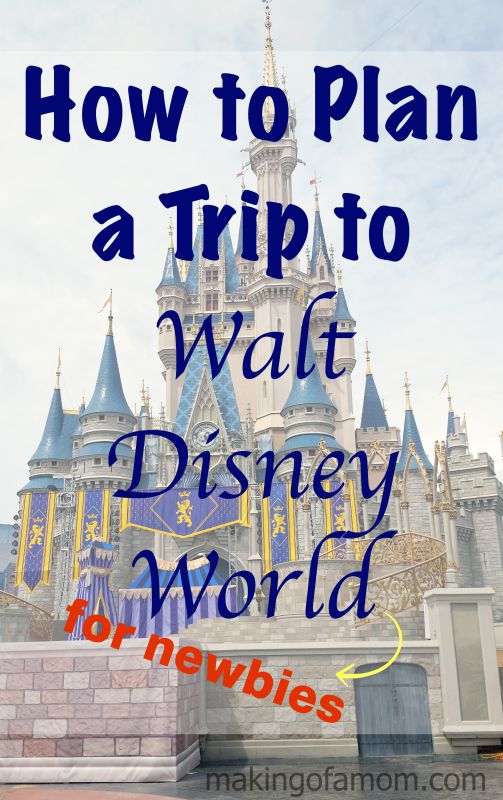 So you want to go to
Walt Disney World
but are feeling a little overwhelmed planning the trip? Join the club. I started planning my family's trip to Walt Disney World in May but soon felt overwhelmed and threw in the towel.
Technically this isn't our first trip to Disney World. 8 years ago my in-laws took the whole family to Walt Disney World for a week. On that trip I had my daughter who was about 18 months at the time. I didn't have to plan anything and just went along for the ride.
This very much felt like my first trip since it was the first time I planned any part of the trip, researched everything and booked it all.
I'm in NO WAY an expert on Walt Disney World, but since I am freshly going through the planning of my own trip, here are the things I learned along the way to help you plan your first Walt Disney World trip!
Use a Disney certified travel agent.
After looking to deal with buying the vacation package including meal plans, hotels, fast passes, tickets and more I got overwhelmed. I talked to friends and got recommendations on a Disney Travel Agent and decided to go that route. After I got some free quotes on the trip and learning it DOESN'T cost extra to use a travel agent, we booked out trip. Even though we used a Disney certified travel agent, I still was very involved in the planning.
Research your potential dates for crowds.
Obviously summer is high season and you will be there with thousands of other people, BUT that is when school is out and your able to travel. There are several websites out there that offer a good guess at the crowds in the parks based on past occupancy in the parks. I looked on several websites and compared across the board. We decided that having our children miss a few days of school was worth the experience and family memories they would gain. Because of this we were able to go at a less busy time of year.
Book when Disney has a special offer. 
Several times a year Disney has some great special offers. If you get on the Walt Disney World email list you will get emailed with these offers. We booked our trip when they were offering FREE Disney Dining Plans + Upgraded Park Hopper Tickets. Combining that offer with an off-season time of year, plus a sale at Southwest Airlines and the price was right for us. Also consider these lesser known tips for booking.
Stay on-site to get the most out of the Disney magic. 
Staying on-site offers a lot of bonuses. For us, we had to stay on-site to get the free dining plan. Also, all of your transportation is covered by Disney, including to and from the airport and all the parks. When we arrived at the airport we didn't even have to get our checked bags. Disney will fetch your bags and bring them to your hotel room. Staying on-site also offers you Extra Magic Hours which means every day one or more of the parks either open early or stay open later just for people staying on property.
Think staying on-site will break your budget? Disney offers multiple levels of properties to try to appeal to everyone.  There are budget resorts, moderate resorts and deluxe resorts. Believe it or not there are affordable Disney hotel options.
When the free dining promotion is going on, what level of resort you choose decides which free dining plan you get. We chose to go with a moderate resort because we wanted to get the Disney Dining Plan, which includes 1 snack, 1 quick service meal and 1 table service meal per paying person (my two-year old doesn't get a meal plan, but he is welcome to eat off of our plates at the restaurants).
Another thing to consider with your on-site property is location. Some resorts are connected to Magic Kingdom by way of the monorail. A few are within walking distance to a park. Some have a ferry-boat ride. Others require riding the Disney bus. Check out the map of the resorts and do some research. If how close you are to your favorite park matters, then you'll want to be informed about locations of resorts.
Take home all the good memories with Memory Maker.
When was the last time your entire family was in a vacation photo? I only have 1 picture of my family together on our last vacation. Why? Because I'm usually the photographer. For our trip to Walt Disney World we sprung for the Memory Maker photo package. The cost is $200 (advanced purchase is $169) and totally worth it for this Mom who rarely shows up in any vacation photos.
My reasoning for purchasing this, besides getting everyone in the photos, is that now I feel like I can put my phone down, or put my camera down and be there with my family. We can all say cheese in front of the castle and then run on the next ride. I'm not fiddling with my phone trying to get a great shot. Now that's the photographers job. You bet we will make an effort to stop at ever photographer we see to make the cost worth it. After the trip we get all the digital copies of our photos, even ride photos. I can't wait! We'll make our own photo album from the photos the professionals take on this trip.
Another fun perk of buying the memory maker package is getting the "magical" photos. The picture I put in this section is one of the examples. At various places around Walt Disney World you can take a photo that they add a little magic to. Above the snake was added in, in Epcot we took a picture where Tinker Bell was added in, another place in Epcot we took a photo where figment was added on my shoulder. I love the magic pictures. Also, on Seven Dwarfs Mine Train you will get actual video clips of you on the ride and it is so fun!
Pro Tip: Character dining meals don't include professional photographers, so get your cameras ready to capture those special moments with the characters.
Book your dining as soon as you're able.
Sure, I like Disney and I'm looking forward to my trip, but there are some hardcore Disney fans out there waiting to book their dining at their first chance. You can book dining reservations 180 days out from your trip (our trip wasn't even 180 days from when we booked it, so there went that). After doing some research on what restaurants people recommend, what characters are at what restaurants and thinking about what characters my kids like, I was able to come up with a list to give our travel agent. I decided not to care about days or times and leave it to whatever she could get. Luckily I provided her a long list because several restaurants on our list were already filled. We ended up with some great options that my kids loved! Don't forget your autograph books for all your character meals!

***Use code MOM15 to get 15% off your book!***
The Disney Food Blog actually helped me for a lot of my research questions regarding restaurants, the dining plans, food and characters. Disney Dining Buddy will search out the hard to book reservations and notify you when there are openings for $8/request.
Get your fast passes for your favorite rides.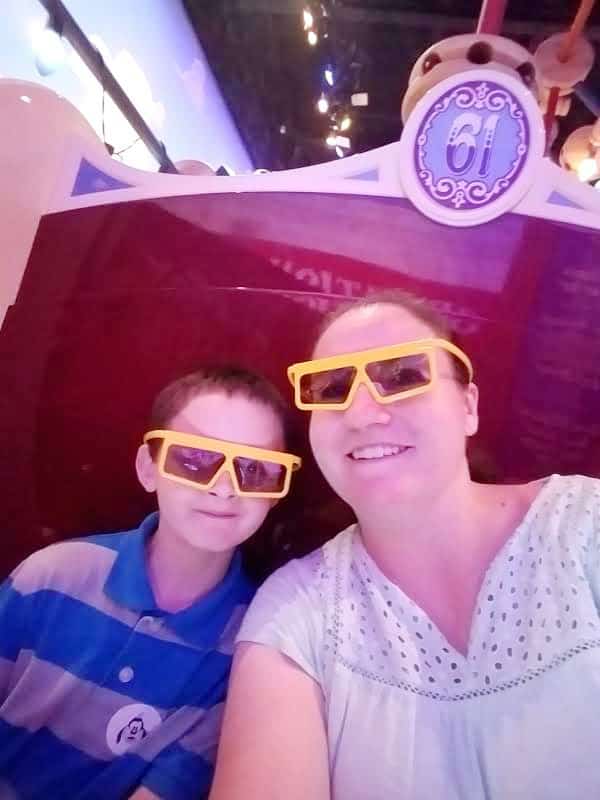 With a Walt Disney World vacation package you can book your fast passes 60 days in advance. You can choose 3 fast passes for every day. If you are just going to Disney but don't have the full vacation package, you can plan your fast passes 30 days in advance. Based on the ages of my kids my travel agent booked our fast passes for us, and her plan was fine with me. I made a schedule of how we would approach the parks based on our dining reservations and fast pass times.
Keep track of your plans with the My Disney Experience app.
There are a lot of attractions, restaurants and times to remember when you head to Walt Disney World.  The My Disney Experience app is FREE. Just sign in with your Disney account and you can sync your trip with the app. Now I have my whole schedule on my phone.
On top of keeping track of all my plans the app will also tell me wait times for rides, show a map so I know where I'm going, give me hours of operations for all the parks and restaurants and let me make new or change existing reservations. The app is incredibly vital to the success of my trip. It proved incredibly helpful when I was able to snag a last mite reservation for a character dining on our last night!
Prepare your kids with what to expect.
We kept our trip to Walt Disney World a secret from the kids until a week before we went. We wanted to give them time to be excited about the trip, ask questions about what we're doing and watch some Periscope and YouTube videos about the park.
My middle child is nervous about all new experiences so we found it helpful to watch other people's YouTube videos of the rides so he would know what to expect. He felt more and more excited the more informed he became.
How much did it all cost?
How much did it all cost? It was priceless. To have my whole family together and my parents, all the photos we ever could want, magical meals with my kids favorite characters, tons of laughs and the happiest of memories made, it was priceless.
For actual money amounts, we feel like we got an awesome deal by booking during the free Disney Dining promotion. We priced out a lot of options. I know talking money is usually taboo, but because we all know we want to know how much people pay for things I'll let you know how much we paid.
For my family, 2 adults, 2 children under 10 and 1 toddler staying at the Port Orleans Riverside Resort in a preferred room, memory maker photo package, with the Disney Dining Plan and 6 park hopper tickets we paid $3,269.84 plus flights.
We have a Disney Visa so we cashed in our rewards dollars for $187 Disney gift card. This gift card was our souvenir money. Since everything was prepaid except our souvenirs we were mostly able to stay within that budget.  My kids also get an allowance for their weekly chores so they had a little bit of money to put towards their own souvenirs.
Phew… this is a pretty thorough list of everything I planned for and considered with our trip. I knew going in we wouldn't be able to do everything we wanted to do and eat everywhere we wanted to eat, but it ended up being wonderful. We did almost everything we wanted to do and more!
So, do you have advice for first timers? Perhaps you have different tips for people to consider when planning their Walt Disney World vacation? Share them in the comments.