Disclosure: This is a sponsored post written by me in behalf of Cost Plus World Market. All experiences and opinions are my own. Yours may differ.
Having a family movie night is a weekly occurrence at our house. We love to spend time together as a family. Also, family movie night is the ONLY time we eat in the basement in front of the TV, so that makes it extra special!
This past week I decided to make it a themed moved night. I thought the kids would have a really fun time if we made it extra special! I headed to Cost Plus World Market to get some items for entertaining. I planned on watching Lady and the Tramp and having an italian theme to go along with the cutest part of the movie – when they are eating spaghetti and get the one long noodle and then kiss!! Here is how I planned my special italian movie night.
I headed to Cost Plus World Market to get some decor for the movie night. Look up at the picture of my table. I purchased 6 red napkins to use as placemats, they ended up being too large so I turned them at an angle to use as a table runner. I like the way it looked. I bought a large flare rimmed white bowl to serve the spaghetti in and 6 smaller white bowls for each person. I bought a large white plate to serve the bread. I also bought some beautiful glasses.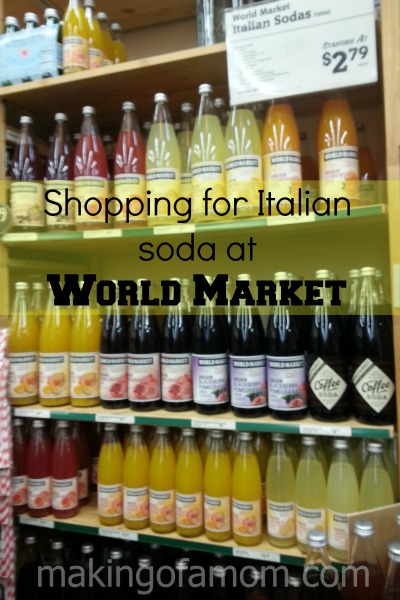 As for food for our meal, I browsed all of Cost Plus World Market's great international selections and purchased Italian soda, Torani strawberry syrup to make homemade italian cream sodas (recipe below), spaghetti noodles, tomato basil pasta sauce, delicious spinach artichoke dip and other select noodles for decoration. Keep reading for my delicious dessert finds!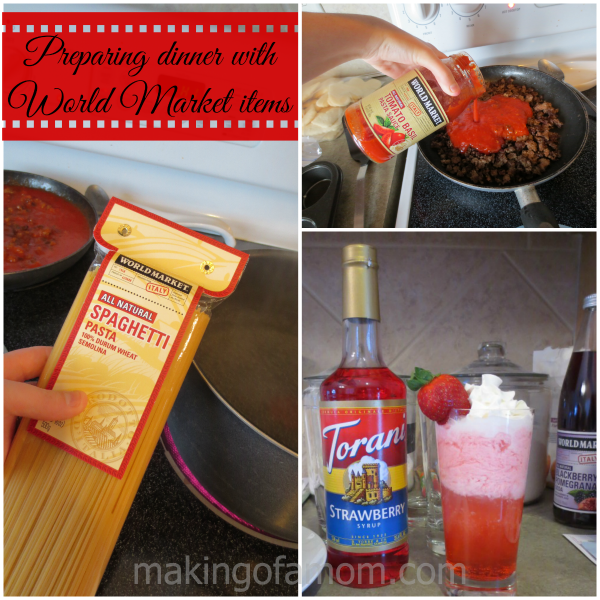 Cost Plus World Market has an incredible selection of pasta sauces! It was hard to choose one, but we settled on the Tomato Basil. We love meat sauce, so I browned some hamburger meat and seasoned it a little with salt, pepper, and garlic salt and then added the Tomato Basil sauce to it. I let that simmer for about 15 minutes.
I bought a baguette from my local grocery store and sliced it. I bushed melted butter on each sliced and broiled it for 2 minutes on high. I then topped the bread with spinach artichoke dip. It was tasty. Normally I would use pita chips for spinach artichoke dip (which you can also buy at Cost Plus World Market) but I wanted to change it up with toasted bread.
Making the italian cream sodas was a lot of fun! That is my favorite drink to get at certain restaurants so I loved making them at home for my family. It is very easy and they look beautiful when you are done.
What you need:
Club Soda (or Lemon Lime Soda – that's what I prefer)
Torani Flavored Syrup (we only got one flavor, but you can mix and match several flavors!)
Ice
Half and Half
Whipped Cream
A complimentary fruit
How to make Italian cream sodas:
I use the rule of 3's when making these sodas. This makes it really easy for you to follow the recipe regardless of the size of glass you are using.
3 ice cubes
2/3 glass full of soda
the last 1/3 of the glass will be used by the Torani flavoring and Half and Half. When pouring each I count to 3. (about 2-3 tablespoons of each)
Spray some whipped cream on top and garnish with your favorite fruit.
I made a quick video to show how easy and fast they are to make.
Lastly we had a delicious dessert!  Cost Plus World Market has some very yummy treats! For Valentine's Day they carry these darling chocolate heart cups (they are season, unfortunately), Dulce de Leche spread, Caramel Wafers, and vanilla ice cream. The chocolate cups were just big enough for one scoop of ice cream. I heated up the Dulce de Leche spread, put a spoonful in a plastic bag and piped it over the ice cream. I then sprinkled chocolate shavings on top and added a caramel wafer. They were SO good and so easy!
I thought they looked really cute on my decorated table. I bought various pasta noodles to add to different sized vases and glass containers. When the food was on the table they didn't fit, so we brought them out for dessert.
Whew! Our Italian family movie night was easy with the help of Cost Plus World Market, and really fun! The kids are already begging for another. We will have to pick our new movie, new theme and head to Cost Plus World Market!