Thanks to Healthtex for sponsoring this post. All opinions are my own.
Raise your hand if you like shopping. You can't see me but I'm not raising my hand – I'm not a huge fan of shopping, especially when I have kids with me. When I do go shopping (with or without kids) I try to get it done as quickly as possible. For this reason I like to stick with stores that can provide for my family's many needs at once. Walmart is one of the most popular places we shop that helps me save time, stress and money. With less time spent shopping I have more time for family!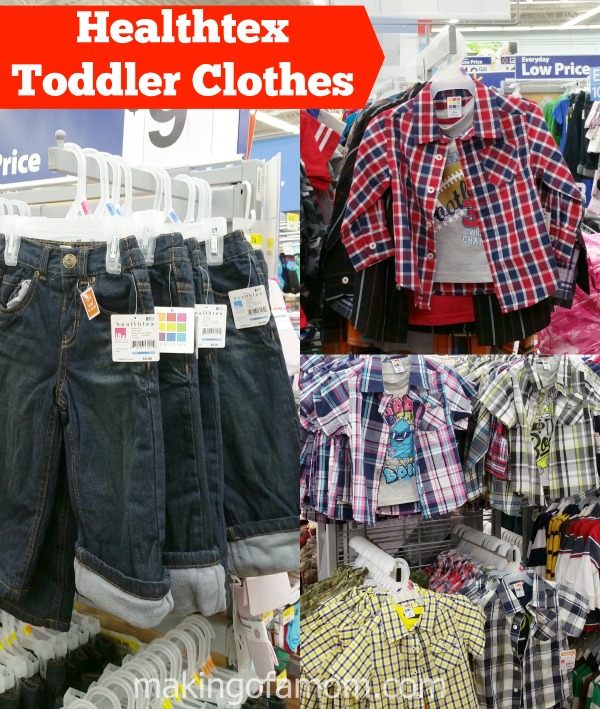 Shopping for clothes is a big stressor because of cost and the time it takes to go shopping. Luckily, at Walmart I can get my kids really cute clothes that are high quality and affordable. I especially love to get my boys clothes at Walmart because there is such a great selection of Healthtex clothes to suit their tastes.
The other day when I was grocery shopping, I decided to get my toddler a couple more Winter clothing items. I found these Healthtex lined jeans. They are high quality, have an adjustable waist and are warm, since Winter finally decided to show up. Plus, lined jeans for a little over $9 is a great value in my book. I also loved the shirts they had nearby. They are a set of two shirts – 1 t-shirt and a long sleeved button up shirt that goes over it and matches the color scheme. I LOVE these sets! They also had short sleeve versions of these sets, but since we just welcomed Winter I'm not ready for short sleeved things.
Throughout the week my family will make a list of everything we need and I try to go to the store only once. I love that when clothes, household items and food are on that list, I know Walmart is the place to shop and Healthtex will have cute clothing options. I couldn't be happier with these handsome, stylish, warm clothes from Healthtex.
Affordable clothes, in a store where I can get everything I need saves time, stress and money! Love Walmart and Healthtex!
Want to stay in and shop? I saw a lot of awesome clearance deals on Toddler Healthtex clothes online.  If you need some style tips, check this out.
How do you save time, stress and money? I'd love to hear any of your tips!