Disclosure: This is a sponsored post written by on on behalf of the American Academy of Sleep Medicine. All experiences and opinions are my own. Yours may differ.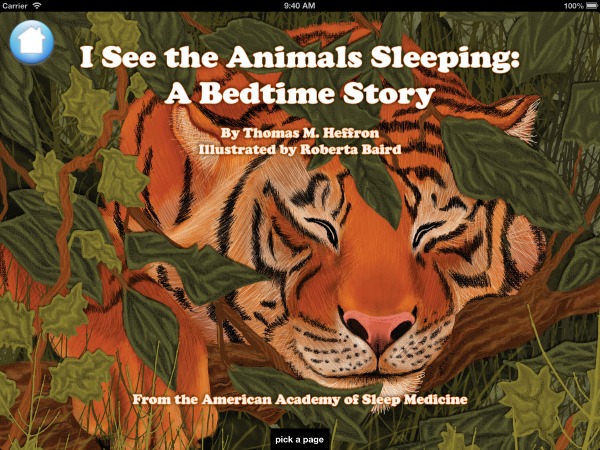 In our home one of the keys to successful sleeping in our children has been our nightly routine. As a family we read stories, reach scriptures, have family prayer and then head to the bathroom for teeth brushing and bed. All my kids LOVE books. This love began as babies and has grown as they have grown. Then I was first introduced to the American Academy of Sleep Medicine apps I know they would be successful at my house because the routine has been established.
This top picture is the cover of the first app "I See the Animals Sleep: A Bedtime Story" book. This app is a story book all about different animals and how they sleep. This lovely app has some beautiful illustrations! You can choose to read the book yourself or have the app read the story for you. After each page you have the option to click on the animal and hear the sound it makes (In case you were wondering "What does the fox say?" this app will tell you!) You can also click a little moon symbol in the upper right hand corner and learn facts about each animal. This very nice, very calm book is a nice way to end the day.
The second app is "The Animal Sleep Book: A Bedtime Book of Biomes". What is a Biome you ask? A Biome is a large region of plants and animals. Each Biome provide a home for animals to eat and sleep. So for example the tropical rainforest is a biome and is home to many animals including a jaguar.
This app also has amazing illustrations. You can choose to read the book yourself or have the app read it to you. This book is nice because it relates how animals sleep to how children sleep. If you have children that question why they need sleep, or could use some sleep facts these apps are here to help! My two older kids are great sleepers, but I think that if they were having trouble that these books would help. They would love to know how different animals sleep and facts about there sleep. They would love to be able to relate that information to themselves and learning about their own need for sleep. This book also offers some sleep facts on each page and correlate with the biome it is talking about.
Both of these books are available in hard cover on Amazon or available for free as apps in the iTunes Store, the Google Play Store and on Kindle Fire. You can download your free apps versions here.
The American Academy of Sleep Medicine is offering a GIVEAWAY! Enter to win a $30 Amazon Gift Card! All you have to do to enter to win is answer one these questions in the comments section of this blog post:
How do you discuss sleep habits with your children?
How do you make bedtime something to look forward too?
The winner will be chosen by random drawing using random.org. Winner will be emailed an electronic $30 Amazon gift card. Making of a Mom is not responsible for prize fulfillment. Giveaway will end November 25 at 11:59 pm.