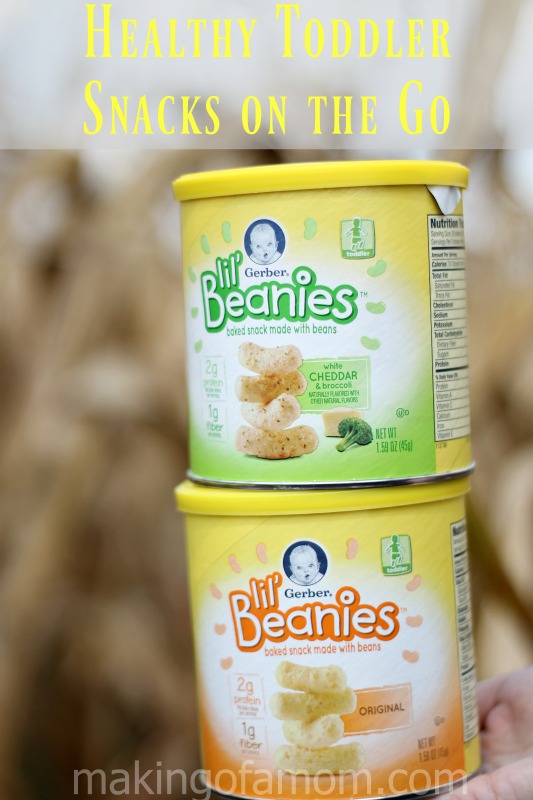 If you remember back a few months ago I shared a fun idea of using 
Gerber® Lil' BeaniesTM
as a fun educational snack. We made a
toddler snack game
 chart with numbers and boxes for my toddler to put the snacks in and practice counting and one-to-one correlation. He loved it! In fact, he loved it so much that as we were shopping at Walmart last week he saw the Gerber® Lil' BeaniesTM and asked if we could buy some more. Sure! Because as I learned previously, these snacks are nutritious with 2 grams of protein and 1 gram of fiber per serving. He doesn't know I'm concerned about making sure he gets some nutritious food in his body, but I am, so I love these snacks for that purpose.
This time we decided that these would be a great snack to take with us to the corn maze. It's our family's tradition to visit at least one corn maze once fall hits. Since we live in rural Missouri we have several to choose from. Getting lost in a corn maze is a ton of fun, but made even better when we have snacks to munch on while we walk.
It would be easy to grab junk food to take with us, but instead we grabbed Gerber® Lil' BeaniesTM. These toddler puffs are made from navy beans so my kids are getting some good nutritious food. My oldest, who isn't anywhere near the age of a toddler, also loves the Original flavored snacks. Since we always bring a backpack on our outings with water and snacks, these small-ish canisters are easy to bring along.
If love Gerber® Lil' BeaniesTM now is the perfect time to stock up. If you've never tried Gerber® Lil' BeaniesTM now is the perfect time to try them. You can
save $.50 through the Ibotta app
right now when you
purchase one canister of Gerber® Lil' BeaniesTM
. These are already pretty inexpensive so this coupon rocks!
Which flavor are you looking forward to trying or stocking up on?