My parents are in Hawaii on a mission for our church. They are currently serving at the Polynesian Cultural Center (PCC) which is a very popular tourist destination in Hawaii. They often send emails with pictures and so, on this cold winter day as it is 36 degrees outside, I thought I would share a little bit of paradise with you.
I have never been to Hawaii but hope to get there on a visit while my parents are there. I also have a sister that lives there so I can kill two bird with one stone, so to speak (I try not to kill real birds!)
I have seen other pictures of Hawaii and you see it on movies, but for some reason the beauty has not come across to me until I received these pictures from my parents. It is gorgeous!
This is a cool hotel with a rainbow on the side. After all, Hawaii is the rainbow state!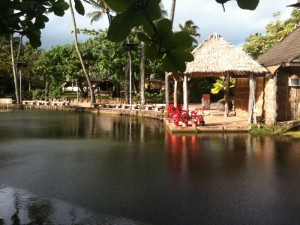 These next several pictures are from the PCC. There is a lagoon going through the middle of the PCC. On this water will float different boats and rafts with dancers from each of the Polynesian nations. It is so pretty!
My parents are so lucky to see this everyday!
The PCC does a good job of representing each Polynesian nation. They have different areas for each island such as an area for Tonga, Samoa, New Zealand, Hawaii and so forth. This is the area that represents Hawaii.
In each "island" they have examples of their homes and they have demonstrations in some of the huts. They also have dancers to show authentic dances from each culture.
There is no way to capture the full essence of Hawaii, but hopefully through some of these pictures you can catch a glimpse and enjoy a piece of paradise!