This post has been sponsored by Tyson Foods, Inc. All opinions are my own.
Halloween is a big deal at my house. Besides the obvious reasons to love Halloween (hello piles of candy!) my kids love it because we have always made it a big deal. We try to do family themed costumes, eat themed food and treats, and one of my kids has a birthday right around Halloween so oftentimes there is a party going on! Since we try to make it really fun with our kids I though I'd share a few spooky feast ideas with you!
After getting everything we needed at Walmart, we were prepared for a spooktacular feast!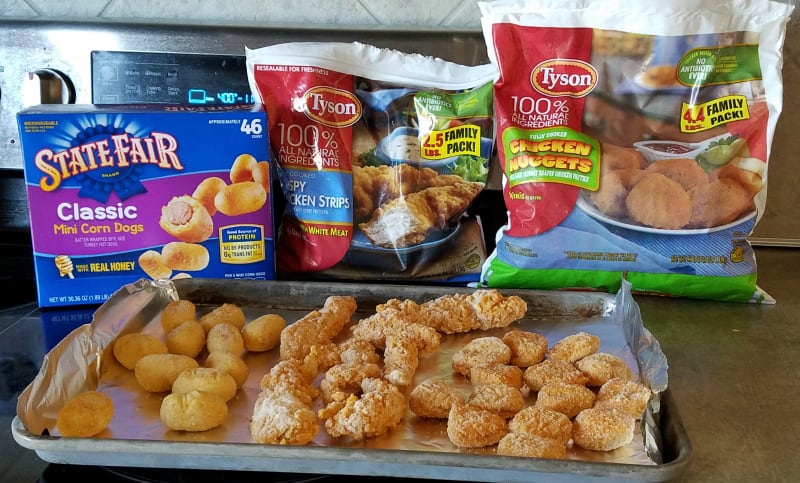 Witch Fingers
Witch fingers dipped in blood are a favorite at my house. This is a simple snack, easy to make but the kids love turning regular corn dogs into witch fingers. All you will need is
Baked the corn dogs as directed. Once done, shove almond slivers into the top of the corn dog to resemble nails. You can place the corn dogs sticking out of a bowl of blood (ketchup), or just let your kids dip it on their own. This is scary yummy!
Crunchy Spider Legs
We love chicken strips at my house! For this spooky food you will need
Favorite dipping sauce
Black construction paper
Tape and/or glue
googly eyes
Small cup, bowl or glass to hold your dipping sauce.
Bake chicken strips as directed on packaging.
While chicken is baking cut a strip of black construction paper the width of your dipping sauce container. Wrap it around the contain and attach with tape. Attach the googly eyes with tape or glue to the black paper.
Once chicken is done, cut into thin strips to resemble spider legs. Place the dipping sauce bowl you have covered in black paper in the center of a plate. Now place 8 of the thin cut chicken strips around the bowl to resemble the spider legs. Keep the leftover chicken pieces nearby to reconstruct the spider as needed.
Nugget Graveyard
Chicken nuggets are a crown pleaser here so this nugget graveyard is going to be awesome. Grab some
Tyson® Chicken nuggets
and bake according to the package. While they are baking prepare your graveyard by using whatever plate you desire. Spread a thin layer of BBQ on the plate to look like the ground. When the nuggets are done cut a small piece off the bottom to make the bottom flat and able to stand up in the graveyard. Place the nugget headstones in rows on the plate and serve.
Mini Mummies
One of my son's favorite food ever is Hillshire Farm® Lit'l Smokies Smoked Sausage. He asks for them all the time. Turning them into Mummies is going to blow his mind. You will need
Open the crescent rolls and cut into thin strips.
Take the Hillshire Farm® Lit'l Smokies® Smoked Sausage, one at a time, and wrap the strips around them. Don't wrap it solidly. Leave little gaps and spaces to resemble a mummy. If you want to put the candy eyes on the mummy (my kids thought it tasted bad with the candy eyes) put the eyes on the Hillshire Farm® Lit'l Smokies® Smoked Sausage, then start wrapping crescent around them.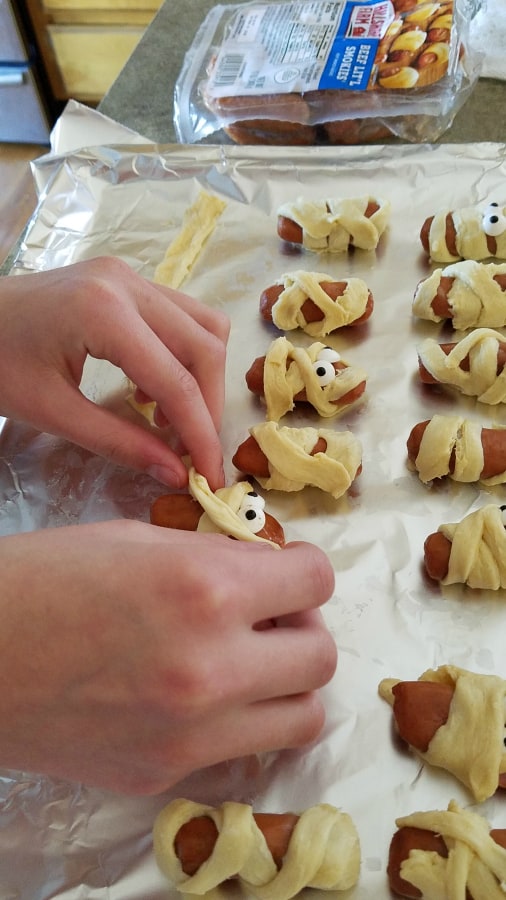 Bake according to the crescent roll package.
Serve on platter with favorite dipping sauce.
Whether you are hosting a party or just celebrating Halloween at home, these
spooktacular feast ideas
will make for a frightening good evening.