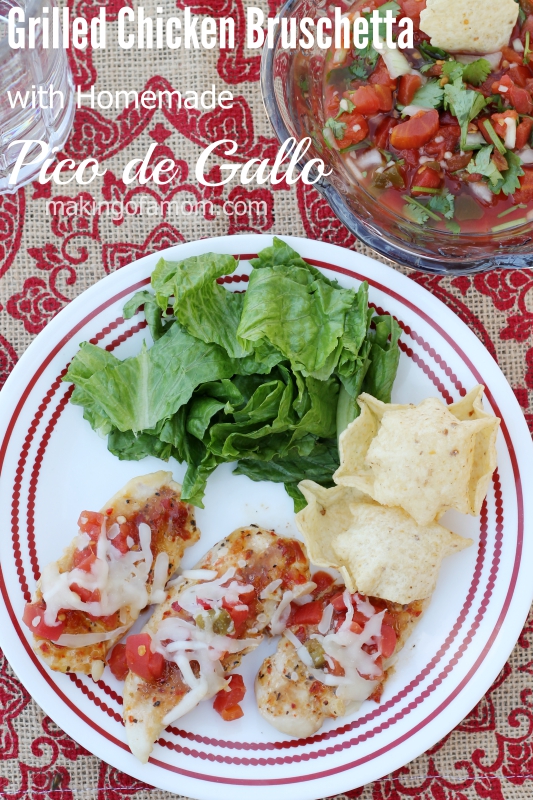 I love Red Gold tomatoes because they make cooking so very easy. With 1 can of Red Gold Tomatoes with Diced Chilis I was able to make a main dish and a side dish.
Grilled Chicken Bruschetta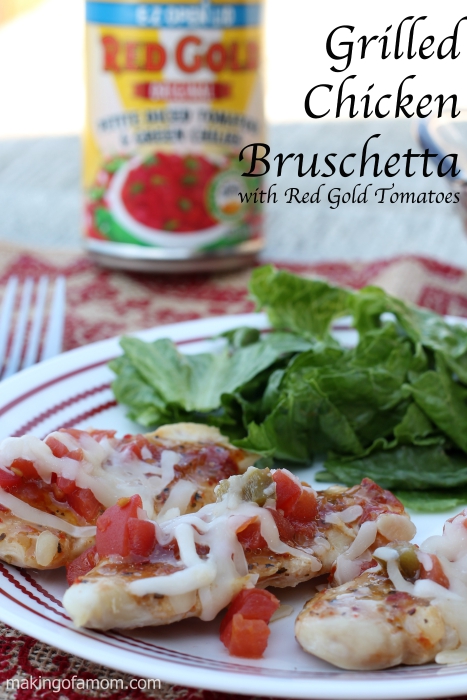 Ingredients:
10 chicken tenders (or however many you need to feed your group)
Sun-dried Tomato Salad Dressing
Grated Mozzarella cheese
1 can Red Gold petite diced tomatoes with diced chilis
Directions:
Grill chicken tenders about 10 minutes, until cooked thru.
Place grilled chicken tenders on foil lined baking sheet.
Cover each chicken tender with Sun-dried  tomato dressing.
Top each with a spoonful of the Red Gold tomato/chili mixture.
Sprinkle each with the grated Mozzarella cheese.
Broil for 2 minutes or until cheese is melted.
Pico de Gallo
Ingredients:
Rest of the can of Red Gold Diced Tomatoes and Chilis from above.
1 Tbsp minced garlic
1 Tbsp chopped cilantro
1 Tbsp minced onion
Directions:
Since the Grilled Chicken Bruschetta only takes a little bit of the Red Gold Tomato/Chili mixture pout the rest in a bowl and add the other ingredients: minced garlic, cilantro, and onion. Stir together and serve with chips.