Disclosure: I'm working with Tours4Fun to help promote some of their wonderful deals on travel. This content is sponsored but includes my own opinions.
I LOVE cruising. I have blogged about it several times including my
5 strategies to plan the perfect cruise
. In fact, I recently arrived home from a cruise that I took with a lot of my family. It's always so much fun to go on a cruise with family and discover new places around the world.
So, are you planning a cruise? If not, you should be! It is, in my opinion, the vacation to please everyone. Florida has many cruise ports and the best deals on cruises because so many cruises leave out of Florida, so I want to share some of my favorite deals with you from Tours4Fun!
Tours4Fun recently started offering cruise so they are excited to get the word out about their new deals and since I love cruising so much, I'm excited to help them get the word out!
First, you have to decide how many days of vacation time you have. Cruises have varying lengths from 3 days up to several months. Since most of us don't have that much time I'll focus on shorter cruises.
If you have 4 days to spend at sea a great destination is the Bahamas. A 4 night Bahamas cruise is just long enough to give you a great taste of what cruising is about and you get to visit 3 islands in the Bahamas! Norwegian Cruise Lines has very nice ships that offer amazing amounts of amenities. One of their signature services is "your time dining" so that you can choose when you eat and not be stuck to a certain schedule. With this amazing tropical vacation you will visit Grand Bahama Island, Nassau and Great Stirrup Cay. Beautiful locations with tons of activities. This amazing cruise deal starts at $159!! Yes you read that right!! Book now!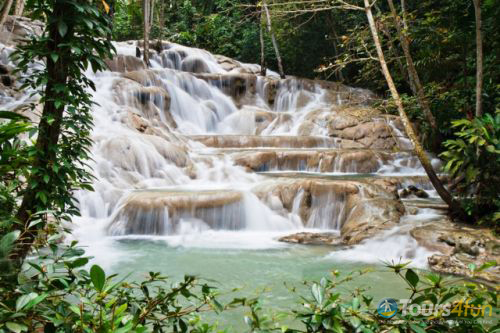 I like my cruises to be at least 7 nights in length. Allure of the Seas, which is a "megaship" from Royal Caribbean has a great deal on Western Caribbean cruises starting at just $599! The list of things to do on Allure of the Seas will astound you! There are pools, hot tubs, an indoor and outdoor movie theater, shops, basketball court, mini golf,  a rock climbing wall, a carousel, a ZIP LINE, broadway shows and more! It is a gorgeous ship – the newest in the Oasis class of ships. I haven't ever been on this ship, but it is my dream to sail on it. This particular itinerary hits Haiti, Jamaica (pictured above, and one of my favorite places ever!) and Mexico with a couple of "sea days" to enjoy the ship amenities.
Do you have an extra day for fun? Try an 8 night cruise on the Norwegian Getaway. Tell me that looks like a good time! Those slides are crazy. Those are the biggest water slides I've ever seen on a ship. How fun!  This western itinerary will take you to St. Maarten, St. Thomas and Nassau, Bahamas with several sea days to ride the slides and enjoy all that ship as to offer.
Whether you are planning a cruise out of Florida or some other post, Tours4Fun has some amazing deals that should be snatched up! If you have a couple extra days to add on the front or back-end they can also set you up with a land tour of the sights of some fun Florida locations.
So, what are you waiting for? Where will your next cruise take you?