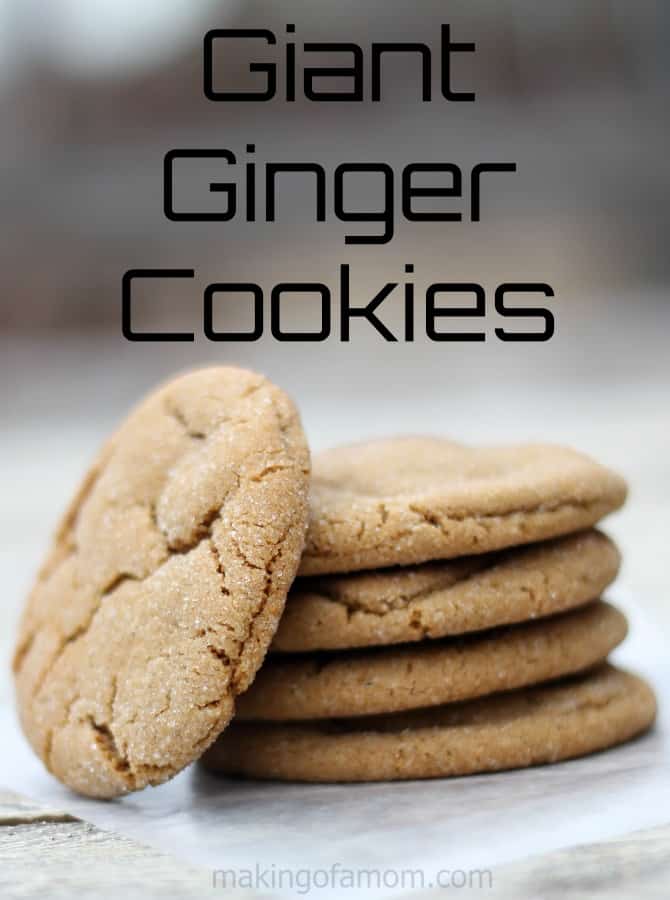 I was first introduced to these delicious, special cookies when I lived in Kansas. I had a friend that brought me four of these giant cookies wrapped up beautifully in a cellophane bag with ribbon closure. As she handed me the bag of Giant Ginger Cookies to me she said "These are special cookies, not sharing cookies."
As is typical of Mom's, most things we receive usually ends up getting shared amongst the family members. Because I had a toddler or two at the time, her message was needed and made me even more excited about the cookies. I did share with my husband, but he's allowed to partake in special cookies.
After experiencing the cookies, I asked for the recipe (which she found on Simply Recipes) because they were delicious. I've been making Giant Ginger Cookies ever since. When I'm the one making the cookies I definitely share because giant, soft, sugar coated ginger cookies should be enjoyed by all, but when I'm making special deliveries to my friends I pass on the secret message "These are special cookies, not sharing cookies."
Ingredients
4-1/2 cups all-purpose flour
4 teaspoons ground ginger*
2 teaspoons baking soda
1-1/2 teaspoons ground cinnamon*
1 teaspoon ground cloves*
1/4 teaspoon salt
1-1/2 cups butter (3 sticks), room temperature
2 cups granulated sugar
2 eggs
1/2 cup molasses
3/4 cup coarse sugar or granulated sugar ( I just use regular sugar, but coarse would be the best!)
* Can substitute the ground ginger, cinnamon, and cloves for an equal amount of pumpkin pie spice.
Directions
1 In a medium mixing bowl stir together flour, ginger, baking soda, cinnamon, cloves, and salt; set aside.
2 In a large mixing bowl beat together butter with the 2 cups granulated sugar. Beat until combined, scraping sides of bowl occasionally. Beat in eggs and molasses. Beat in the flour mixture, using a wooden spoon.
3 Shape dough into 2-inch balls using 1/4 cup dough. Roll balls in the 3/4 cup coarse or granulated sugar. Place about 2-1/2 inches apart on an ungreased cookie sheet.
4 Bake in a 350°F oven for 12 to 14 minutes or until cookies are light brown and puffed. Cool on cookie sheet for 2 minutes. Transfer cookies to a wire rack to cool. Store in a tightly covered container at room temperature for up to 3 days or in the freezer for up to 3 months.
Yield: Makes two dozen 4-inch cookies.