By Bryn Huntpalmer
Via
You Put it Up
Our kids grow up so fast, and though we wish we could freeze them at certain ages, they keep getting bigger and more independent every day! If you're looking for a DIY project that is affordable, adds a fun element to your home, and celebrates your family, you may want to check out these unique ideas for growth charts.
Low Cost High Style
This growth chart is pretty enough to display anywhere in your home. It's also portable, so it can be moved from home to home or to other rooms if you are redecorating. Simply stain a board and use a stencil to create the lines and numbers. Alternatively, swap wood stain for chalkboard paint to create a growth chart that is easy to write on. Redfly Creations has a great tutorial including downloadable stencils for the numbers.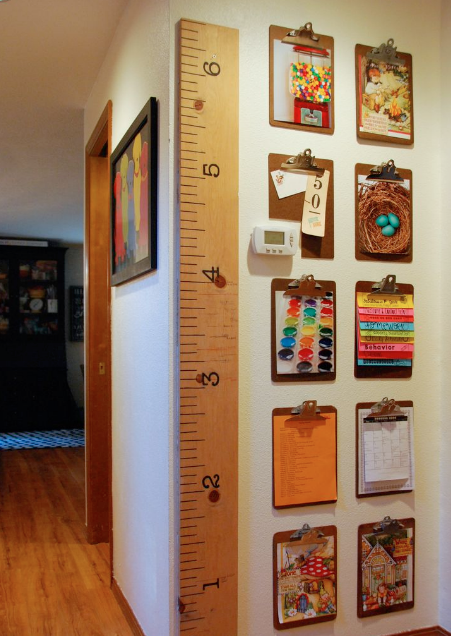 Via
Home Is What You Make It
I also like the idea of recording growth with your child's handprints instead of their height. It creates a wonderful keepsake and might be a great alternative for a child that is sensitive about their height or unable to stand.
Via
Pinterest
Incorporate Elements that Your Kids Love
I love this magnetic car growth chart featured on Just a Girl and Her Blog. The author, Abby gave new life to a used growth chart using paint and brushes, magnetic paint, magnets, painter's tape, toy cars (she recommends the dollar store), and a hot glue gun. Moving these cars up the track may just be a compelling enough reason for your child to devour their vegetables!
Via
Just a Girl and Her Blog
If you have a large family, you may want to consider creating personalized charts for each of your children that incorporate their favorite colors, animals, and interests.
Via
Etsy
Think Inside the Box?
Perhaps quite ironically, a great out-of-the-box idea for growth charts involves putting things into a box. Save some of your child's favorite shoes as they grow out of them and display them in a shadow box to mark their growth.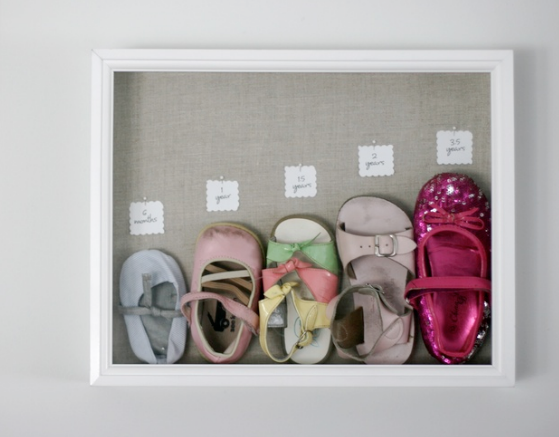 Via
I Make Stuff
Create a Portable Timeline of Your Child's Life
This idea is so simple and creates such a cool, handheld keepsake for your child! Pull the tape out of a measuring tape. Spray paint the tape in light color and allow to dry. Use the tape to record your child's growth, but also to make note of various milestones in their life like their first day of school, trips to Grandma's, dances, and the less celebrated, but unforgettable chicken pox!
Via
buzzfeed
Not Crafty, Try an Adhesive
Using a vinyl wall sticker may not feel very DIY, but you do have to stick it on the wall yourself, right? This is a great option if you don't own your home, as it is removable and can be scaled to your specific space.
Via
Walls Needs Love
I hope you are feeling inspired to create your own growth chart that reflects your child's individual personality. Keeping track of your child's growth isn't just for sentimental reasons, it also makes good sense to make sure that they are developing properly. Parents Magazine has a helpful tool to track your child's development milestones that might make more sense to you than those confusing percentile your pediatrician keeps throwing at you!
For more design ideas, head to Modernize.com.