This post is in partnership with the city of Pigeon Forge. Though some of my activities were complimentary to be included in a blog post, all opinions are my own. Yours may differ.
Every year my husband and I consider what our options are for our family vacations. This year we toyed with going somewhere new- Pigeon Forge, Tennessee. Because we are familiar with Branson, Missouri that is how we described it to our kids. "You know how you guys love Branson? This place is just like Branson, just located in Tennessee!" We got an unanimous OK and started planning.
Now keep in mind we were there for five days and that isn't remotely enough time to do everything, so all of my recommendations come from personal experience. I'm sure there are other, just as great, maybe even better options, I just don't know them yet. We hope to go back again and try even more activities we didn't get to this time. Also, we stayed at a really nice condo and since we had a kitchen we made most of our meals to help keep the cost of the trip under control.
Crave Golf Club is a really fun stop. There are enough activities to keep your whole family busy for at least half a day! With two miniature golf courses, once outside and one inside, this activity works no matter what the outside weather. Inside the build is also mini ball bowling, a giant candy store and two escape rooms. The escape rooms are great for families because they are only 30 minutes long. Sometimes little attention spans don't last for an entire escape room which is typically one hour. We were able to golf on both courses, try the mini ball bowling (our first time!), and do one of the escape rooms. We were one task from escaping.  The escape room (Mayday, A deep Sea Adventure) was one of the best we've ever done (and we've done at least a dozen). Hours of fun here!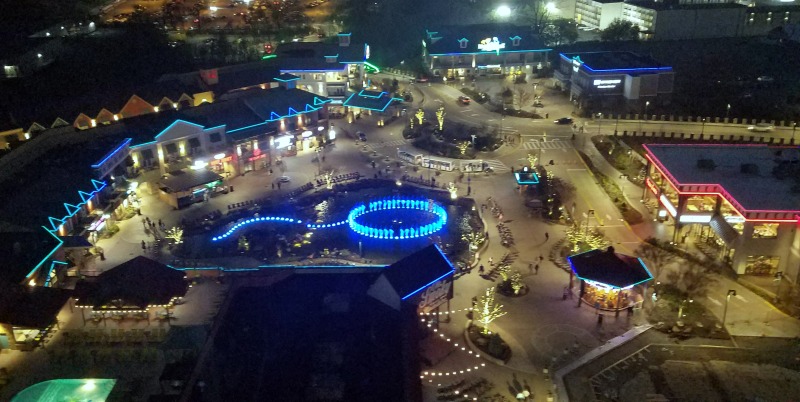 Get ready because there is so much fun at The Island. The Island is a fun location in Pigeon Forge that has a ton of things like restaurants, attractions, rides, games and a Margaritaville resort. We went to the Island 3 days in a row because of all the fun things we wanted to do.
Great Smokey Wheel – Pigeon Forge has its own "eye." This massive wheels puts on it's own beautiful light show and well as provide incredible views on Pigeon Forge. Once on the wheel you get to take five turns around so you really get to spend a lot of time enjoying the views. Going during the day offers beautiful majestic mountain views, but going at night when everything is lit is pretty fantastic as well. Go twice!
Ropes Course – Near the Great Smokey Wheel is the ropes course. This attractions is three stories of adventure featuring 30 elements, two zip lines and a quick jump (optional and costs extra). Four of us had the guts to get harnessed up and attempt the ropes course. It was a lot of fun, slightly scary.

Arcade City – This arcade is also located next to the wheel. It is really big and features some really amazing games we'd never seen before.
Shopping – There were so many great shops at The Island. We snuck in a few for souvenirs, fudge, ice cream (twice) and specialty popcorn. It's really fun to explore all your options at The Island.
7D Dark Adventure Ride – This was a really fun and unique attraction. In the 7D ride you get buckled into a theater and receive a laser gun. While watching a movie, you'll feel wind, the theater moves with the sensation of the movie you are watching and you're shooting your targets. It's really fun!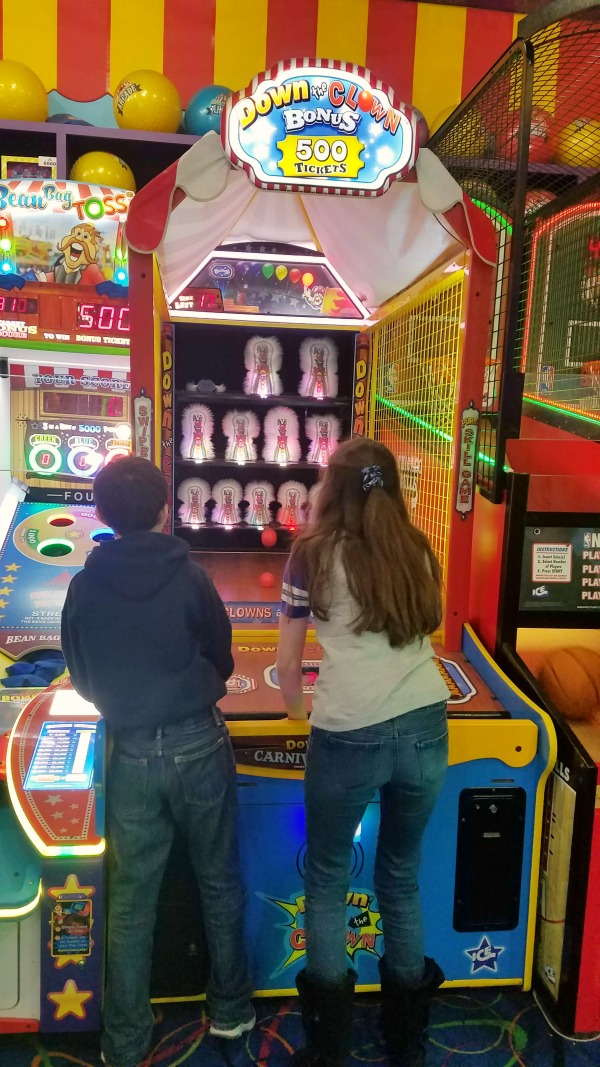 There are a lot of arcades in Pigeon Forge and not all of them are created equal. While we didn't do all of them, we did a good handful of them so I feel confident saying Big Top Arcade is the best one there! There were unique games we'd never seen before and had a lot of family fun there. The point system at the arcade is awesome and you can get a lot of fun prizes for your tickets. We went here twice and my kids came out with bags of really fun toys and candy. The staff was so generous and kind. I can't say enough good things about this arcade! Definitely at it to your "To Do" list!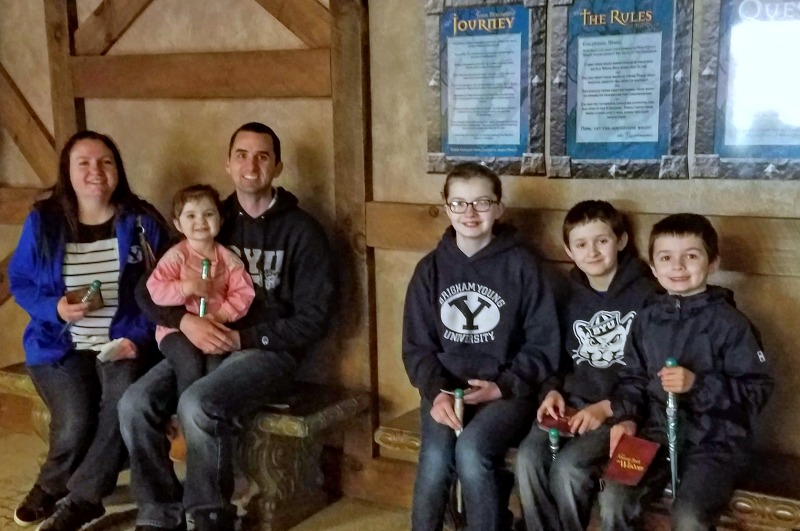 MagiQuest is a really unique attraction. We'd never done anything like it before. So once you fill out a form to get your "Magic name" you get entered into the system and handed a wand. MagiQuest offers a quick training to all the new people so you can understand what you are doing. There are a dozen or so Quests and Adventures to go on. You purchase the amount of time you want to participate. The first time we went we had an hour and I was able to get 5 quests done. Because we loved it so much we went back a second time and purchased two hours and we were able to finish all the MagiQuests, two adventures and start on the SuperMagi and MasterMagi quests. With an easy flick of the wrist you can create magic in one of three settings: the forrest, the village and the dragon's dungeon. It was so much, and I'm not into fantasy stuff at all.
Also at MagiQuest is Pirate mini golf which is black light and really fun. They also have a new arcade and a mirror maze coming soon. This is another activity that can take half a day alone! It's really, really fun.
The Tomb is a very unique escape game. It's set in an Egyptian Pyramid where you are tasked with helping the Pharaoh get back to his tomb. While the game itself is pretty fun, you are accompanied by a worker, so I didn't love that. The puzzles weren't too hard, but the setting was pretty scary for my 3 and 7 year old. You progress from room to room which is also pretty unique for an escape room.
We have done a TON of mountain coasters in our day. This is one of our favorite vacation activities and so we have done many mountain coasters in several states around the US. Having that background I can say that Rocky Top Mountain Coaster is the BEST mountain coaster we have ever done. The ride lasts 8-9 minutes which is huge! The theming is so fun and music is playing throughout the ride with speakers placed around the track. There are a lot of mountain coasters to choose from in Pigeon Forge, so I say do them all, but this one is the best!
This attraction has go karts and an arcade. Since y toddler wasn't tall enough I stayed with her while the rest of my family raced. They had a good time. The tickets to prize ratio at this arcade is really bad, so try the others first.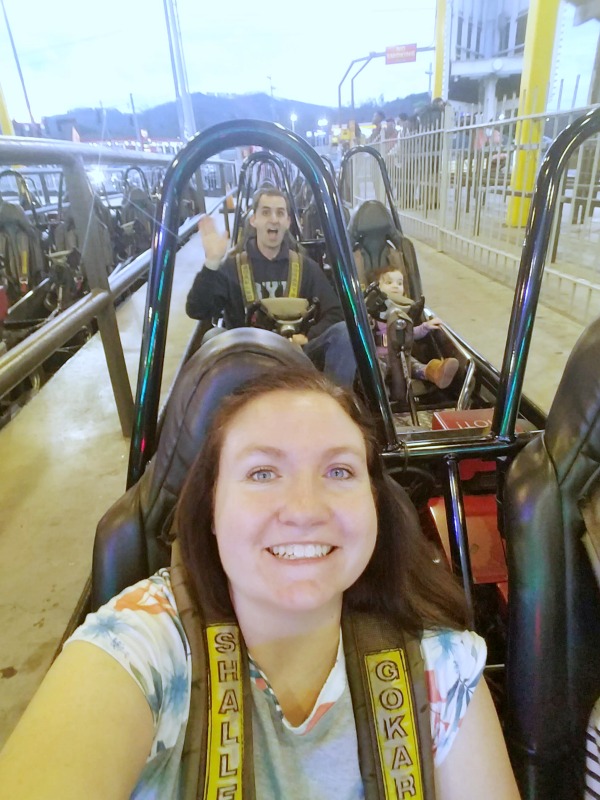 This place has a plethora of fun for your family! There are a couple different race tracks (I LOVE Wild Woody), bumper boats, kiddie rides, mini golf and more! This place is so much fun! We were able to try two of the race tracks and really enjoyed them. The kids loved driving and the tracks were nice and long in my opinion so they got a lot of experience at it. Lots of fun to be had here!
Now the list is impressive but there are so many more things to do as well as amazing dinner theaters! When it's time to travel with your family, Pigeon Forge needs to be in hat conversation. It's definitely on our list or where to go (again).
If you want to check out our trip as it was happening in real time and some silly videos go look at my highlights on Instagram!