If you've been a reader of Making of a Mom for a while, you know I LOVE the company I See Me! They specialize in personalized gifts. They offer such things as books, lunch boxes, placemats, stickers, puzzles and more.
My son, who also happens to be the middle child, definitely suffers from middle child syndrome. He often has to share with his baby brother and doesn't get much of his own since the baby came along. When the chance came up to work with I See Me! again I definitely wanted to get him something special. Since he struggles a little (STILL) with his little brother, I thought the perfect book would be to get him "What Big Brother Does Best". You can tell from the pictures that reading the book to his little brother helps him feel like a proud big brother!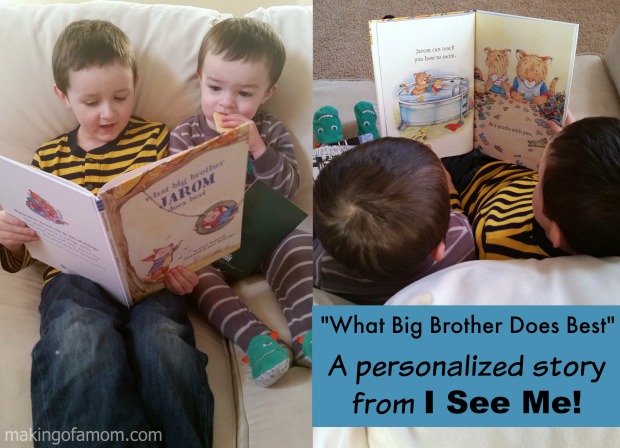 When you order a book from I See Me! you can completely personalize it. Throughout the book is my son's name, in the beginning of the book is a dedication to him with a picture of himself and a special message from Mom and Dad. He LOVES his special book and will read it over and over to his little brother.
I'm not the only that loves I See Me! in this house. My son also has a custom lunch box and my daughter has a special Christmas book. I think personalized gifts are so wonderful. They are a great way to make sure someone knows you care. There's no better way to make someone feel special and loved them by giving them a gift meant especially for them.
Do you like to give personalized gifts? What's your favorite thing from I See Me?