Disclaimer: I received a free product sample for review purposes for my Holiday Gift Guide. All experiences and opinions are my own. Yours may differ.
Fall is in the air and the kids are heading back to school. My daughter is in second grade and decided she needed a new lunch box this year. It was a little difficult for us to agree on which lunch box to get. Once that decision was made I thought I would just get my son a lunch box  and surprise him with it! This Outerspace Personalized Lunch Box from I See Me! is perfect and I know he is going to LOVE it!
I See Me! is a fantastic website that specializes in make personalized items. You can read my review of "My Very Own Pirate Tale" in which my son was the star of the book. You can also visit their website to see all of the great options they have available. They have a lot of different stories to choose from, lunch boxes, placemats, personalized holiday gifts, baby items and more!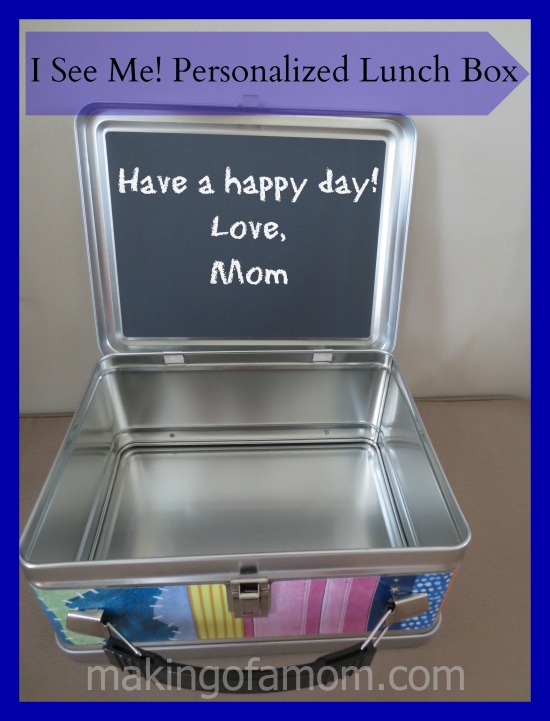 This Outerspace Lunch Box is great for personalization in several ways. You can add your child's name to the front of the lunch box. Inside the lid of the lunch box is a little chalkboard for you to write personalized notes to you child everyday! I LOVE this feature. My kids love having notes in their lunch box, but they usually end up wet, the paper soggy and ripped and distorted by lunch time. Putting the note on the lid of the lunch box solves that problem!
Get Your Own
I think this lunch box would make a great gift. You can get one for you child at the I See Me! Website in the Back-to-School section. They retail for $29.99. The dimensions of the lunch box are 6″ x 8″ x 4″. The lunch box is made of tin and contains no lead.