This post is sponsored by Amazon but all opinions are completely my own.
I am the baby of 7 kids. Yup, you read that right, SEVEN! That's a lot of people! Because we were a big family we usually took our vacations in the form of road trips. It's way cheaper to drive that many people around then buy that many plane tickets so I grew up learning the art of a successful road trip. Times have changed, and with technology road trips are a lot more fun, but I can still use some of the lessons I learned back from my childhood and so I share with you my family road trip tips and tricks.
Technology can make it awesome!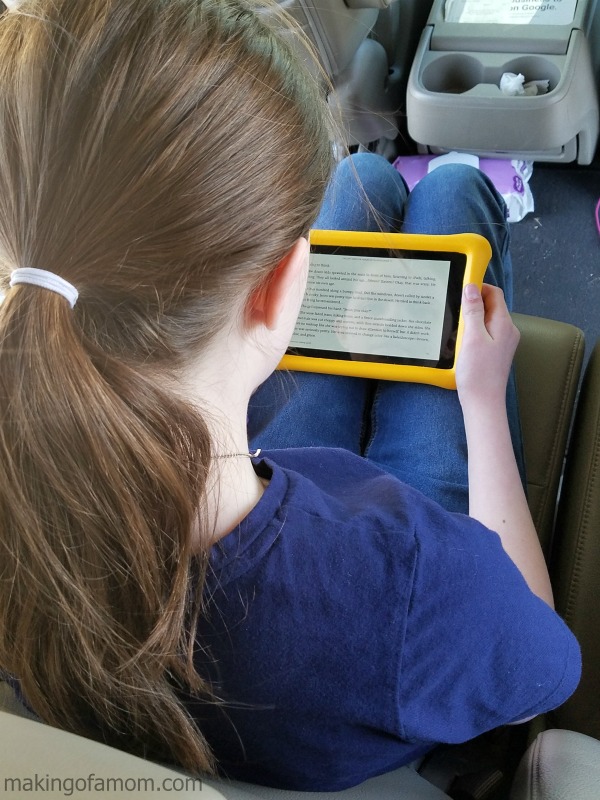 There are some awesome kids tablets out there. My new favorite is the
Fire 7 Kids Edition tablet
from Amazon. This great tablet has a 7" display, 16 GB of storage, and a kid-proof case.  There is also a
Fire HD 8 Kids Edition tablet
available with an 8″ display and 32 GB of storage. Because of Amazon FreeTime Unlimited available on the Kids Edition tablet I can set up a profile for each child
within the parent FreeTime app
and customize the content to fit their age. The kids can easily switch between games, books and movies within their own profiles and without the need of WiFi. With awesome parental controls I can set up time limits so that sharing can happen in the car. They simply pass the tablet along when their time is up. It's really awesome to have this safe entertainment in the car.
Special snacks
Being stuck in the car for hours at a time can be hard on everyone! We always pack some snacks that we don't usually buy. Perhaps it's certain chip flavor, candy or new types of granola bars. Always bring healthy snacks as well to keep your strength up. With a small cooler it's easy to bring fruit, cheese snacks and lots of cold water. My Dad always said "never go into the wilderness without water." Road trip count! If you wanted an extra special treat for your kids you could let them go inside at one of your gas stops and pick something from the convenience store. Doing this has given my kids something to look forward to at the next stop.
Make it educational
Often times there will be markers on the side of the road of historical events, or places. Sometimes they aren't far off the freeway and it's easy to visit these sites. Perhaps before you leave you can learn some facts about the places you will be driving through. On a recent road trip we decided to make a stop to see the birthplace of Abraham Lincoln. This fun and educational stop had nothing to do with the vacation we were on, but we had a good time, learned some new things and created a fun family memory.
Road trip games are the best
Have you ever played the alphabet game while watching all the road signs go by? My kids love this game. We also love to play license plate bingo and try to find as many states as we can. I Spy is another great option. What do you see that is green?
When I was a child, my siblings taught me a couple great songs we would sing in rounds during our road trips. Last year I taught my kids these songs so we could sing these super cheesy, really funny songs in a round in the car. It's a lot of fun. These are the best kind of childhood memories.
Capture the memories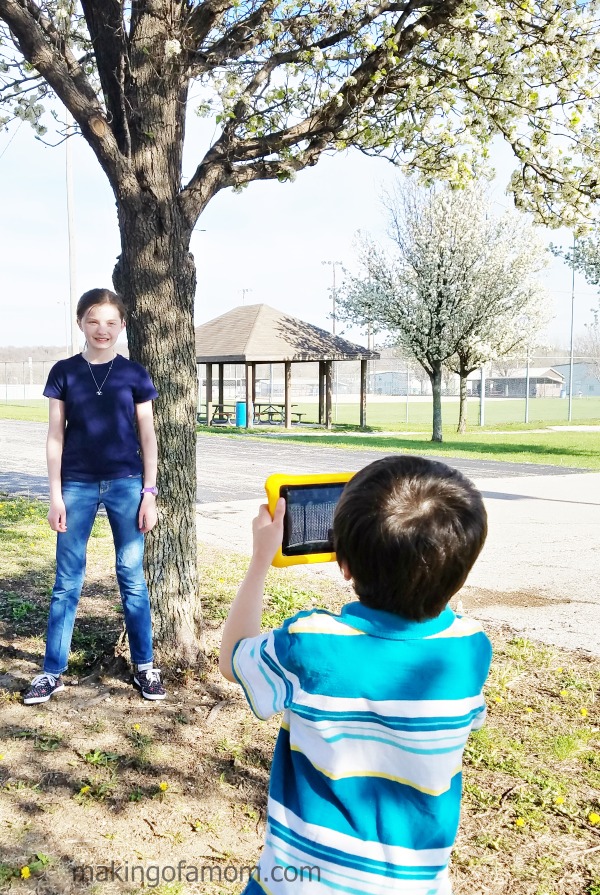 Using the
Fire 7 Kids Edition
tablet my kids can take pictures during our trip to capture the memories we're experiencing. The camera is really fun and easy to use. The kids can edit and draw on the pictures too. I love getting the kids involved with capturing the memories of our trip.
No matter your activities, snacks or games, family road trips are a great way to spend quality time together and build memories that can last a lifetime.
Do you have additional tips or tricks to help make your family road trip successful? I'd love to hear them in the comments.